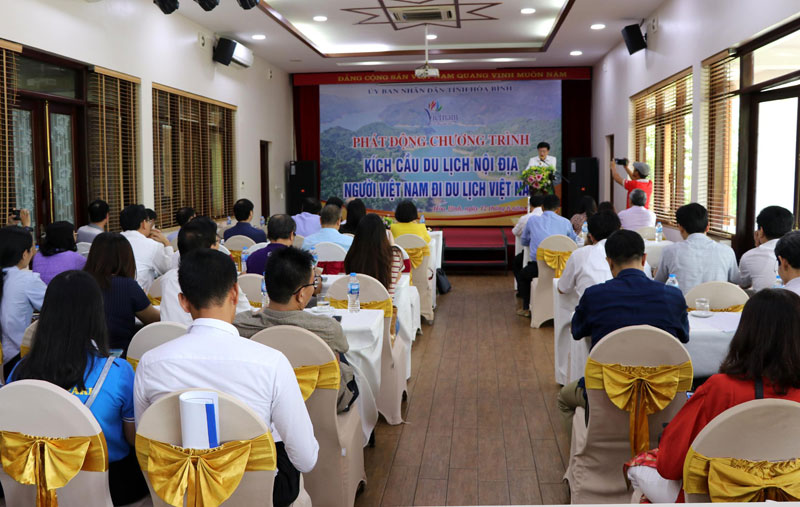 (HBO) - The Provincial Tourism Steering Committee has organized an initiative to stimulate domestic tourism in response to "Vietnamese people traveling in Vietnam".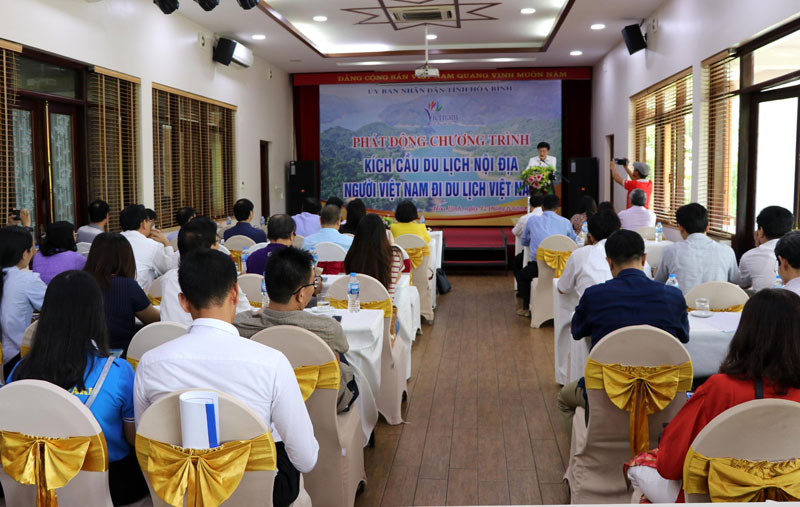 Mr. Nguyen Van Chuong, the Vice Chairman of the provincial People's Committee, is making a speech at the launching ceremony of the Domestic Tourism Stimulation Program.
Launching the Tourism Stimulation Program, Mr. Nguyen Van Chuong, the Vice Chairman of the Provincial People's Committee, gave an overview of the tourism potential of the province. In recent years, Hoa Binh has become an attractive tourism destination. Due to the severe impact of Covid-19 pandemic, the province's tourism has been somewhat quiet since the beginning of the year. In response to the program "Vietnamese people travelling in Vietnam" launched by the Ministry of Culture, Sports and Tourism, the provincial People's Committee issued Plan No. 76 dated on 22 May 2020 launching the program "Vietnamese people traveling in Vietnam" in the province.
The launching ceremony aims to bring the message "Hoa Binh is a safe, friendly and attractive destination." At the same time, this is also an opportunity to promote the new destinations and tourism products in the province.
In the coming time, Hoa Binh will organize many outstanding cultural, sports and tourism activities such as the promotion program introducing Hoa Binh culture and tourism in Hanoi, Hoa Binh cultural and cuisine show and promotion, hosting to organize the national tour for long-distance bicycles, terrain bikes, organizing the Festival of National Community Tourism Villages...
They have been encouraging tourism businesses to build, deploy and publish the tourism stimulus packages, introducing the quality tourism products and services at reasonable prices and the enclosed incentives and commitments of the service of the providers.
They have also proposed the leaders of the departments, committees, sectors, the members of Provincial Tourism Steering Committee, the leaders of the People's Committees of districts and the city to continue implementing widely and effectively the Plan to launch the Program "Vietnamese people traveling in Vietnam" of the provincial People's Committee within the branches and localities under their management. It is suggested that the tourism businesses comply with the announced commitments on the basis of ensuring the principle of price reduction but not the quality reduction. The propaganda, promotion, introduction of promotions, incentives, gratitude to customers have been strengthened to attract tourists ...
At the launching ceremony, the Organizing Committee has received more than 20 registrations of businesses participating in response to the Tourism Stimulation Program in the province.