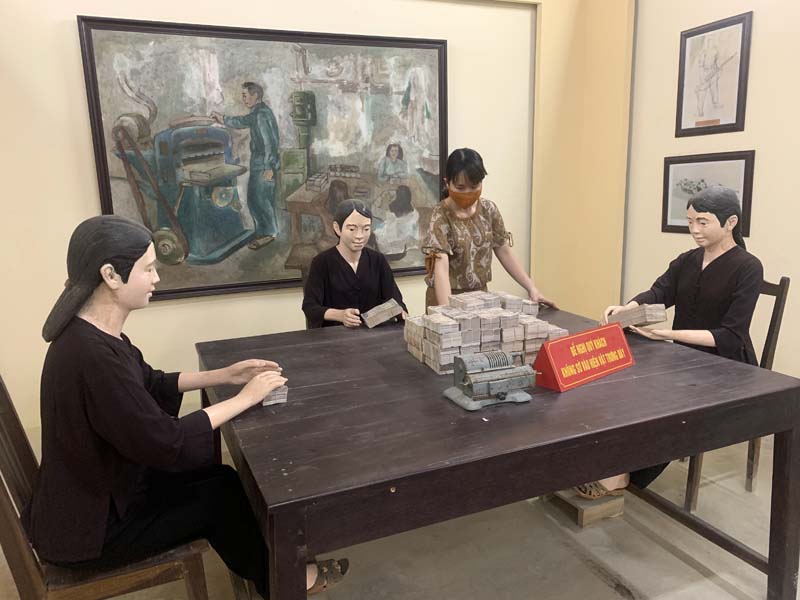 (HBO) – Lac Thuy district is now home to six national, 12 provincial relic sites, and 29 others under review by the provincial People's Committee. Each year, the district maintains 32 traditional festivals (two district-level ones and others at communal, village and hamlet levels).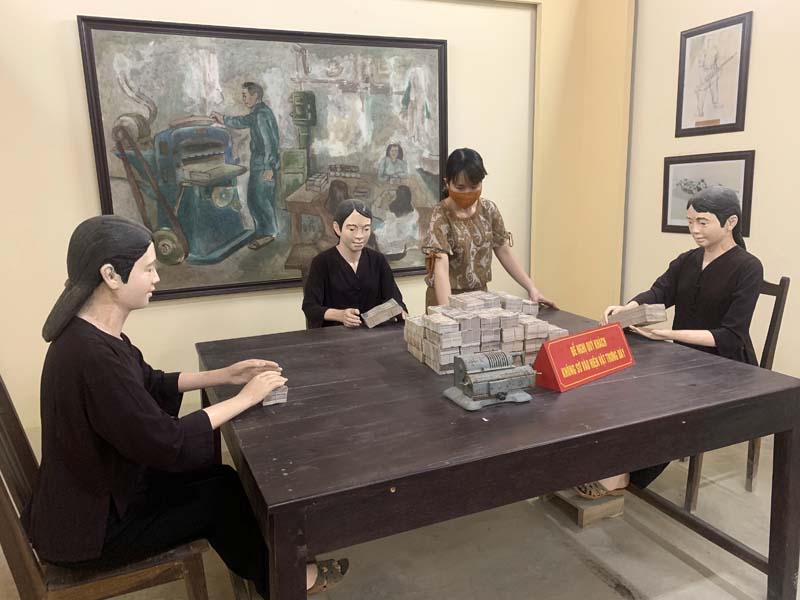 Staff at banknote printing factory relic site check, clean, protect artefacts on display.
Due to the impact of COVID-19, the district cancelled spring festivals, unnecessary cultural and sport activities, and shut down crowded tourist areas to fight the pandemic. The Tien pagoda festival in Phu Nghia commune was the only district-level event to be held on January 28, the fourth day of the Lunar New Year festival. Therefore, the number of tourists fell by more than half from the same period last year. Statistics showed that the district welcomed an estimated 45,000 visitors in the first half of this year, earning 8.1 billion VND.
As tourism and services are important sectors in the district's economic structure, the district completed a master plan on tourism development with a focus on improving business climate and attracting resources to tourism and services. Since 2015, 10 tourism facilities have been built and upgraded at a total cost of nearly 452 billion VND, including important works such as tourism infrastructure in Lac Thuy district, a memorial house dedicated to revolution contributors and staff of the Vietnamese revolutionary government's first banknote printing factory, the school of southern ethnic cadres, and Tien pagoda's tourism infrastructure. The district also welcomed tourism development projects such as Dong Tam resort complex, Da Bac village eco-tourism project, and Huong Binh cable cabin line in Phu Nghia commune, among others.
The district devised a tourism stimulus action programme and launched a local tourism development scheme for the 2013-2020 period. It took specific measures to build tours and encourage supporting services for tourism, set up traditional crafts such as ornamental rock making, handicrafts and local signature products to lure tourists. The locality strived to develop Tien pagoda into a national tourist site, linking with relic sites in nearby districts. It also stepped up the construction of Huong Binh cable cabin line linking Huong pagoda in Hanoi's My Duc district with Tien pagoda, thus offering attractive tours for travellers.
In the spirit of fighting the pandemic and ensuring socio-economic development, especially restoring tourism activities, the district People's Committee sprayed disinfectants to open relic and tourist sites. It required tourist areas, lodging facilities and restaurants to accelerate landscaping, clean the environment and spray disinfectants, prepare soap and hand sanitisers for tourists and residents. The district also outlined a marketing plan to uphold the value of relic sites for the 2021 festive season./.