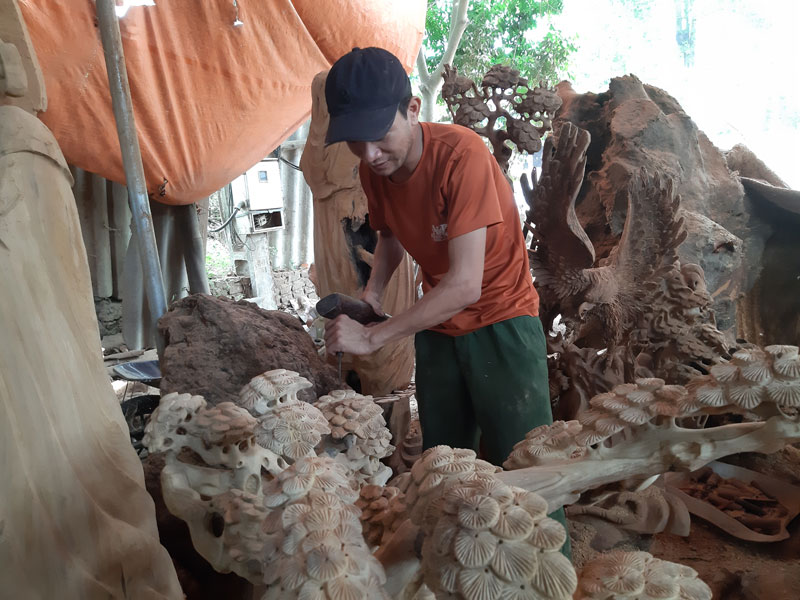 (HBO) - The craft of driftwood and ornamental stone has been in Lam Son commune (Luong Son) for over 20 years. From some initial households, the production facilities have been developing rapidly in both the scale and the quality of making fine art products from wood and stone. Every day he artisans and skilled workers are making the different types of tree roots and ornamental stones into the tables, chairs, shelves, beds, and high-quality mascots conquering the market and opening up the opportunities for the local sustainable economic development.
The production facilities and the display of the products from driftwood and ornamental stones are along the highway 6, next to the headquarters of the People's Committee of Lam Son Commune, extending up to near Kem slope and being intermingled with the service and restaurant facilities. Many pedestrians and visitors are coming to admire the handicraft products of craft villages. The facilities are quite active.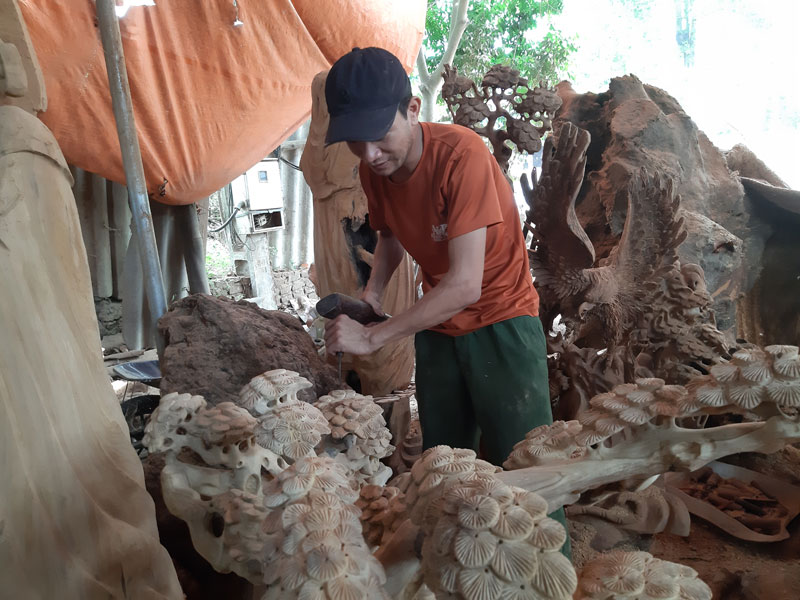 Mr. Nguyen Van Luan, Lam Son commune (Luong Son) is whittling and filing the work of Di Lac sitting under the pine root (Tam Phuc) to hand over to customers.
The craft of driftwood and ornamental stones is a special type of job that requires the great passion and the aesthetic mind. It is necessary to recognize, be creative and ensure the original nature of wood, both exuding the deep meaning of the product. The more you look, the more beautiful the product is and the more you love it, which will conquer the fastidious customers. There have 5 people working in Mr Luan's facility, including 3 main workers. They cannot cover all the work with an average income of
Mr. Doan Xuan Thanh's facility, the chief of the craft of driftwood and ornamental stones in Lam Son owns hundreds of high-value fine art products such as Long Chau, Than Tai from Burretiodendron wood, showing a joyfulness, cheerfulness and the fullness; The statue of Mr. Tho is crafted from the burretiodendron hsienmu wood, showing the fortune and health...
Mr. Nguyen The Hung, the Secretary of the Party Committee of Lam Son Commune says that up till now in Lam Son commune there have been about 50 households producing and trading driftwood and ornamental stones, concentrating in Doan Ket hamlet, which has formed a good force a large number of artisans, technical workers, creating high-quality fine art products, contributing to job creation and income for local people. The craft of driftwood, ornamental stones is a separate direction of the commune, which is contributing to economic restructuring, associating with the construction of new rural areas of the locality.