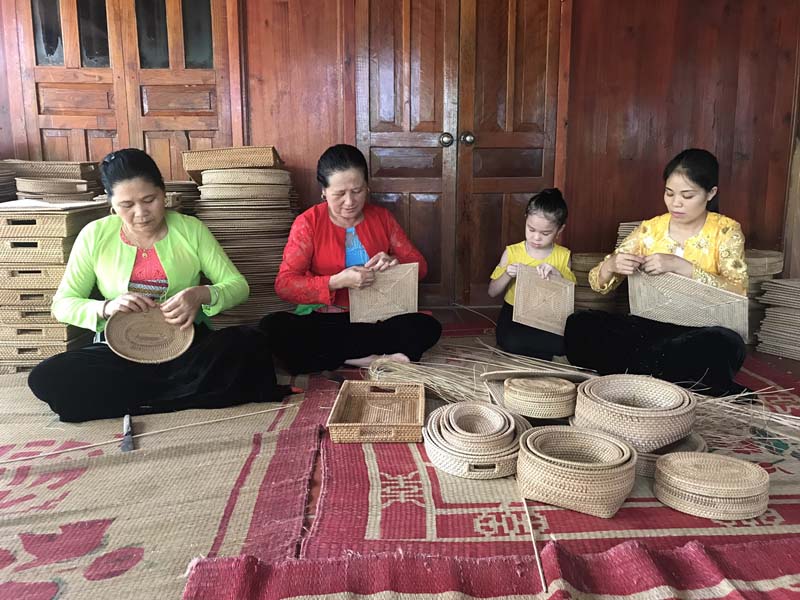 (HBO) - Rattan and bamboo weaving in Bui hamlet of Nhan Nghia commune (Lac Son district) dates back hundreds of years. Over generations, local craftsmen have always worked hard to ensure sophistication and uniqueness of each product.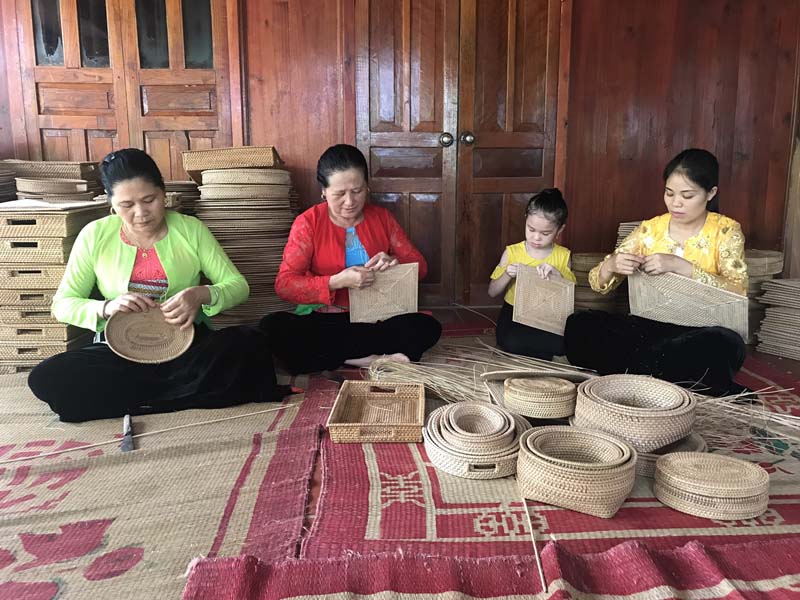 Bamboo weaving sustained in Bui hamlet.
Well aware of the importance of the trade to economic development and cultural identity conservation, local authorities have been striving to gradually revive this traditional craft, thereby helping to reduce poverty, improve income and create jobs for rural residents.
The rattan and bamboo craft village of Bui hamlet, officially recognised on December 17, 2017, is providing stable jobs for more than 350 locals with an average per capita income of 2 – 3 million VND (86.4 – 129.5 USD) each month. It has been operating fruitfully, producing items, mostly handmade, with diverse designs and ensured quality. As a result, local products have won preference in the market, and the village has received a number of big orders from across Vietnam, as well as other countries like China and Japan.
Quach Thi Dung, head of the rattan and bamboo craft village of Bui hamlet said: "This traditional craft village dates back to a long time ago, but it used to fall into oblivion. I and other people have strived to revitalise the traditional craft. The first steps were very difficult, but thanks to the support of authorities of all levels, the rattan and bamboo craft village was set up. It has attracted 170 households with over 350 workers to producing rattan and bamboo items. There remain numerous difficulties in production development such as those relating to materials, kilns, bleaching facilities, cutting machines and other equipment. We hope that authorities will create more favourable conditions for the village to further develop."
In the face of changes in the modern life, rattan and bamboo weaving was sometimes thought to be unable to survive. Thanks to their enthusiasm and dedication, the skilled craftsmen have been determined to maintain this craft with the hope of seeking a firm foothold for it.
Bui Thi Thu Dung, a member at the rattan and bamboo craft village of Bui hamlet said: "I began making rattan and bamboo items when I was a small girl. My grandmother and mother taught me this craft. I weave products to make use of my spare time and also raise my family's income."
It takes craftsmen lots of steps and meticulousness to create a rattan and bamboo item. Through their skilful hands, simple materials are transformed into fine and colourful products imbued with cultural identities.
In the past, rattan and bamboo goods were made mainly to serve daily needs of families. Recently, authorities of Nhan Nghia commune have organised training courses to help craftsmen create new products to meet the market's rising demand such as flower baskets, lampshades or candy containers with diverse designs.
Bui Duc Ngu, Chairman of the People's Committee of Nhan Nghia commune said: "Rattan and bamboo weaving has greatly contributed to socio-economic development of the commune because it is a local traditional craft which every people, from the elderly to teenagers, can practice, thus helping to improve their income during their idle time. More and more people have engaged in this craft."
To maintain the rattan and bamboo weaving craft of Bui hamlet, it is necessary to continue improving craftsmen's skills, equip them with modern machinery to better product quality and design, expand the market and enhance products' competitiveness so that the traditional craft is conserved and developed, and the standing of traditions is further consolidated in the modern life./.