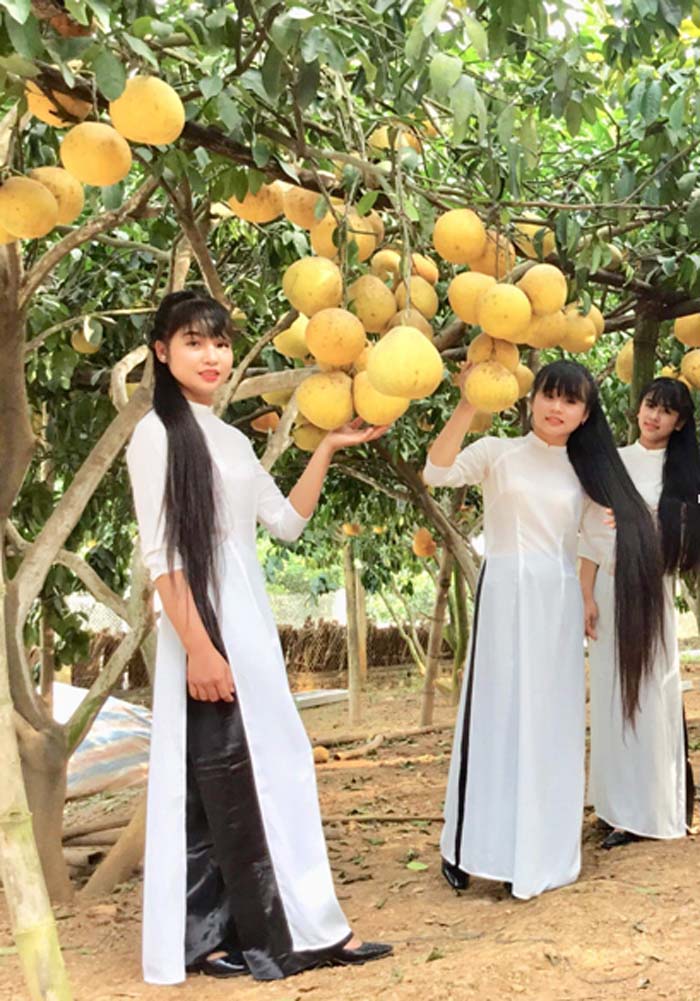 (HBO) - It is strange that at the time of the increasingly urgent and hasty life, there are still many women in the province who are still faithful and passionate nurturing their hair and feeling happy when having beautiful long hair, making a lot of people lovesick.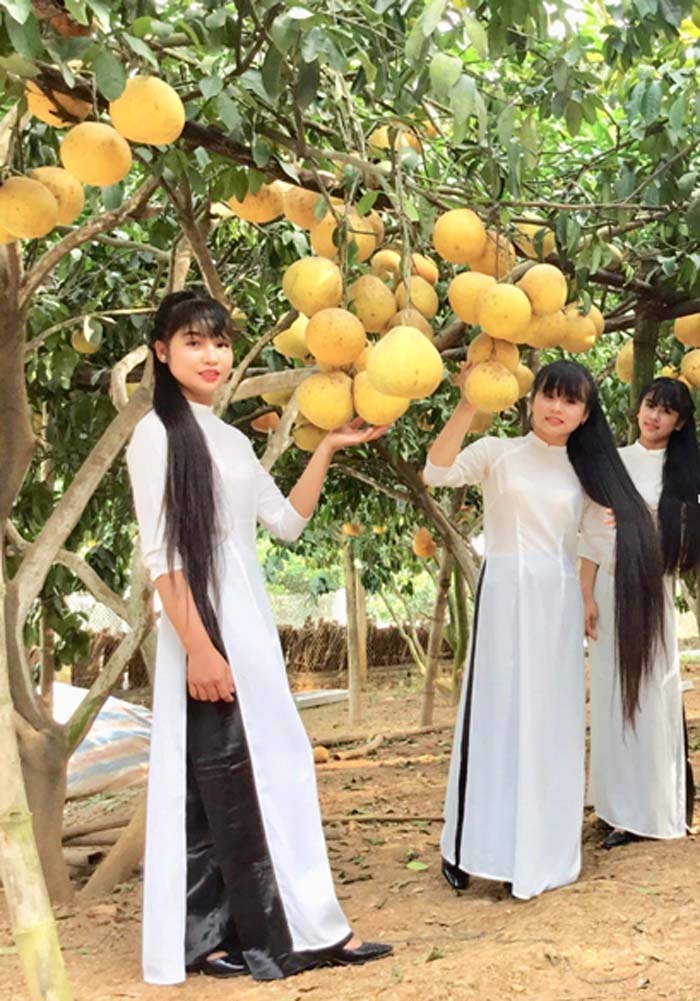 Many girls in Tan Lac District are still passionate about their natural long hair.
Ms. Ha Hang is a person of Thai ethnic whose long hair is said to be the most beautiful in Lac village - Mai Chau. In the daytime, she gathers her hair into a bun to work in the field. After the working time, at the relaxing times, she releases her natural hair to walk in the green fields, her light hair floats as a fairy.
The images of washing hair, combing hair and hanging hair along the stream, in front of the porch door, the wavy hair of the scent of grapefruit flowers in the early sunshine or at sunset have entered the lens of the professional photographers and have been posted on some famous magazines of the world. In the evening, she lets her long hair off to participate in the cultural performance to serve tourists, learning and experiencing the homeland cultural identity. The floating hair, the light footsteps in a fluttering tone, and the stunned rhythm have left a beautiful image of Thai women in Mai Chau.
The famous long-haired breeders in Hoa Binh cannot help mentioning Ms. Bui Bich. Not only beautiful, Ms Bich is also a woman with long and beautiful hair in Muong Thang - Cao Phong. She has raised her hair for many years. The healthy and smooth hair is strangely fast growing. Each time, she cuts dozens of centimeters but it still reaches her heels. Ms. Bui Bich regularly participates in the festivals and events that have brought a lot of good impressions to the guests. Standing on the podium, she is called a long-haired fairy by her beloved students.
In fact, breeding long hair is also quite troublesome in daily life. Long hair with 1.5m or more makes it uncomfortable to wear a helmet when riding a motorbike. It is also inconvenient to take a bath in the sea because the salt water is absorbed into the hair or when sleeping the posture has to be selected. Washing the hair sometimes needs help and takes time. However, those who are passionate to have nurture long hair do not concern much about those complexities. It is important to take care of the hair, keep the hair natural, black and smooth. They only wash the hair with bodhi, grapefruit peel, incense, lemongrass leaves ...They do not use hair dryers, they just use natural wind or fan to keep your hair healthy and smooth.
Hoa Binh has many beautiful women who are hard working to take care of the nurture long hair, and keep their hair long to leave love and memory for many people. Cao Phong and Mai Chau have many beautiful women with long hair. Students in Tan Lac, Kim Boi and Lac Son high schools also formed a movement to keep long natural hair. There has been forum of beautiful women with long hair. They have met, shared and selected friends. Up to now, 57 beautiful women with long hair have attended the forum. Many people have long hair with up to 1.8 - 2m.