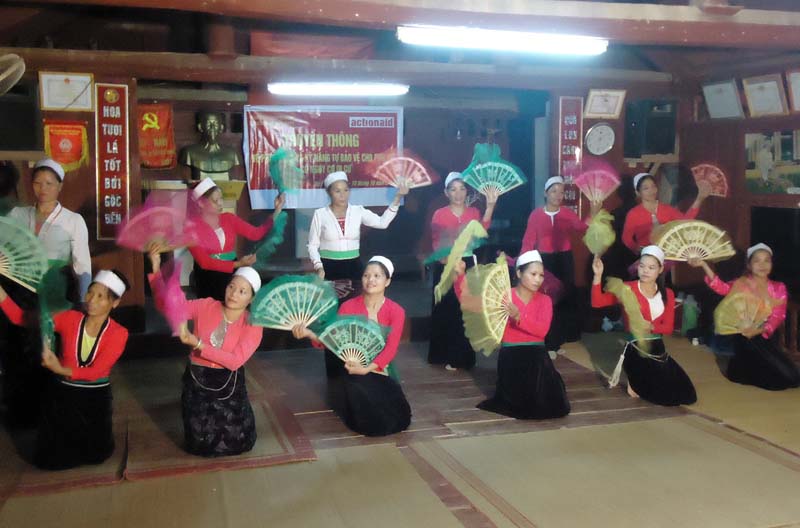 (HBO) - Ms. Dinh Hai Luyen, the head of Ke hamlet's arts team, Hien Luong commune (Da Bac) says: there are a lot of key members in the arts team of Ke hamlet participating in the public arts performances, competitions, shows and festivals. With the enthusiasm and passion for lyrics and dance, 15 members of Ke hamlet's arts team are constantly practicing to create the unique performances. The arts team not only serves the people on the occasion of festivals and New Year but also serves tourists at the homestays.
The outstanding performances such as: The Colors of the Mountainous Flowers, The Happy Festival in Muong Villages, The Spreading Flowers and so on have made a deep impression for visitors. The movement of public arts not only enriches the spiritual life of the people but it also contributes to promoting the culture of Muong people to tourists.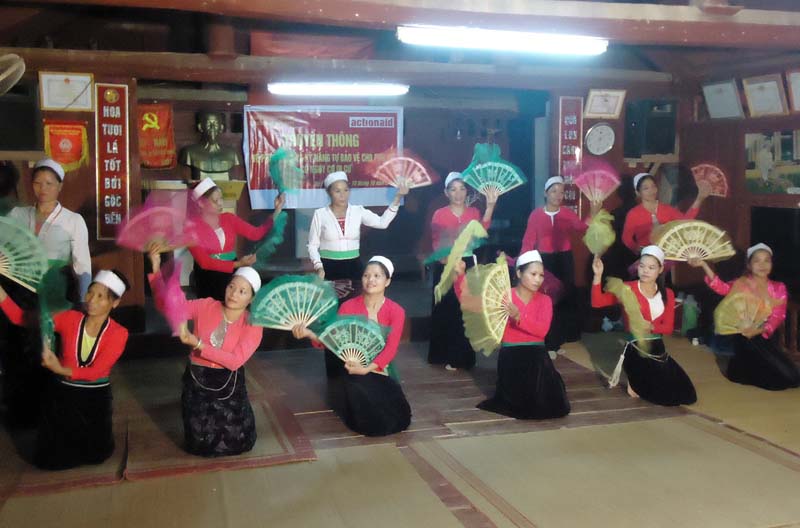 The arts team of Ke hamlet, Hien Luong commune (Da Bac) are participating in performing arts to propagate the Party's and State's guidelines and policies to the people.
The movement of public arts in Hien Luong commune takes place vigorously in all villages. Six out of the six hamlets have set up their own public arts team with about 10 people for each team. Although the operational cost of the team is limited, the members of the 6 arts teams are constantly practicing, creating and setting up good and special performances with a passion for singing, making good impression for the audience. On occasions of festivals, New Year, the nation's major anniversaries, the cultural repertoires are the works of propaganda that can easily come into the people's hearts. The artistic nuclei have cleverly integrated the contents of building a new countryside, building a cultural family into arts shows to encourage the people to actively respond to the movements launched by the Party Committee and the appropriate authorities.
With more than 80% of the population being Muong people, the Party Committee and the Government of Hien Luong commune have paid special attention to preserving the cultural identity of Muong ethnic people in recent years. The Party Committee and the Government of Hien Luong commune have determined that it is necessary to promote the conservation of Muong gong, Muong folk songs and folk dances.
Every year, the commune organizes an inventory of the number of Muong gongs among the people. They have mobilized the young generation to participate in gong teaching classes by the elderly women in the hamlet. There are about 40 gongs, including 4 ancient gongs in the whole commune. There are families who still keep the full set of 12 gongs. Roi and Ke are the two hamlets that keep the largest number of gongs. These two hamlets have established their gong teams and they regularly take part in major events of the commune and district and serve tourists.