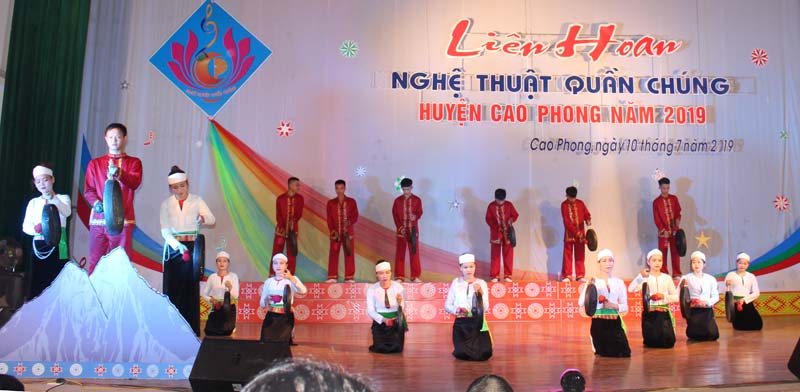 (HBO) - Dong Phong (Cao Phong) is known as a commune with the thriving movement of public art performance, which is always in the top of the district at festivals and cultural performances organized by the district.
Recently, the commune won the A prize of the whole delegation at the Public Art Festival in 2019 in Cao Phong district. The cultural movement in the commune has been increasingly developed. It is not only the rich spiritual food that is impossible to lack in the lives of the people but it also contributes to the preservation, the conservation and the development of the national culture.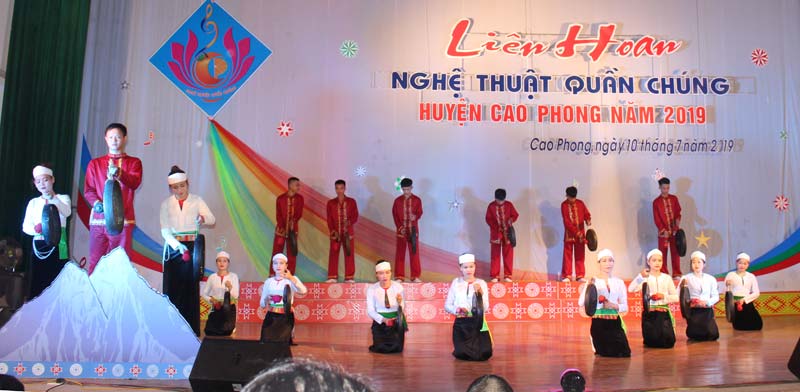 A gong performance by the team of Dong Phong commune at the Public Arts Festival in 2019 in Cao Phong district.
In the past years, the Party Committee, the appropriate authorities and the other organizations of the commune have always paid attention to creating the favorable conditions for the development of the local movement of public arts. At present, the commune has the communal culture house and the stadium built under the new rural program. 100% of the hamlets have their own cultural houses and sports yards meeting the needs of playing and practicing arts and sports of the people. 100% of the hamlets have their own cultural team having from 15-25 members for each.
The movement of public arts has strongly been developed, the members of the performance teams are not only the middle-aged and elderly people, but also the teenagers are increasingly taking part in. In addition to the State's support, most of the teams have been proactive in operating funds, purchasing audio equipment and performance costumes. Every year, the commune organizes cultural and arts exchange activities with the full participation of art teams on the occasion of festivals, New Year and anniversaries. In addition, in the hamlet's meetings or other social activities of the unions there are performances by the members of the hamlet's performance team.
Mr. Bui Thi Thuc, a socio-cultural official, says that the commune organizes the art competitions between the villages in the form of rotating once in each hamlet to maintain and improve the quality of the movement of public arts in the hamlets. This year, the commune has organized the public arts festival with the presence of more than 100 actors and artisans from the hamlets, attracting a large number of people to see and cheer. Thereby, it has been helping the performance teams with the opportunity to perform, exchange and learn more experiences, creating the conditions for the people to enjoy the cultural values and improve their spiritual life.