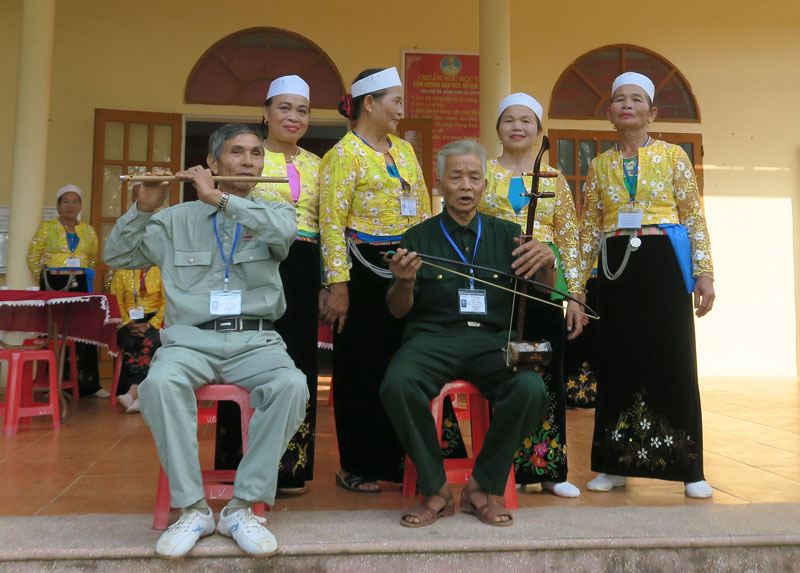 (HBO) - Being present in the exchange between the poetry club "Remembering the Source" of Lac Son district and the members of the Literature Association (the provincial Literature and Culture Association), I immersed myself in Senh Tien and Luu Thuy dances, dancing with flowers and I was completely absorbed in Muong folk songs.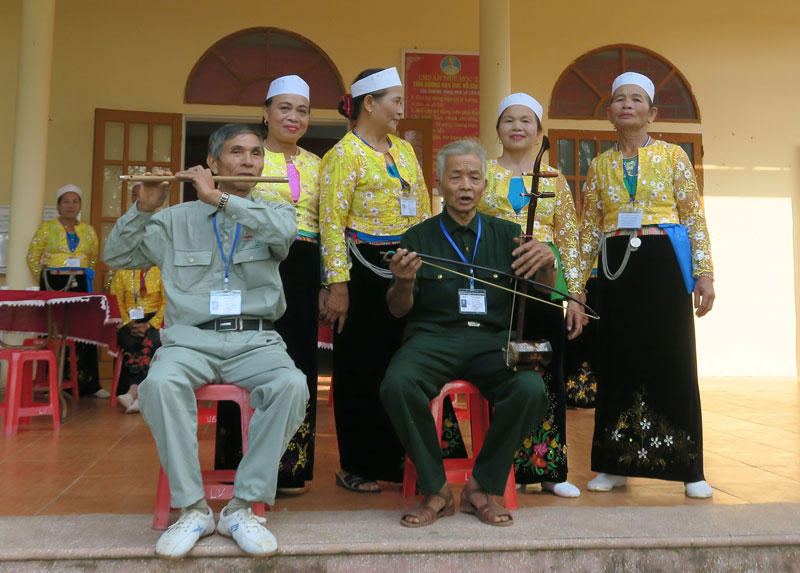 The members of the poetry club "Remembering the Source" (Lac Son) are practicing before the show.
Ms. Bui Thi My in Chay hamlet, an active nucleus of the club shares: The poetry club "Remembering the Source" is a rendezvous for the culture and art lovers of Huong Nhuong and Lien Vu (former) communes. Seeing the need for a playground to exchange, to share, to sing and to dance for each other and to promote the national cultural identity, in 2012 more than a dozen people gathered together to set up a poetry club called "Remembering the source". Immediately it has maintained for 8 years, currently there are 25 members aged 60-76.
Since its foundation, the club has been maintaining the regular activities every Saturday night or Sunday. Sometimes they perform in the local festivals. Most of the poems and music are composed and performed by the members of the club. Only when there is a large-scale and highly artistic program to perform for the diplomatic exchange, they need the assistance from the officials of the Center for Culture, Sports and Tourism of the district.
At present, the club "Remembering the Source" has affirmed its "brand" with the repertoire bearing the cultural characteristics of Muong Vang: "Playing the gongs", singing and dancing "The Festival of Muong area", "The Brocade craft village", "Lac Son in the festival night", "The flavor of Muong", "The Song of the Northwest"... and Dum songs, sweet and deep folk songs of Muong. In spite of the fact that they are only home-grown, the singing and the dances of the Club "Remembering the Source" has reached out to many other districts such as Kim Boi, Lac Thuy, Yen Thuy and Hoa Binh City and even to Hanoi Capital.
Participating in the exchange, the members of the Literature Association have brought the poems and songs that imbued with Muong cultural identity. They are "The Forest music", "The advice of a friend from highland area", "Don't do that, please!", "The Words from Muong Area", "The love story of Tay Tien soldiers", the song "Muong Vo Rice, Muong Vang Jar" and so on.
Many people have heard and watched the members of the poetry club "Remember the Source" performing, or know that they are actively guiding and teaching the way to play the gong, to pull stamen and to sing the folk songs of Muong for the younger generation, they all show their confession. As they are contributing to keeping the soul of Muong in every song, dance with enthusiasm, passion.