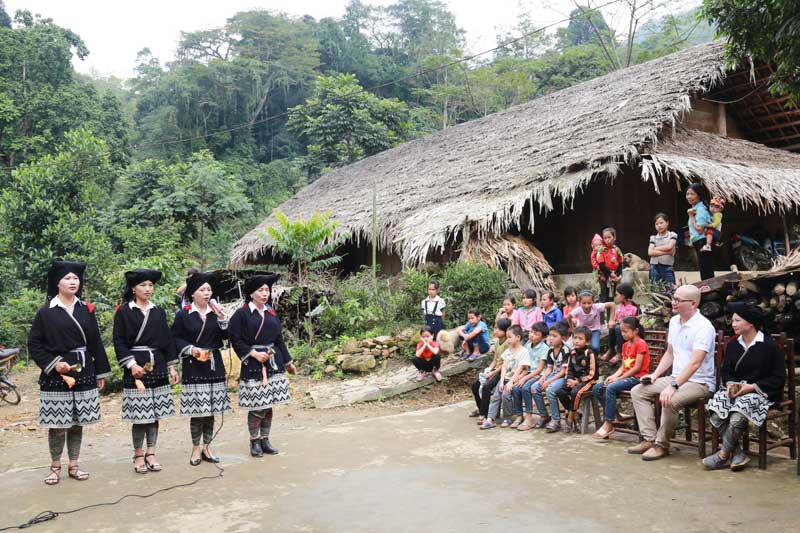 (HBO) - If Muong ethnic people have Senh Tien dance, Thai and Tay ethnic people have Xoe dance, Mong ethnic people have Khan dancing… Dao ethnic people have Chuong dance. Currently, Dao ethnic people account for 13.71% of the population in Da Bac district.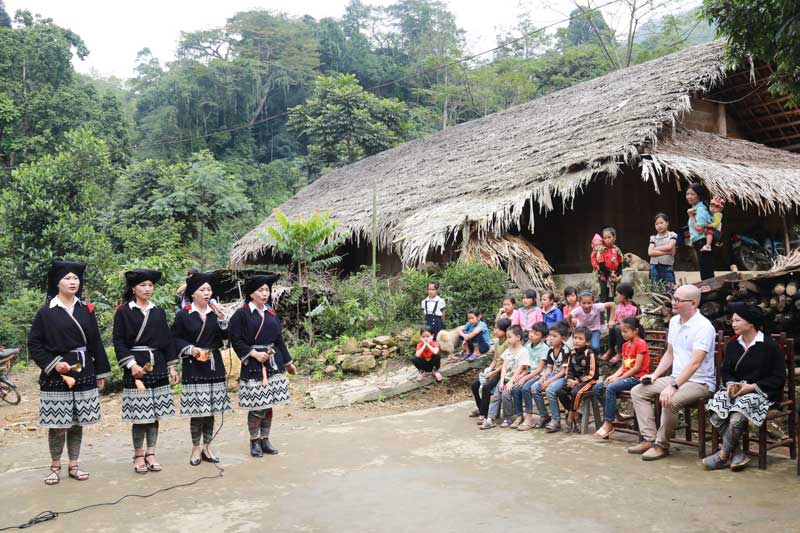 Dao ethnic people in Sung village, Cao Son commune (Da Bac) are performing Chuong dance to serve tourists.
The distinguished artist studying the folk beliefs and culture of Dao ethnic people, Mr. Ly Van Hien from Sung hamlet, Cao Son commune (Da Bac), says that Chuong dance is one of the main dances and specialties in the scared rituals and ceremonies of Dao ethnic people such as New Year of dance, Lap Tinh ceremony, Thanh Minh New Year, the full moon of lunar January and July… Especially, Chuong dancing during the New Year of dance is the thanksgiving ceremony to the ancestors, Ban Vuong, who protected the life of the family and the lineage with the hope that the ancestors will protect all members of the family and the lineage so that they are healthy, make a good living, and help the villagers have a prosperous and peaceful life.
As a traditional dance of Dao ethnic people, Chuong dance usually involves both men and women, each round of Chuong dance has 6 or more participants, the more the funnier. When dancing, the left hand of dancer holds a dam, the right hand holds a bell to beat the rhythm and there is a leader. While dancing, they sing the ancient songs, simulating the process of making a living on a new land, getting married and giving birth to children in each family.
In this dance, the small bell made of copper with the hilt is the main props for the dancer to hold, combined with some auxiliary props such as a small drum, a Vietnamese two-chord fiddle, a flute ... to create rhythmic but vibrant and healthy music, taking the footsteps of Dao boys and girls bounced and dance.
Chuong dance is a traditional dance of Dao ethnic people. Since we were little girls and boys, we have got in touch with the nation's Chuong dance and we were taught and guided by our grandparents and parents. For Dao ethnic people, the cultural beliefs and the traditional dances are deeply embedded in the blood and no one cannot dance Chuong.
Especially, since there was community tourism in Sung hamlet, they started welcoming international visitors, learning about the landscape, the culture, the beliefs, and experiencing activities in cultural activities of the daily life of the local people, Chuong dance is performed to serve tourists visiting and traveling in the village, not just on the occasions of the festivals, Tet or the unions of family and lineages as before. I see that foreigners coming here like watching the traditional Chuon dance, and they like participating directly in the stages of making brocade, drawing beeswax, embroidering the traditional brocade ofDao ethnic group.