(HBO) - Hoa Binh's culture and sport facilities, especially those at the grassroots level, have importantly contributed to meeting the needs for exchanging, exercising and entertaining of local people, and to building a healthy cultural life at the grassroots level.
However, there remain some problems in investment, management and use of culture and sport facilities, requiring specific solutions to improve the efficiency of those institutions.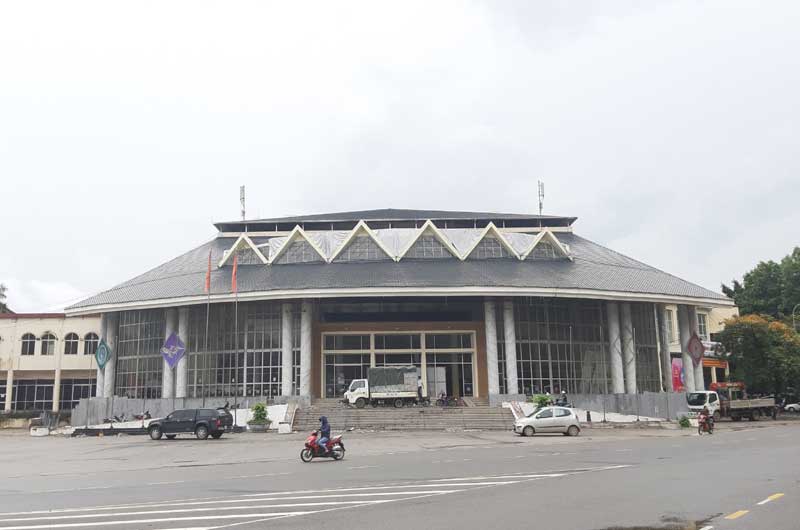 The Hoa Binh province's Cultural Palace is being upgraded. The work is expected to be completed in August 2020.
Hoa Binh now has eight provincial-level culture and sport facilities, including a culture palace, a library, a cinema house, a museum, a stadium, a sport competition hall, a swimming pool, and a dormitory area for students and athletes.
All the 10 districts and cities of Hoa Binh have cultural houses and stadiums, while five have libraries.
As many as 72 percent of communes, wards and towns, and 86 percent of hamlets and villages have cultural houses.
Basically, existing cultural facilities have not met criteria set by the Ministry of Culture, Sports and Tourism, especially in terms of area, construction scale, equipment and budget.
In recent years, though difficulties, the province has paid attention to investing, managing and improving the efficiency of grassroots cultural institutions, contributing to preserving and developing local culture values, and improving the cultural and spiritual life of the local people.
Many units and individuals have invested in conserving cultural values along with developing tourism and service activities, helping enrich spiritual values, and promote the image and tourism products of the locality.
However, the establishments have not yet been fully utilised.
Relevant agencies have proposed to the local authorities solutions to improve investment and utilisation efficiency of local cultural and sport establishments./.