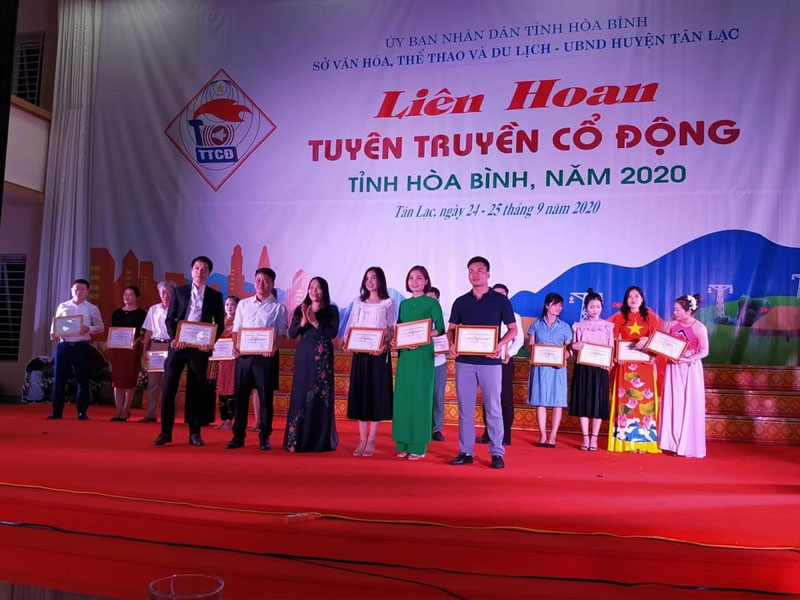 (HBO0 - The Department of Culture, Sports and Tourism of Hoa Binh province, in collaboration with Tan Lac district's People's Committee, organised a closing ceremony of a provincial dissemination festival in 2020 on September 25.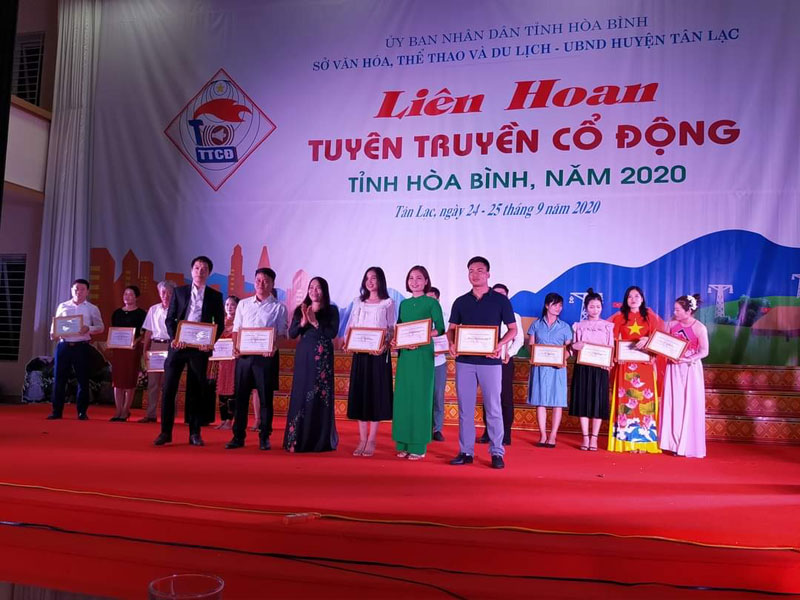 Director of the provincial Department of Culture, Sports and Tourism Bui Thi Niem presents awards to outstanding works.
Attending the festival were more than 200 artists, communicators and artisans of 10 dissemination teams of districts and city. Participating teams compete in four categories of dissemination cars, display and description of topical photos, art performances and skits welcoming all-level Party congresses, the 17th Party congress of Hoa Binh province of the 2020-2025 tenure, and the 13th National Party Congress.
During the two-day event on September 24-25, participating teams entertained audience with impressive performances.
According to the organising board, the quality of entries was improved, with participating teams having thorough investment in scripts, images, costumes and properties. Outstanding performances include Tan Lac and Cao Phong districts' dissemination cars, Tan Lac district's display and description of topical photos, Cao Phong district's "Ho so dep" (Good dossiers) skit, Lac Thuy district's "Nguoi giu hon Muong" (One who preserves Muong soul) skit, and Kim Boi district's "Dang la niem tin tat thang" (Party the trust of sure win) skit.
The organising board presented 11 A prizes, 18 B prizes and 21 C prizes for outstanding works. Five A prizes were also granted to Hoa Binh city, Tan Lac, Yen Thuy, Cao Phong and Lac Thuy districts, and five B prizes to Mai Chau, Kim Boi, Da Bac, Lac Son and Luong Son districts./.