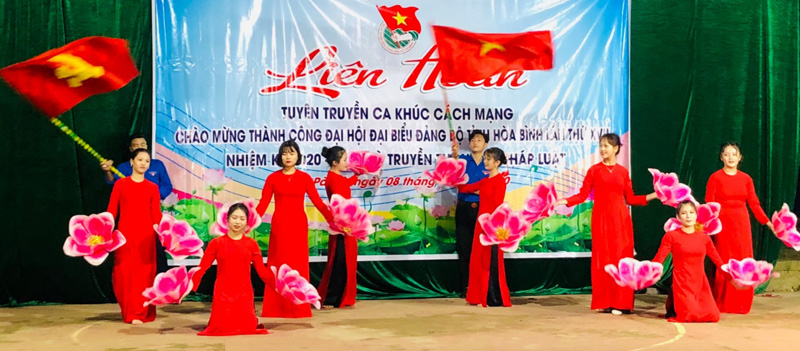 (HBO) – The Hoa Binh Centre for Youth Activities in collaboration with the Communist Youth Union of Mai Chau district has held a festival on performing songs about the revolution and popularising law to celebrate the success of the 17th provincial Party Congress and welcome the 13th National Party Congress.
The event drew 10 clubs, teams and groups specialising in revolution song performance of Mai Chau. Fifteen items at the festival included dances, dance and singing, solo, duet and group singing, with songs about love for the fatherland and the national revolutionary tradition, honouring the Party, Uncle Ho and the Ho Chi Minh Communist Youth Union.
The items were arranged carefully and creatively with high effectiveness in communications and education.
alternating the performance was contents related to law popularisation conducted by the Communist Youth Union of Mai Chau public security force. Through question-and-answer and funny games, the youngsters popularised knowledge related to the prevention and combat of drug trafficking, children abuse, child marriage, along with traffic safety in a simple, understandable manner, making it easy for audience to remember.
At the festival, the provincial Centre for Youth Activities presented 10 gifts to students in Pa Co commune who have overcome difficulties to show outstanding academic performance./.