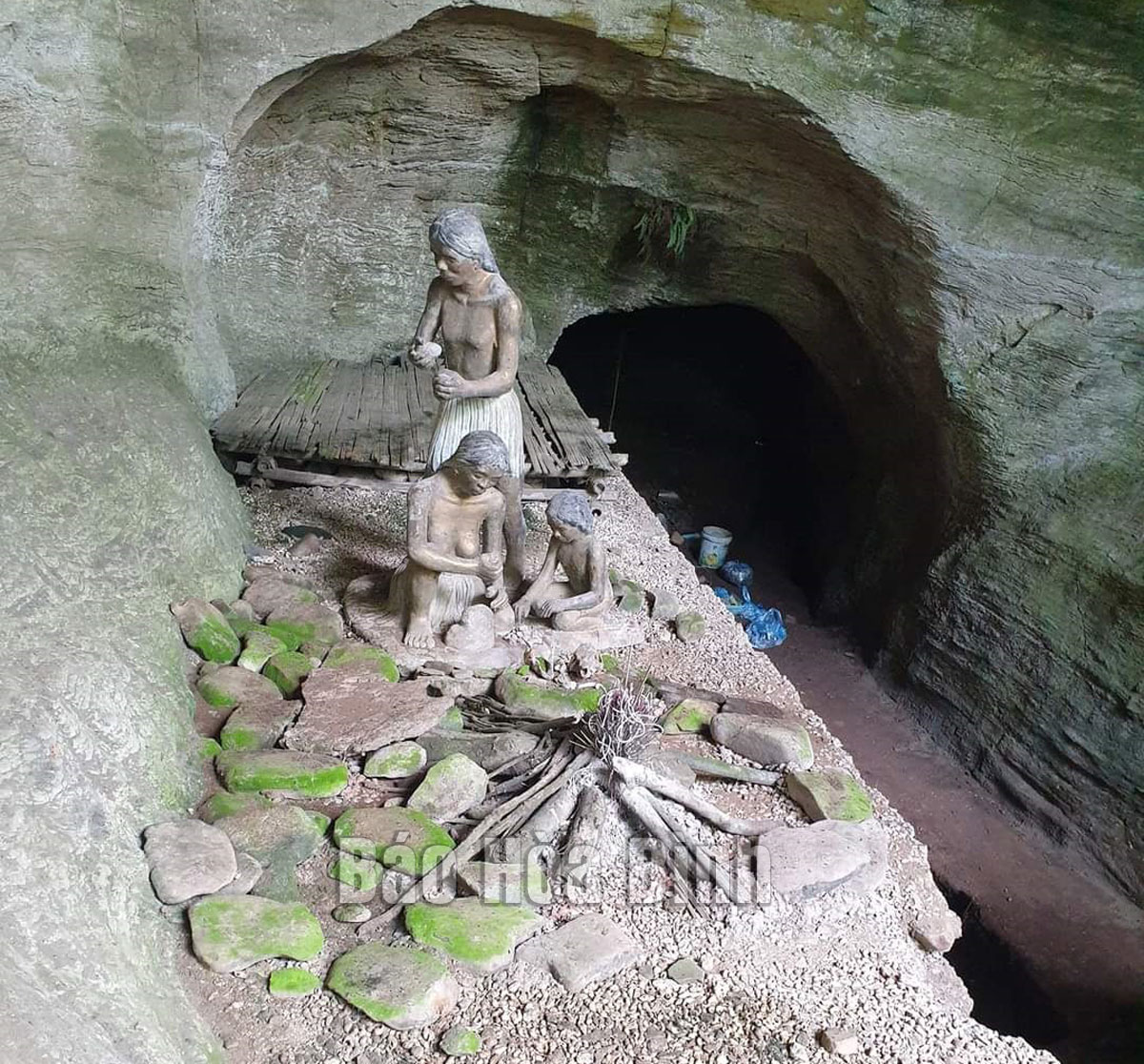 (HBO) – The Hoa Binh Civilisation, dating back to the Stone Age, was discovered by French archaeologist Madeleine Colani and named after the cave relics found in the karst areas of Hoa Binh province. In Vietnam, its traces have been unearthed mostly in Hoa Binh and Thanh Hoa provinces (over 80% of the total relics), while the rest scatter in the provinces of Thai Nguyen, Lai Chau, Son La, Ninh Binh, Ha Nam, Nghe An, Ha Tinh, Quang Ninh, Quang Binh, Quang Tri, and some others. Not only in Vietnam, this civilisation also existed across the mainland Southeast Asia, from southern China to Sumatra Island of Indonesia, Myanmar, and the Philippines.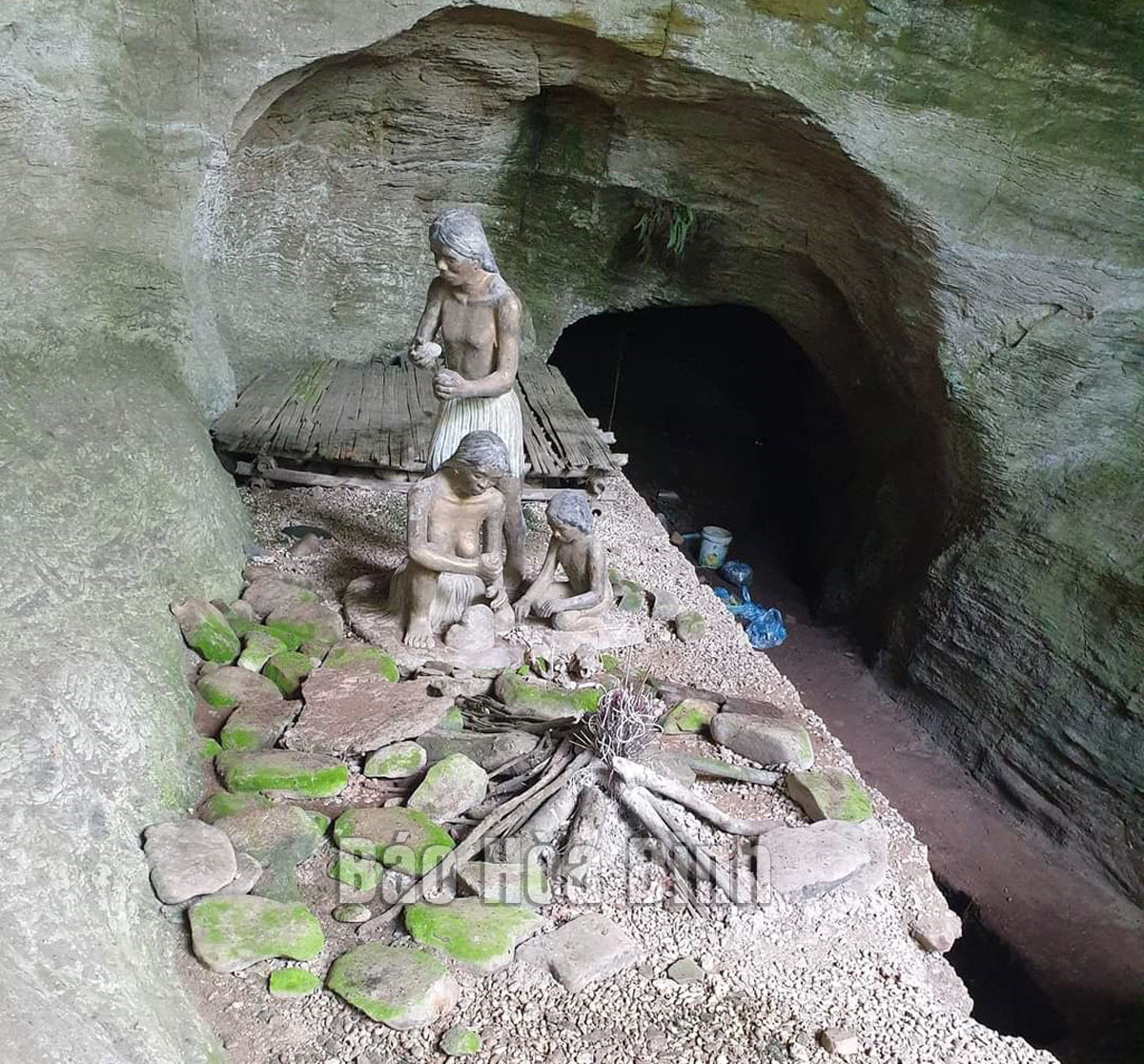 A demonstration of the life of primitive humans at Xom Trai Cave in Tan Lap commune, Lac Son district.
The reason for the concentration of Hoa Binh Civilisation relics in Hoa Binh and Thanh Hoa is that local karst areas had stable and consistent geological features, and they were also located in the transition zone of the northern, western and southern geological regions. That blessed the two provinces with diverse and complex natural conditions as well as creature richness, resulting in food abundance.
Caves and rock shelters of the Hoa Binh Civilisation were located at about 15 - 20 metres above the valley's bed. The residential space of people at that time varied according to relic sites. Some caves and shelters are 10 square metres wide while others cover thousands of square metres, but most have an area of 50 - 150 square metres. Those places were also lit and warmed by sunlight in the morning. More than 90% of those sites could keep their inhabitants from cold northwest winds in winter.
Late Professor Tran Quoc Vuong highly valued the residential locations of the Hoa Binh Civilisation people, saying those places were the prerequisite for primitive humans to develop agriculture and move to lowland areas to develop a new civilisation.
Archaeological documents and excavations showed that hunting and foraging were the main ways of subsistence of people of this civilisation. Those activities mainly took place in valleys.
Working tools in the Hoa Binh Civilisation were made from wood, bamboo and pebble. When finding places to reside in, apart from choosing the sites with necessary natural conditions like sunlight, rivers, and streams, people at that time also paid special attention to those near pebble and limestone sources to make working tools.
Archaeological findings also revealed that women played the main role in creating working tools while men were in charge of hunting. Women also hunted small animals and mollusk, and picked vegetables and fruit, which were not as hard as men's work but generated high economic value. Women were also responsible for bringing up children, sustaining fire, cooking, and storing food. Therefore, women's role gradually became important and indispensable in each cave of primitive humans.
Ninety years have passed since the discovery of the Hoa Binh Civilisation, but there remain a number of questions waiting for answers about this civilisation before a panorama of the society in that period could take shape./.