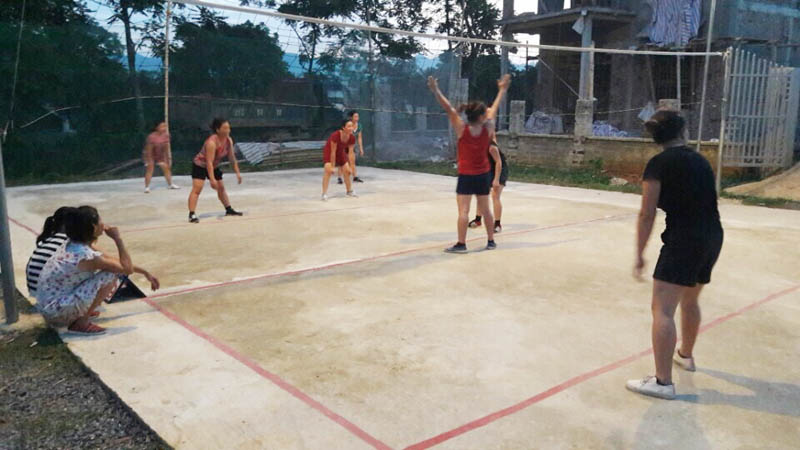 (HBO) – Over the past years, Xuat Hoa commune, Lac Son district has continuously paid attention to promoting sport and physical exercise movements among residents which have drawn the participation of locals at all ages. As a result, the commune has won numerous high prizes at district and provincial tournaments.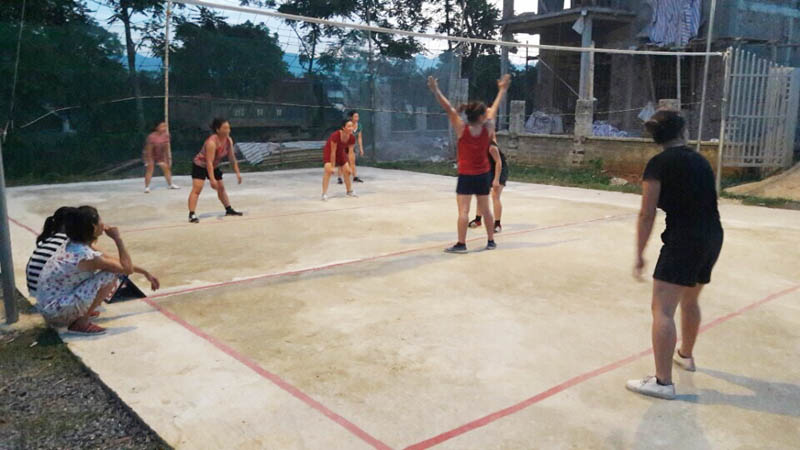 People from Ninh Son hamlet, Xuat Hoa commune, Lac Son district actively join sport and physical exercise activities in afternoons.
Every early morning and afternoon, there are shouts of encouragement of those who are playing sport activities at yards of the cultural houses in 16 hamlets. They choose a sport suitable for their age and health condition. The elderly and women play soft volleyball. Youngsters play football. The sport and physical exercise movement takes place hectically, luring about 1,000 regular players. Forty percent of local households have been recognised as the family of sports. Common sports are volleyball, football, swimming, and national sports. The commune has 48 volleyball teams and 16 football teams.
To further promote the movement among residents, Xuat Hoa commune added sport and physical exercise activities in other campaigns, such as "All people unite to build cultural life in residential areas", "All people do exercise following Uncle Ho's example". On the traditional Tet (New Year) Festival, International Women Day (March 8), and the founding anniversary of the Ho Chi Minh Communist Youth Union (March 26), the commune-organised sport tournaments draw a crowds of participants and become festive days of all locals.
In order to promote national and traditional sports, the commune has focused on organising sport and physical exercise games at the grassroots level. In May 2017, the third sport and physical exercise games were successfully organised, with six sports events, namely stick pushing, running, crossbow shooting, tug of war, high jump and long jump, drawing 500 athletes and crowds of cheer locals. Sport competitions have helped locals, particularly young people, stay away from social evils, and improve their spiritual life.
From the tournaments, many athletes have been selected for district games and won various achievements. In 2017, the team of Xuat Hoa commune won second prize in swimming and third prizes in stick pushing and tug of war. Xuat Hoa is also the hometown of many athletes competing in national and provincial tournaments. Quach Thi Thin, born in 1969, from Vo hamlet, for example, has represented the province at national swimming competitions for years. Quach Van Quang, a nine grader at Xuat Hoa junior high school, bagged first prize at a provincial swimming competition organised by the provincial Department of Education and Training.
Dang Thi Son, Vice Chairwoman of the Xuat Hoa communal People's Committee, said to create best possible conditions for locals to do physical exercises and play sports, the commune has poured investment into upgrading facilities and equipment serving training and exercising. All the 16 hamlets of the commune have cultural houses and playgrounds for all people to play sports. Locals contribute their money to buying sport equipment. Playgrounds and sport equipment are also available at schools.
In order to further the achievements in sports, the commune will continue calling for resources for building more playgrounds in hamlets, and organising sport competitions during holidays and festivals.