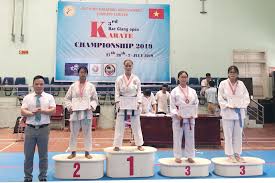 (HBO) - Bac Giang province's Ho Chi Minh Communist Youth Union has recently coordinated with its Children's House and Bac Ninh province's Karate Development Limited Company to organise the third Bac Giang Karate Open Championships 2019.
The competition attracted the participation of nearly 300 athletes from 24 units in northern provinces and cities, competing for over 60 sets of medals. Hoa Binh province sent nine athletes to the event.
After two days of completion, Hoa Binh province's team won four gold, two silver and four bronze medals. Specifically, the gold medals were grabbed by Hoang Diem Quynh in the women's over-53kg kumite, Ha Ngoc Anh in the women's 53kg kumite, Bui To Bao in the women's 48kg kumite, and the women's team kumite.
The silver medals were secured by Quach Hong Ton in the men's U60kg kumite and Phan Thuy Ngan in the women's U60kg kumite, while the bronze medals went to Dinh Quang Trung in the men's kata and U65kg kumite categories, Le Cong Duc in the men's 55kg kumite and Hoang Diem Quynh in the women's kata category./.