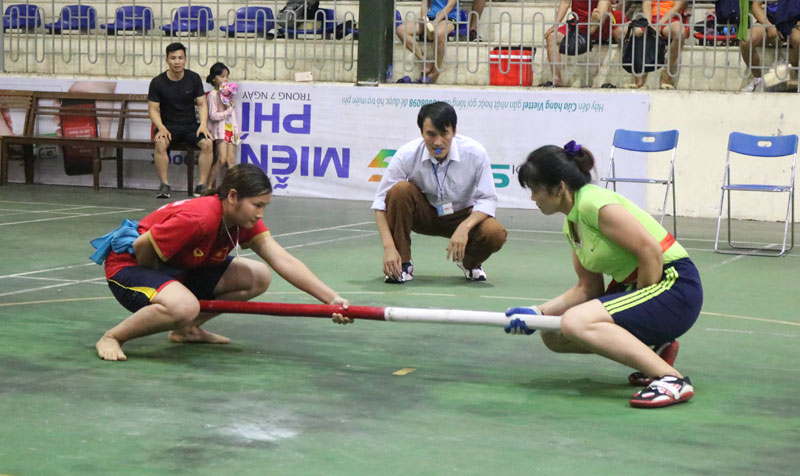 (HBO) - From June 9 to 11, at the Provincial Sport Competition Center, the Department of Culture, Sports and Tourism held the Championship of Crossbow shooting, tug of war and stick pushing in 2020.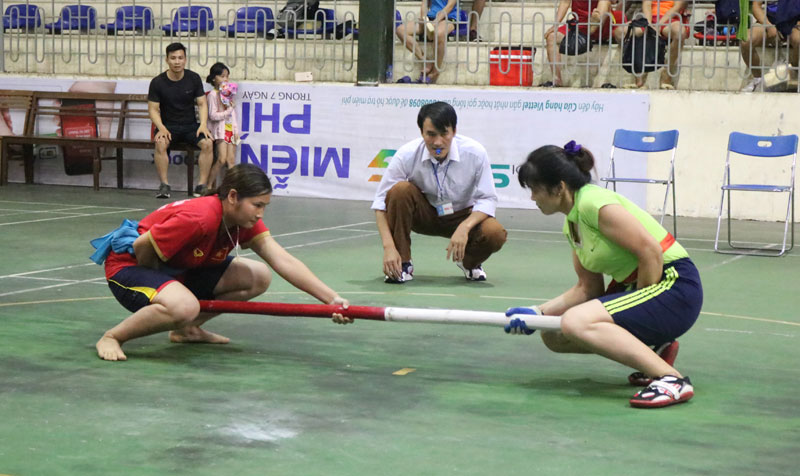 Two athletes from Da Bac district (green belt) and Luong Son district (red belt) are competing in the women's stick pushing weighting over 55kg - 60kg.
After 3 days of exciting and determined competition, over 360 athletes from 10 districts, the city and 2 departments, the provincial Public Security and the provincial Military Command, created the dramatic and attractive competitive scene in 3 ethnic sports. They include Crossbow shooting (the content of standing shooting for men and women; kneeling shooting for men and women; standing fast shooting for men and women; kneeling fast shooting for men and women); Stick pushing (the content for men and women of different weight classes); Tug of war (for men, for women and for both men and women).
The provincial Championship of Crossbow Shooting - Tug of war – Stick Pushing in 2020 has contributed to promoting the movement of practicing sports in general and ethnic sports in particular, and in response to the campaign of "All people exercise their body following the example of the great Uncle Ho" ... Through the tournament, the athletes with the outstanding achievements can be selected to train so that they can compete in the regional and the national sports tournaments.
At the end of the tournament, the Organizing Committee awarded 26 gold medals, 26 silver medals and 26 bronze medals to the outstanding individuals and teams. The first prize for the whole group was awarded to, Tan Lac district, the second one was awarded to Hoa Binh city, the third one was awarded to Da Bac district.