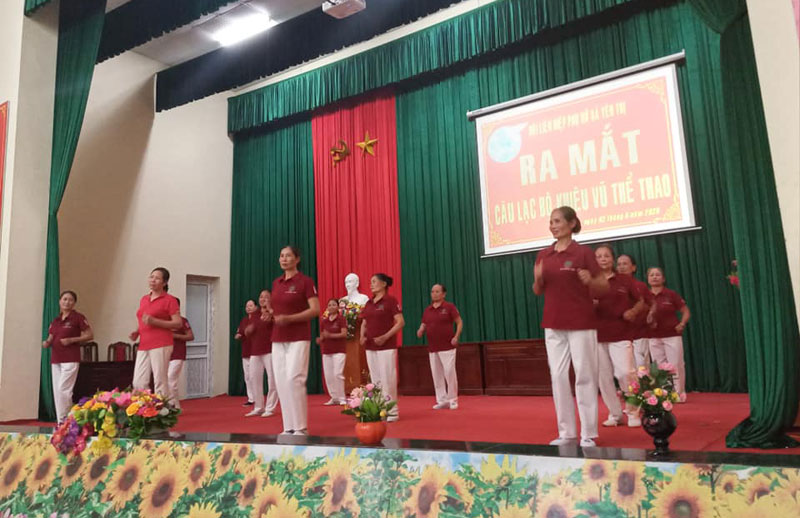 (HBO) - Many people always think that dance sports is for the upper class and the young people in big cities. But now, it is gradually becoming more popular to the majority of people. In early June, 7 clubs of dance sports of Yen Tri commune (Yen Thuy) was established, attracting a large number of women participating in the practice.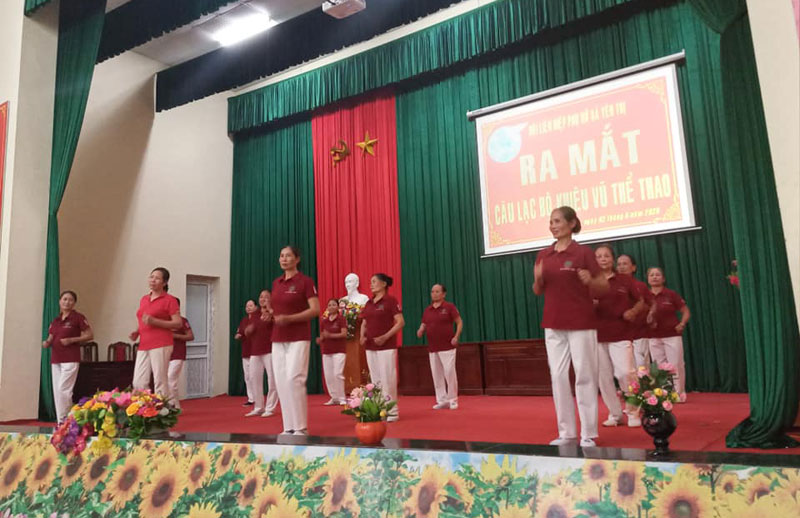 The members of the Dance Sports Club of Yen Tri Commune (Yen Thuy) are performing at the launching ceremony.
Recently, recognizing that many women wishing to practice sports and physical training, the Executive Committee of the Commune's Women's Union has decided to set up 7 dance sports clubs at A Dong, Tan Thanh, Minh Thanh, Minh Son, Dong Mai ... Although they were newly established in early June 2020, the clubs have attracted nearly 140 members to participate.
Leaving aside the worries and struggles after a day of labor and production, from 19.30 – 20.00 daily, the members of the dance sports clubs are present at the yard of the cultural houses of each hamlet and village to practice.
The members of the clubs are diverse in age groups, from 35 to over 45 years old, with all professions including farmers, civil servants, retired officers, freelance workers ... but when they are in the yard, they only have the same passion.
Ms. Pham Thi Nhung, the Chairwoman of Yen Tri Women's Union says: "Recognizing that more and more women are in need of practice physical training and sports to improve their health, 7 dance sports clubs were established on the basis of the aspirations and the voluntary spirit of the members. The clubs have connected the women having the same passion and interests, creating an interesting playground for the people to learn, exchange and exercise to improve their health and to enhance the spiritual life. With the actual needs, the number of members joining the club will surely increase rapidly in the future."
In addition to maintaining training, the clubs have also actively invested in costume and elaborately produced a number of repertoires to regularly exchange and perform in the local events and conferences. The performance of the national long dress, Ao Dai, with the participation of nearly 90 members in the club, performing at the club's launching is popular with the local people.
The dance sports club of the women in Yen Tri commune is a healthy and useful model of sports and fitness. The localities in the province can study and encourage the replication.