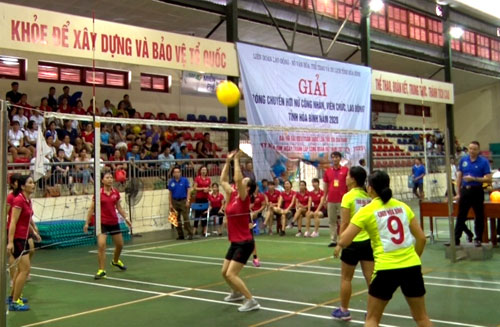 (HBO) - The provincial General Confederation of Labour has cooperated with the Department of Culture, Sports and Tourism to organize the steam volleyball tournament for the provincial female workers, officials and laborers in 2020.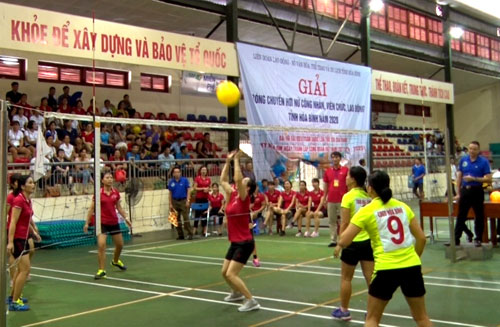 The teams are competing in the tournament.
There are 16 teams with 176 athletes selected from the Labor Federation of districts, the city, the trade union at the grassroots levels and central units located in the province participating in the tournament. The teams are divided into 4 groups to compete in a round competition to choose the first and second teams of each group entering the round in the next round.
After 3 days of competition with the following results: The first prize and the trophy were awarded to the team of Lac Thuy Trade Union, the second prize was awarded to the team of the Trade Union of the Medical Sector, the third prize was awarded to the team of Hoa Binh City's Trade Union and the fourth prize was awarded to the team of the Provincial Military Headquarters.
The tournament was organized to practically welcome the 17th Provincial Party Congress, the 13th National Party Congress and the 91st anniversary of Vietnam Union's Establishment Day. This is also the opportunity for the provincial Labor Federation to praise the spirit of physical training following the example of the great Uncle Ho and the different levels of the Trade Union, as well as for the staff of the Labor Union to exchange and learn experiences in organizing the tournaments and improving the professional quality.