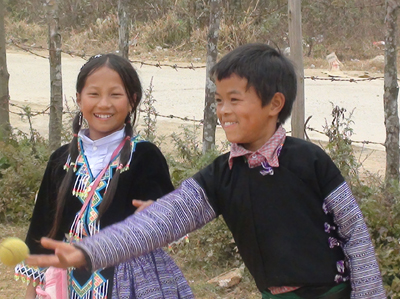 (HBO) - On holidays, Tet or other festivals, Mong ethnic people in Hang Kia commune, Pa Co (Mai Chau) often play a unique game – the tickling game. With this game, from teenagers to children can play all day on the commune's yards. The game helps people get closer together, they compete with the ingenuity from the boys' callous hands.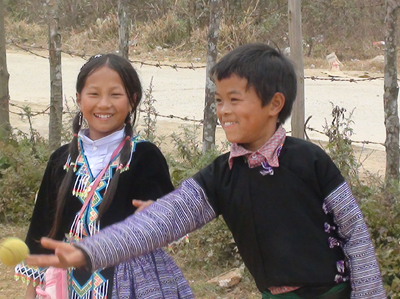 The tick of Mong ethnic people is made of hardwood, and it is rounded. The lower end gradually shrinks into sharp points, the upper end of the raspberry is like a sliced lemon or it is hemisphere. When playing tickling, the selected ground must be flat. Players often use soft strings such as cloth, cotton rope, hemp rope, jute rope, which is quite firm, tied to a hard tree segment, wich is 1.5 cm in diameter and 35 to 40 cm long. Usually, tickling is a collective game, players are divided into two groups, each group include from 1 to 2 people or more but not more than 04 people.
Before entering the game, the two sides simultaneously throw their tickles to the ground to choose the winner and the loser. The tickle of the loser side stops before the tickle of the opponent. When choosing the loser, the lost side must knock their tickle down so that the winner starts to tickle. Then in turn the lost side lets the tickle rotate first so that each of the winner side can use their tickle to knock on the rotating tickle of the opponent on the ground, and if someone's tick stops first, that person's tick loses, and in turn, all of the people in the group, if they win against the opponent. And vice versa the first group tickle first, but if the 2nd group still loses, they still have tickle first for the opponent to continue hitting. This folk game, tickling, requires players to have good health, eyesight and fast and accurate calculation to hit the rotating tickle continuously moving position on the ground of the opponent.
Although the folk tickling game contains the elements intersecting many different ethnic groups, the tickling game of young Mong ethnic people is sportier and reflects the living of the community. A folk tickling game has been lost one time, now it has been restored by Mong ethnic people and it has been brought to the local Homestay tourism spots, allowing visitors to enjoy an exciting experience of this unique sport at the high land.