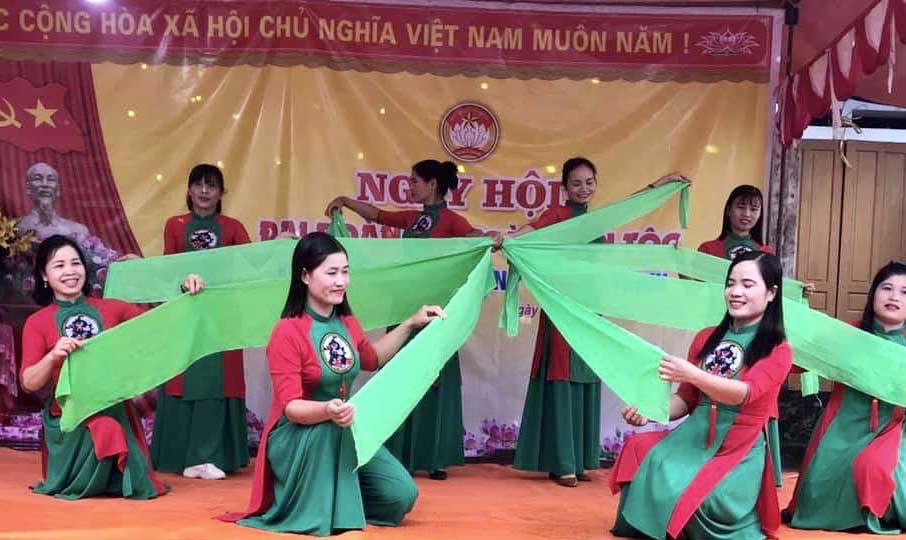 (HBO) – The culture house in Lac Thinh commune, Yen Thuy district, Hoa Binh province has been the gathering place for many local residents who love sports every afternoon. The elderly often play soft volleyball and do exercise, children play football, and youngsters and women play volleyball.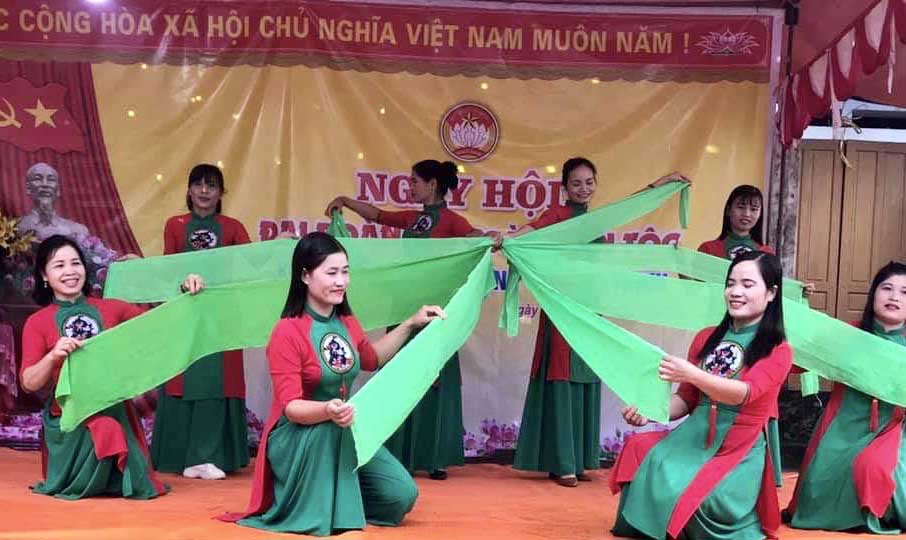 The arts team of Thuong hamlet, Lac Thinh commune (Yen Thuy district) perform at the great national unity festival in 2020.
Sports have helped to tighten solidarity and become an indispensable daily activity of locals. Senior exercise clubs have been established in all 11 hamlets in Lac Thinh. There is also a yoga club for the elderly and women in Sau Street. In addition, each hamlet has a dance club for women. In 2017, the Sau Street established a soft volleyball club, with a total of 33 members.
Apart from sports, people have also actively engaged in a range of culture and art activities, with the latest the celebrations of Vietnamese Women's Day (October 20) when representatives from the 11 hamlets and streets participated in a cultural exchange programme, and the great national unity festival.
To prepare for the performances, Bui Thi Hau and other local women gathered at 7:30pm everyday for rehearsals.
"We are very excited, especially when our performances always receive warm response of the audience," Hau said.
Each hamlet has at least one arts team, some have two, each with 15-20 members, mainly women and the elderly. Those clubs have also engaged in exchanges with those from other communes.
According to Bui Ngoc Luong, Chairman of the commune People's Committee, the arts and sport movements have contributed to improving the cultural and spiritual life of local residents.
All-level Parties committees and authorities have regularly organised artistic and cultural exchange programmes to mark anniversaries and Tet festivals.
Those activities have helped to promote the community spirit in building a cultural life in residential areas, maintaining political security and social order and safety, and preventing social evils.
Some 900 people and 1,175 households, or 73 percent, in the commune engage in regular exercise, and more than 300 residents actively participate in arts, dancing and yoga teams in residential areas. In 2020, 77.2 percent of local households were recognised as families of culture./.