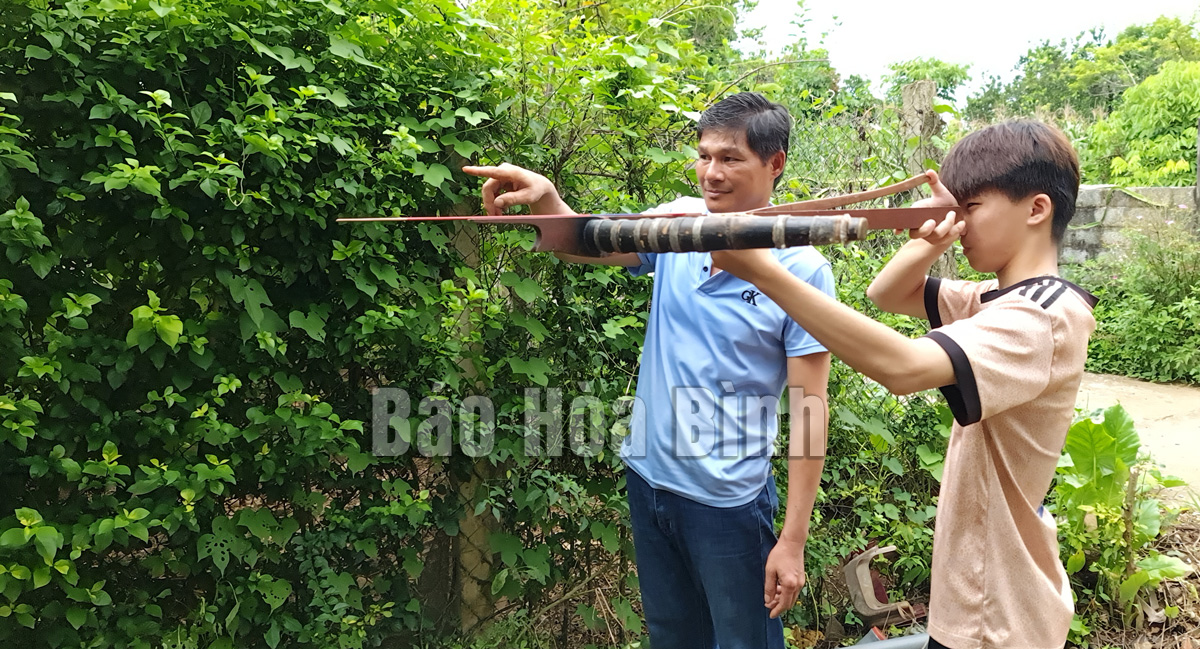 (HBO) - Defining that crossbow shooting is a local strength sport, Cao Phong district has always created conditions and opportunities for the national sport to develop in recent years.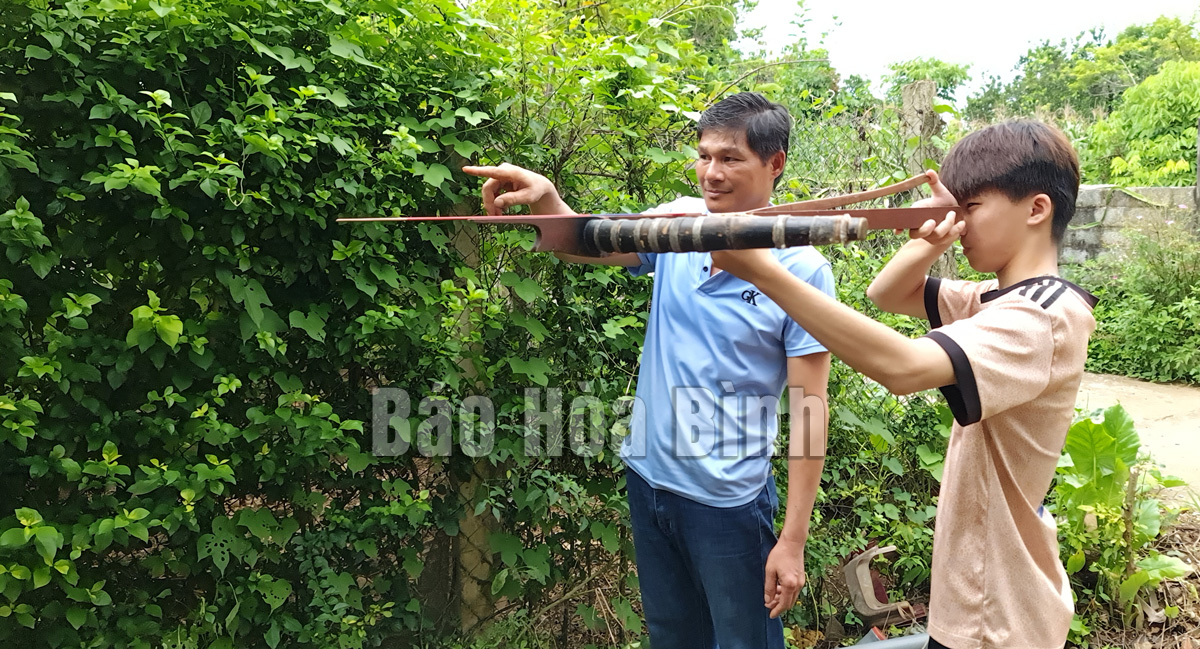 The athlete Tran Quang Hoi, the crossbow shooting club in Tay Phong commune (Cao Phong) is transmitting his competing experience to his son.
"Befriended" with crossbow shooting by chance, the athlete Tran Quang Hoi, from Tay Phong team area, Tay Phong commune (Cao Phong) is one of the rare Kinh people participating in the national sport. Thanks to his strong mentality, confidence, good technique and physical strength, he is one of the prominent sports faces of the locality. Being a member of the crossbow shooting club of Tay Phong commune, he has made great efforts, trying to improve his performance through each friendly tournament or competition. He said: Crossbow shooting is a national sport that requires technique, high accuracy and strength. Therefore, we regularly practice skills to aim accurately in the focus. Not only participating in the local and friendly tournaments, we often clash with the opponents in the neighboring provinces. I have an advantage over many other athletes that is when I started getting used to the 90-centimeter crossbow, and when competing, it is also the 90-centimeter crossbow, while most other athletes are familiar with the 120-centimeter crossbow.
As for the athlete Bui Van Suong from Xuong Dau hamlet, Dung Phong commune, who has a lot of experience and high achievements, and he is always stable at the crossbow shooting tournaments organized by the province and the locality has a passion for crossbow shooting since childhood. He always carefully keeps nearly 30 medals of all kinds as a reminder to himself that he needs to work harder to increase the number of gold medals. The athlete Bui Van Suong said: To create a rough crossbow, it takes a few days, even a week to find wood to make a crossbow, thorns to make a bowstring. For the crossbow to be able to compete, it takes months of correcting so that it is precise. The sharpening must also be meticulous in each knife line. It mustn't make metal bowstrings or arrows from lathe or metal. If you want to shoot well, you need to practice regularly, practice so that you have strong hands and sharp eyes. In my opinion, the crossbow shooter requires strong nerves, calm psychology, bright eyes and strong hands to raise the bow and aim accurately at the focus.
Mr. Bui Van Hung, the Deputy Director of the District Center for Culture, Sports and Information said: Crossbow is a folk game that has become an indispensable sport in every holiday, Tet or major local festivals. Some typical and excellent athletes can be mentioned: Bui Van Sung (Dung Phong commune), Tran Quang Hoi, Bui Van Thieu, Bui Van An (Tay Phong commune), Dinh Thi Quynh (Nam Phong commune)... Crossbow shooting is also one of the sports that we put into competition at sports and physical congresses of the district and commune. Thereby, it helps discover new factors, to timely foster and create resources for the locality. Since 2015, the district has won 43 sets of medals of all kinds including 10 gold medals when participating in the crossbow shooting tournament organized by the province. For the athletes, crossbow shooting is not only imbued with the beauty of traditional culture of the nation, but it also asserts its advantages at friendly tournaments.
Although there are still many difficulties in terms of facilities and funding, crossbow shooting has always been interested and developed by Cao Phong district. Thereby, it helps contributing to promoting the movement of practicing crossbow shooting in particular and the growing the local sports and physical movement in general.