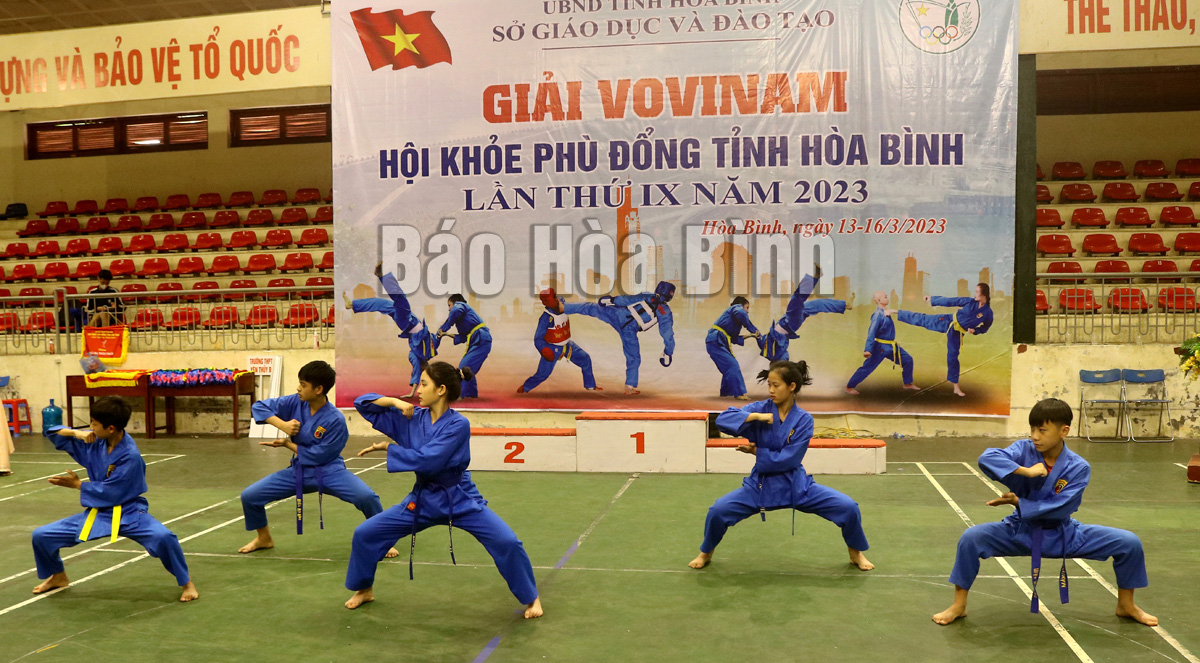 (HBO) – The Vietnamese Traditional Martial Arts (Vovinam) Tournament, part of Hoa Binh province's 9th Phu Dong Sports Festival, wrapped up on March 14, leaving a good impression on athletes and spectators.
Athletes from Da Bac district's Division of Education and Training join the Vovinam tournament.
The tournament attracted 127 athletes from five Divisions of Education and Training in districts and cities and 10 senior high schools. The athletes competed in ten performance categories and 20 combat events.
The tournament was an opportunity to evaluate physical education and sport movements in units and schools. It also helped to select potential athletes and prepare for the 10th National Phu Dong Sports Festival in 2024.
At the tournament, the audiences had a chance to witness thrilling and dramatic competitions or beautiful and definitive martial art moves and sword fighting. Once entering a competition, young athletes played with chivalry, high determination, and brought many unforgettable emotions to the audiences.
Nguyen Quoc Hung, a gold medal winner from Cu Chinh Lan Senior High School, said that just practicing vovinam for about two years, he is quite surprised and honoured to get the medal.
The tournament was a good opportunity for young athletes to learn, gain experience and improve skills, Hung said.
Nguyen Huong Ly, head of the team from Da Bac district's Division of Education and Training, said that in the last three years, vovinam has become popular to students in the district.
All 12 athletes of the team participating the tournament won medals, which are the fruits of their hard working, determination and unity./.