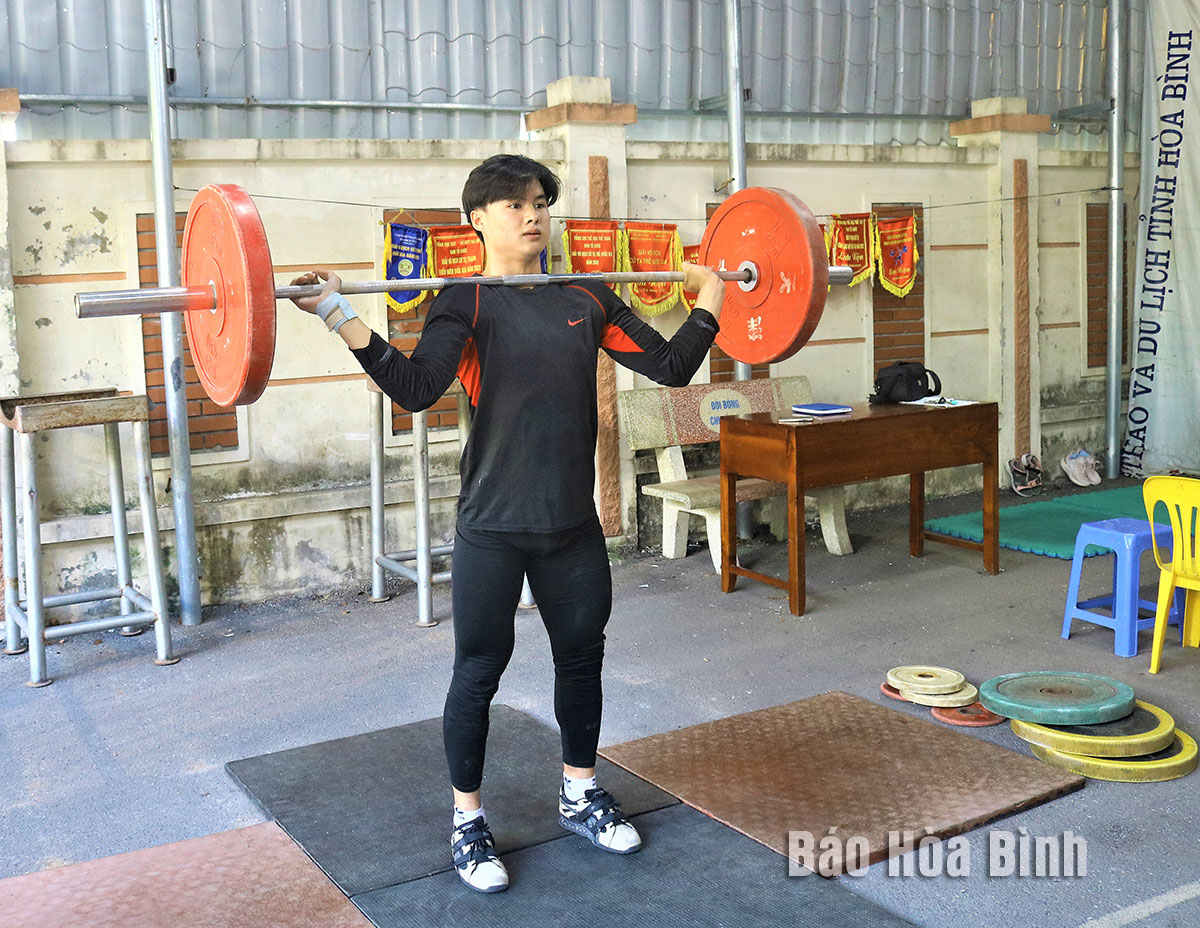 (HBO) - Born in 2007 in Ngo Luong highland commune (Tan Lac), Bui Van Hiep is a young, multi-talented face, working hard to develop his sports talent. Sticking with high-performance sports for more than 4 years, Bui Van Hiep has reaped valuable medals.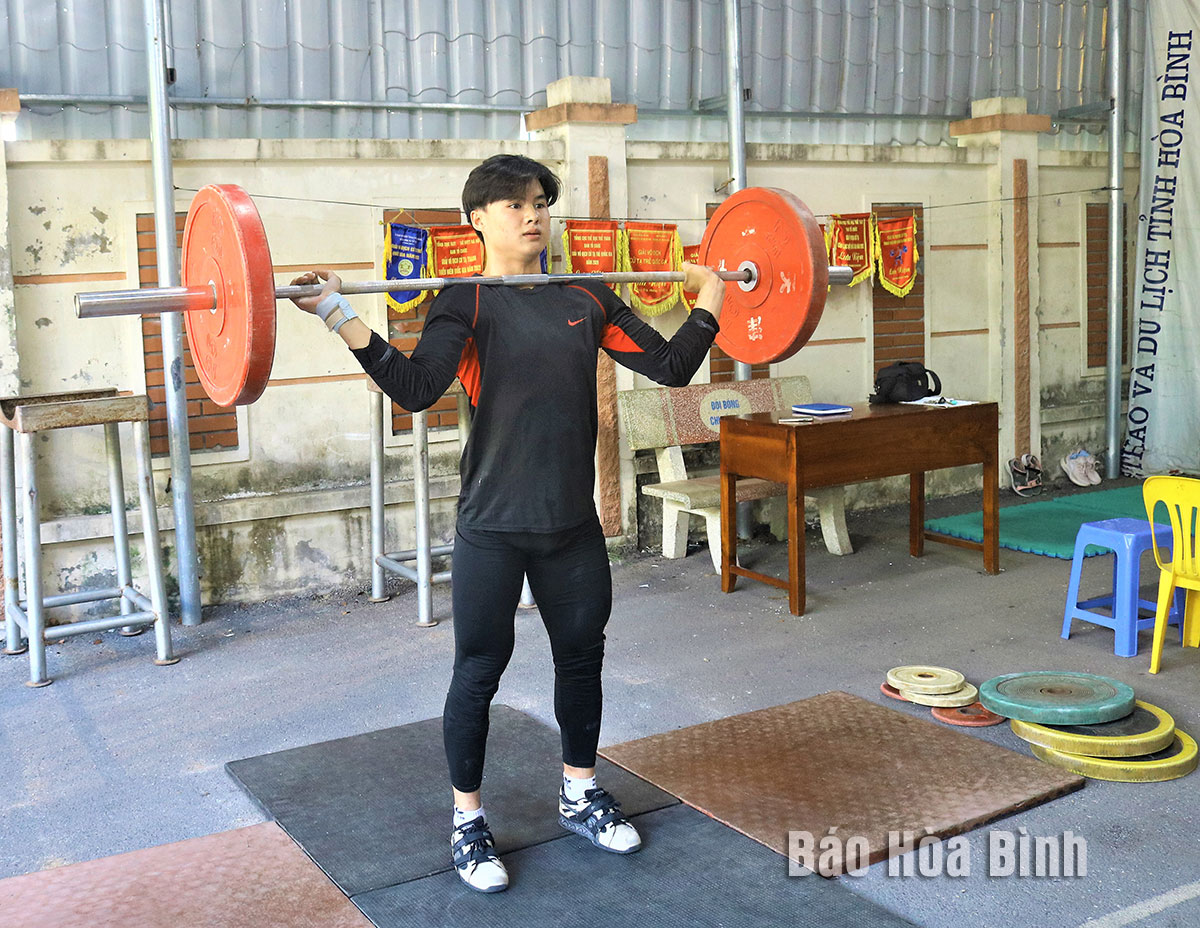 The young athlete Bui Van Hiep practices weightlifting at the Provincial Gifted School for Sports Traininng and Competition.
The coach, Quach Cong Vu, the weightlifting teacher of the provincial Gifted School for Sports Training and Competition, says: Bui Van Hiep is a promising student, hardworking, diligent in training, and willing to support the teammates, he always tries to complete the assigned training plan well.
While he was still in the locality, Bui Van Hiep soon showed his talent and athletic qualities, actively participating in grassroots sports tournaments. Determined to pursue the path of professional sports, after passing the physical fitness and athletic ability tests of the Admission Council of the Provincial Gifted School for Sports Training and Competition, Bui Van Hiep officially fell in love with weightlifting in July 2019.
When he first went to school, he was confused with independent life away from the family and professional assignments, and he was discouraged. However, the teachers and the coaches are always close, caring and sharing, and the spiritual encouragement from the family and the teammates has helped him overcome difficulties. He told himself to constantly try his best, persevere in training, comprehensively develop skills, competitive psychology... determined to win medals in sports arenas, regardless of the trust and expectations of teachers and families.
Over 4 years of hard training, under the guidance of a team of dedicated and responsible coaches, Bui Van Hiep has matured through each tournament. The National Youth Weightlifting Championship in 2020 is the first tournament where he has been given the opportunity to compete and improve his level. It was a pity that he couldn't win a medal in first time he went to the "big sea". "If you win, don't be arrogant, if you lose, don't be discouraged", Bui Van Hiep is determined to practice, looking forward to the new season.
At the National Youth Weightlifting Championship in 2021, Hoa Binh weightlifting team won 1 silver medal, 7 bronze medals, of which Bui Van Hiep contributed 3 bronze medals in snatch, clean and jerk, total lift for men's 61kg weight class. In the 2022 season, Bui Van Hiep regreted losing the opportunity to win a medal. In 2023, it was still in the national youth weightlifting championship, he tried to compet and won 2 silver medals in the 67kg men's weight class, ages 15 - 16 years old. However, this is not the most outstanding mark in 2023 for the young athlete Bui Van Hiep. At the 2nd National Youth Pushing Championship in 2023, Bui Van Hiep unexpectedly brought home the valuable gold medal of the men's 65kg weight class for the provincial putting team. This is also the only gold medal of our province's sports team in this tournament.
Few people know that Bui Van Hiep's father - Bui Van Huynh - is a prominent ethnic sports athlete of the province. He has a proud record of achievements at the national, provincial and district's level stick pushing sports arenas. Inheriting from his father's love, passion, experience, and techniques for practicing and competing in stick pushing, when he was still a 4th grade student, Hiep mastered the techniques for stick pushing. The 2nd National Youth Stick Pushing Championship is the first national-scale stick pushing tournament that he has tried, bringing together nearly 200 excellent athletes from 14 provinces and cities nationwide. Bui Van Hiep won the highest achievement in the competition content.
The athlete, Bui Van Hiep says: "The results I have achieved are thanks to the dedicated guidance of my teachers, the spiritual strength of my family, the solidarity and support of my teammates, and the will to rise up. This achievement is the motivation for me to continue training in technique, expertise, and a strong competitive mentality, overcome the limits, and strive to achieve even higher goals in the coming time."