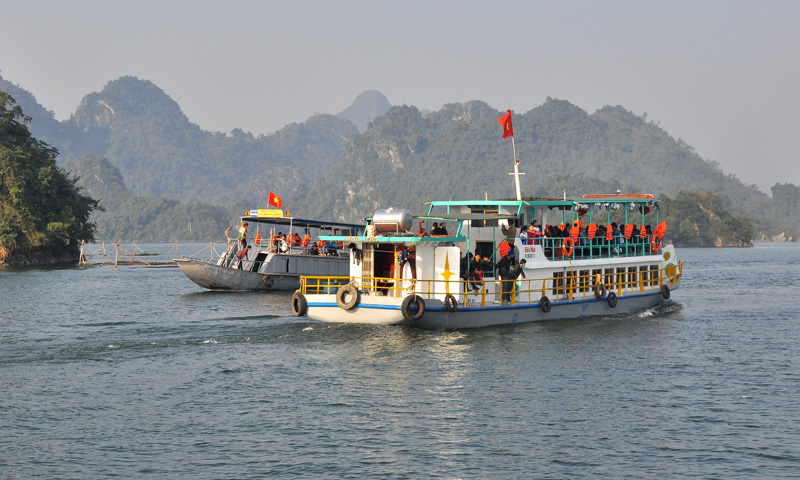 (HBO) – The northern mountainous province of Hoa Binh is rich in culture of various ethnic minority groups, with the famous pre-history culture called "Hoa Binh culture". It also boasts diverse natural resources, with many beautiful caves and Hoa Binh lake tourism area dubbed as "Ha Long Bay on land." Such tourist potential has created an advantage for Hoa Binh to develop signature tourist products, becoming an attractive destination for local and foreign holiday-makers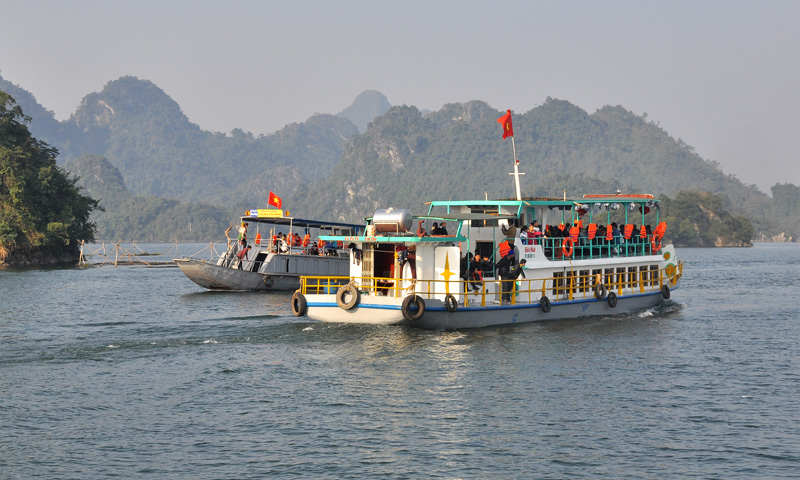 Hoa Binh lake – an attractive tourism destination receiving investment of the province.
Tourist potential and products
Regarding tourist potential, Hoa Binh has natural and humanity resources. The northwestern locality is blessed with bio-diversity and mountainous terrain that created stunning caves such as caves in Dau Rong Mount (Cao Phong), Tien pagoda (Lac Thuy) and Nam Son Cave in Nam Son commune (Tan Lac), along with waterfalls namely Mu (Lac Son), Tu Son (Kim Boi) and Thang Thien (Ky Son). Hoa Binh is home to four nature conservation centres – Pu Canh (Da Bac), Ngoc Son-Ngo Luong (Tan Lac-Lac Son), Thuong Tien (Kim Boi), and Pa Co-Hang Kia (Mai Chau). The Hoa Binh lake area has been dubbed as Ha Long Bay on land with 47 islands and islets which accommodate various species of fauna and flora. The humanity resources in Hoa Binh have been mirrored through the ethnic minority groups of Muong, Thai, Tay, Dao and Mong who boast distinctive custom, clothes, food, languages and cultures. Besides, Hoa Binh has 41 national historical relic sites and 27 provincial historical relic sites, along with traditional festivals such as the Muong Bi summer festival (Tan Lac), Bo temple festival (Cao Phong, Da Bac), Tien pagoda festival (Lac Thuy) and Xen Muong festival (Mai Chau) which have attracted the participation of crowds of domestic and foreign visitors.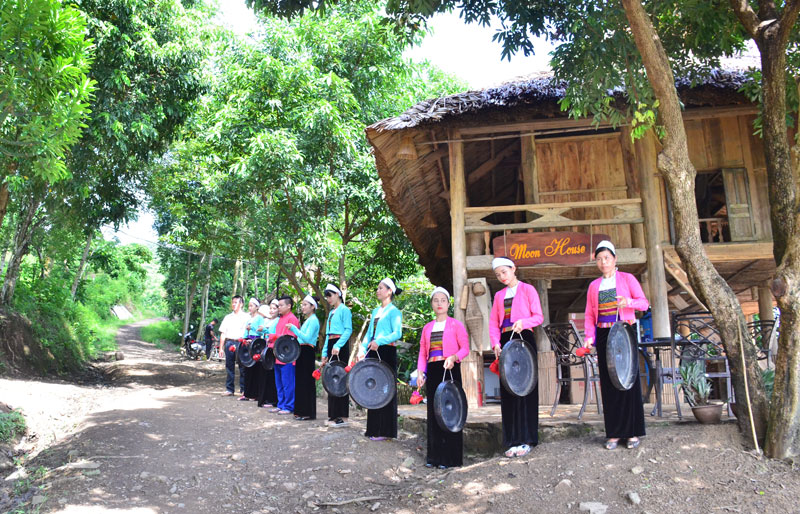 Community tourist site in Ngoi hamlet, Ngoi Hoa commune (Tan Lac) has pristine beauty and special culture of the Muong ethnic minority group.
In 2016, the province served over 2.2 million tourist arrivals, of which over 227,000 are foreigners. Earnings from tourism reached 1.038 trillion VND (45.6 million USD). In the first six months of 2017, it welcomed more than 1.5 million arrivals with 135,000 foreigners, earning more than 500 billion VND.
Utilising differences in tourist potential diversity
With its diverse tourist potential, selecting appropriate products which are attractive to visitors is essential to make the province's tourism development work effectively. Thanks to its rich cultures of the Muong, Thai, Tay, Dao, and Mong ethnic groups, Hoa Binh holds great potential to develop tourism, especially community-based tourism.
According to insufficient statistics, the province has around 150 households earning incomes from community-based tourism, in which 117 belong to eight town and communes of Mai Chau district. In addition, this type of tourism has also grown in other districts such as Ngoc Son and Tu Do communes of Lac Son district, Ai hamlet in Phong Phu commune and Ngoi hamlet in Ngoi Hoa commune of Tan Lac district, Ke hamlet in Hien Luong commune, Da Bia hamlet in Tien Phong commune and Cao Son commune's Sung hamlet of Da Bac.
Spiritual tourism is also a strong point since the province is home to Bo temple and Tien pagoda.
At present, Hoa Binh province is eyeing to develop high-quality resorts. In recent years, several resorts have reported positive growth and attracted a lot of tourists, including Mai Chau Ecolodge (Mai Chau) and Serena resort (Kim Boi).
The province built a master plan on tourism development for 2014-2020, with a vision to 2030, with the focus on developing the Hoa Binh lake national tourism area and Mai Chau national tourism site.
It will continue investing in infrastructure, improving human resources and developing typical tourism products which people can mention once they think about Hoa Binh's tourism.
The moves are expected to help increase the competitiveness of the province's non-smoke industry and take advantage of its tourism potential.
Vu Ha