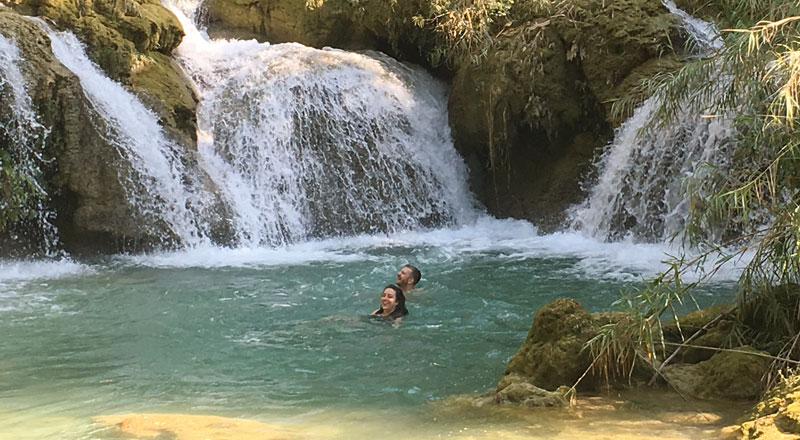 (HBO) – Mu Waterfall in Tu Do commune of Lac Son district has become well-known for its rare alluring beauty over the last couple of years. However, it is facing a risk of disappearing since a hydropower project is underway here. A feeling of pity for Mu Waterfall
Located at over 1,000 metres above the sea level and at the start of legendary Truong Son mountain range, Mu Waterfall is described as an "attractive girl in her twenties" thanks to its imposing beauty, pure and cool water, and strong water flows. A special feature is that a small pure blue bay like a natural pool was formed at the foot of the 100m-high waterfall section. The waterfall is surrounded by an untouched and picturesque forest landscape. Mu Waterfall is truly a "paradise" for foreign tourists and youngsters who love motorbike tours to explore.

Due to the waterfall's beauty, visitors from Hoa Binh and other localities have flocked to this "paradise" recently. Secretary of the Party Committee of Mu hamlet Bui Van Khuyen said the number of tourists to Mu Waterfall has risen sharply since April 30. The ticket admission even reached 7-10 million VND (308 – 440 USD) on peak days, excluding revenue from accompanying services.

Since 2014, local residents have capitalised on tourism potential, mostly beautiful natural landscapes and long-standing customs. Mu Waterfall is an important highlight of that tourism potential. Thanks to Mu Waterfall's attractiveness, local people have also gained more income from tourism and accompanying services.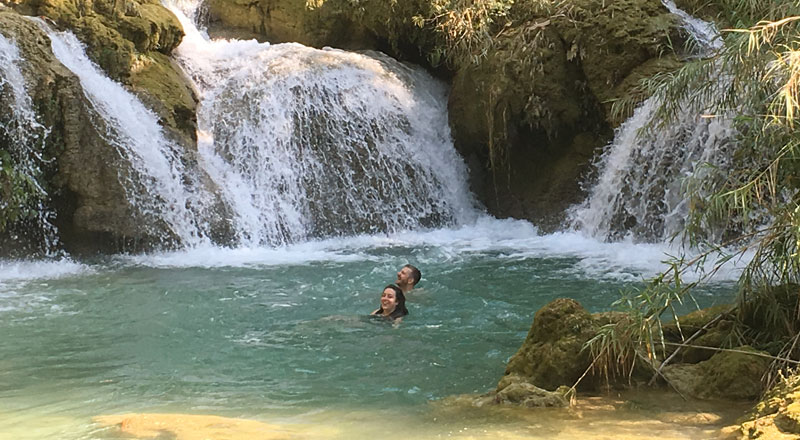 "Natural swimming pool" in the foot of Mu waterfall is selected as an ideal destination by foreign visitors

Statistics showed that 19 out of the 59 households in Mu hamlet have engaged in tourism with new trades such as selling groceries, renting swimsuits, and offering beverages, food, and homestay services. Other locally-made farm produce such as honey and vegetables are widely sold.

At present, households are afraid that the waterfall would be destroyed one day due to the implementation of a hydropower project on the Mu river. Bui Thi An from Phu Lai commune (Yen Thuy) and her friends have visited Mu waterfall many times. An said "The landscape is wonderful and the Mu waterfall brings us the most excitement when coming here. Therefore it would be a pity if the waterfall may disappear in the future."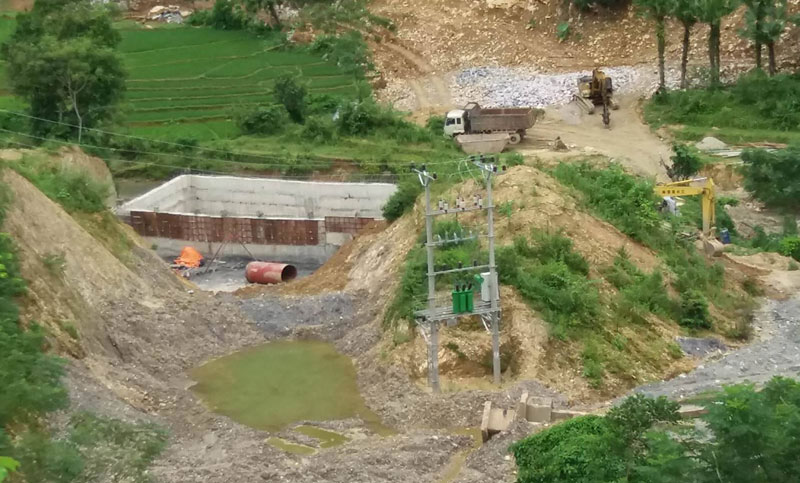 The implementation of a hydropower project near Mu waterfall has been postponed due to environmental violations

The hydropower project along the Mu river was approved by the provincial People's Committee in Decision 495/QD-UBND dated November 10, 2015. The project is designed to have a capacity of 9 MW. It is invested by the Van Hong Co. Ltd. and carried out on the Mu river, Tu Do commune. Its construction started in 2016 with a total investment of 167 billion VND. As planned, the project will be put into operation in March 2017.

Chairman of the communal People's Committee Bui Ngoc Thien said according to technical design, the project will build a water storage dam at the head of the Mu waterfall. This could pose negative impacts on the waterfall, especially changing its flows, affecting tourism and water resources for local irrigation. In the worst situation, the waterfall could be totally destroyed. He emphasized the local government and people's viewpoint of ensuring harmonious development between tourism and hydropower. They had better choose the waterfall instead of the project because it is a valuable natural tourism resource and it is impossible to implement the hydropower project but destroy the surrounding landscape./.