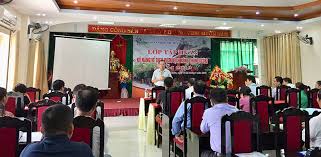 (HBO) – The Department of Culture, Sports and Tourism of Hoa Binh province has opened a training course on skills related to "One commune – one product" (OCOP) rural tourism services in Mai Chau district. Attending the course were 45 officials in charge of tourism and socio-cultural affairs in the district as well as representatives from households involved in tourism.
The trainees were equipped with general knowledge on tourism and community-based tourism and on how to develop community-based tourism. They were provided with important measures to attract visitors, and communication skills with visitors.
The course was also a chance for them to practice reception, room-making and dining professions.
It has helped train and improve the quality of human resources serving in the sector, especially those involved in community-based tourism so as to boost the development of this type of tourism in Mai Chau district, thus contributing to raising their awareness of building local products, effectively implementing the OCOP programme and developing community-based tourism in line with the new-style rural area building.