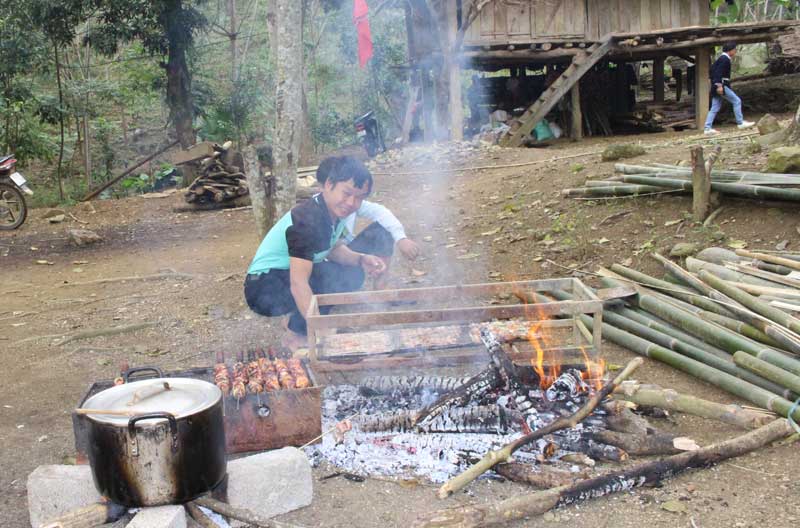 (HBO) - With the charming scenery, the National Tourist Area of Hoa Binh Lake has been attracting a large number of domestic and foreign tourists. There, visitors can not only discover the nature and culture of the indigenous people but they can also enjoy the unique cuisine of the people within the lake of Da river.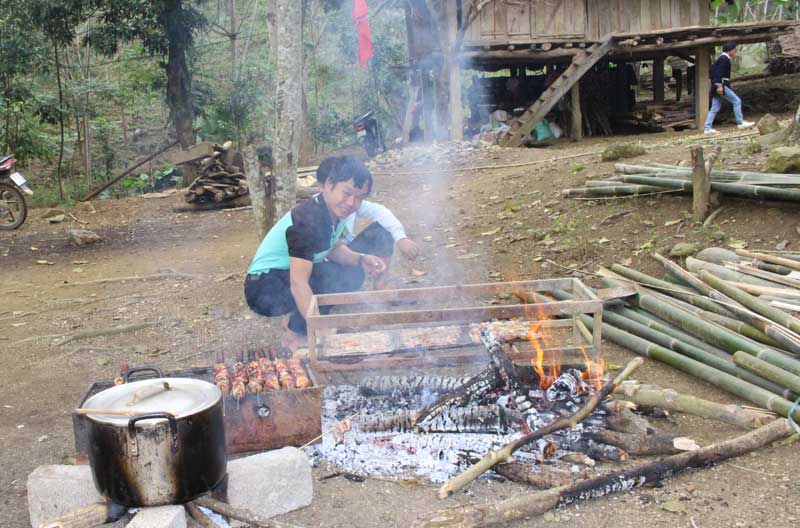 The local people in Da Bia, Tien Phong commune (Da Bac) are preparing the grilled meat to entertain the visitors.
According to the plan, the National Tourist Area of Hoa Binh Lake is located in Hoa Binh City and 4 districts: Da Bac, Tan Lac, Mai Chau and Cao Phong. The localities have been exploiting the strengths of the natural resources and culture to develop tourism.
With the motto of ensuring the fresh and clean food and the dishes with the ethnic cultural identity, the households doing tourism in Hoa Binh Lake use the fresh and clean sources of the available local food such as the fish in the lake and the chicken living on the hills, the indigenous pigs, wild vegetables, bamboo shoots and so on to prepare the unique dishes to entertain the visitors. The fact that the tourists and the homeowners often catch fish, pick vegetables and go to the kitchen to cook food togetherr is an activity enjoyed by a lot of tourists. The homeowners also pay great attention to the layout of dishes. The delicious dishes are displayed on banana leaves or phrynium parvifloum roxb with rice in a clay pot,which is all towards the harmony with the nature.
The fish of Da River - a special gift that the local people often entertain the visitors. At present, on Da River there are a lot of different kinds of fish such as chanos chanos, hemibagrus guttatus, bagarius, cranoglanis and so on, which can be processed into dozens of different dishes such as grilled fish, steamed fish, fish with sour bamboo shoots and so on. Each fresh fish caught from the river is made clean, salted and kept by old and fresh bamboo sticks, then grilled over charcoal. Every hot fish skewer is spotted with white salt mixed with seeds from michelia tonkinensis and a few slices of chili, which make you feel the sweetness of the fish.
The pork with the seeds from zanthoxylum rhetsa grilled with charcoal is also one of the attractive dishes for tourists. The pork belly sliced into small pieces with the seeds from zanthoxylum rhetsa is grilled medium, which is also extremely attractive. The sweetness of pork with the aroma of the spices creates a special dish that anyone cannot refuse.