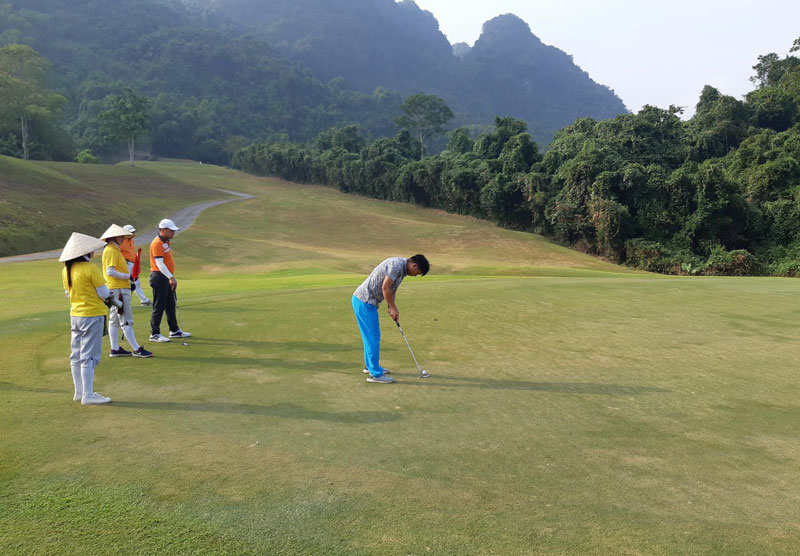 (HBO) - With a convenient location, beautiful and imposing scenery, and unique cultural identity, Hoa Binh province holds huge potential to develop different types of tourism.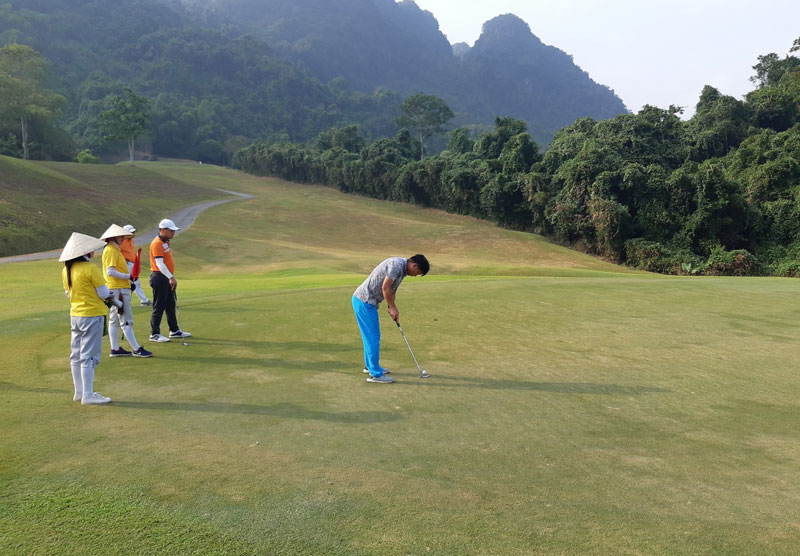 Hoa Binh has potential, advantages in sport-entertainment tourism. Photo: Phuong Hoang golf course in Lam Son commune, Luong Son district, draws visitors.
Beautiful land rich in cultural identity and potential
Located adjacent to Hanoi capital and as a gateway to the northwest region, Hoa Binh has imposing natural landscapes with many historical - cultural sites. The province is home to 173 relic sites and caves containing archaeological vestiges of the famous "Hoa Binh culture".
It has four natural reserves, namely Ngoc Son – Ngo Luong, Thuong Tien, Pu Canh, Hang Kia – Pa Co which have diverse ecological system and hot springs in Kim Boi, Lac Son and Yen Thuy districts.
Hoa Binh lake has a water surface of 8,000ha and a capacity of 9.5 billion cu.m with various islets, creating a charming scenery dubbed as a pearl of the province. It has also been approved for planning as a national tourist area. The legendary Hoa Binh hydropower plant associated with Hoa Binh lake is also an attractive destination.
In particular, Hoa Binh boasts unique cultures of Muong, Tay, Thai, Dao, Mong ethnic groups. Of them, Muong group accounts for 63.3 percent. They are owners of sweet folk songs and epics, nearly 10,000 gongs, traditional crafts and festivals such as Tien pagoda, Muong Bi summer, Bo temple, Xen Muong Mai Chau. Their culinary culture is also very unique.
With a convenient location and diverse tourism natural resources, Hoa Binh also holds huge potential to develop cultural, ecological, resort, spiritual, sport-entertainment, and adventure tourism.
Awakening potential, developing tourism
With such potential, the province considers tourism as a key economic sector. In order to tap tourism potential, the provincial Party Committee and People's Committee issued resolutions, plans and projects. During 2016-2020, the province drew 30 projects in tourism worth over 10 trillion VND. The locality is now home to 434 accredited lodging facilities, including six three-star hotels, 25 two-star and 8 one-star hotels, 238 guest houses with 4,200 rooms, 5,419 beds and 157 homestay facilities with about 2,355 beds; and nine local tourist areas. The number of tourist arrivals and revenue keep growing. Tourism has increasingly contributed more to the local economy, amounting to over 3 percent of the gross regional domestic product.
In 2016, the province welcomed over 2.27 million visitors, including more than 227,400 foreigners, earning over 1 trillion VND. In 2019, 3.1 million tourists visited the locality, including more than 406,300 foreigners, bringing revenue of over 1.15 trillion VND. From 2016-2019, the average tourist arrivals grew by 10 percent annually, creating jobs for more than 14,000 labourers, including 5,260 direct and around 9,000 indirect jobs in the fields of handicrafts, souvenirs and goods supply.
Living in Ho Chi Minh City, Nguyen Thi Thoa chose Hoa Binh as a destination in early 2020. She said Hoa Binh has beautiful scenery, unique cultural identity, especially that of Muong ethnic group. The Serena tourist area in Kim Boi deserves being an attractive destination. If given the opportunity, she will definitely return there./.