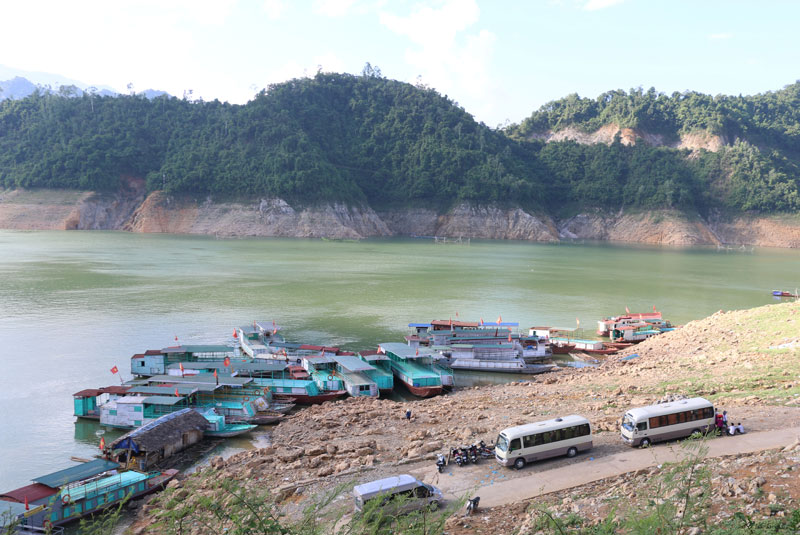 (HBO) – Owning Thac Bo temple - a provincial-level relic site - and beautiful landscape of water and mountains in the lake as well as untouched villages of the Muong ethnic minority group, Cao Phong district boasts potential for tourism development.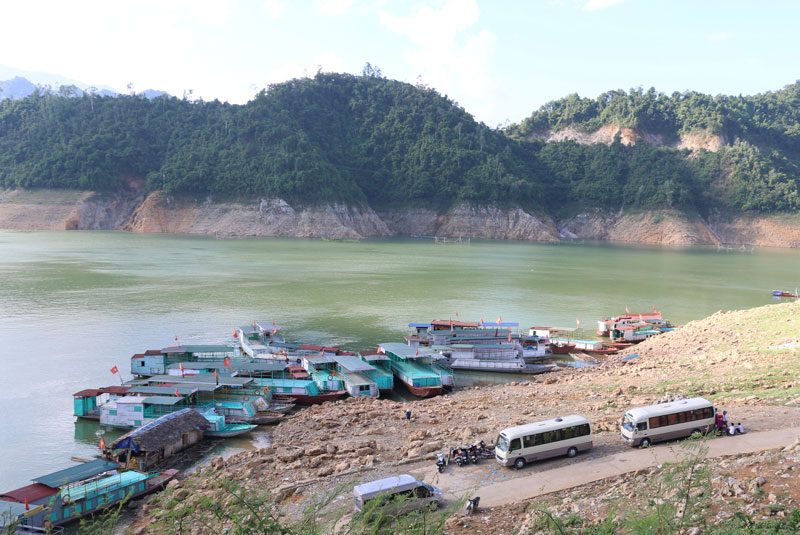 The infrastructure of Thung Nai port in Cao Phong has been upgraded to become more convenient, meeting the demand for travelling and sightseeing in the lake.
As a famous spiritual cultural tourist site, the Thac Bo temple welcomes dozen thousands of visitors each year. The temple has been an important part of tours and tourism routes in the lake area. Tourists can reach the Thac Bo temple by boat from Thung Nau port in Thung Nai commune. During 15 minutes on board, they will have chance to enjoy beautiful landscape of the lake with numerous islands of different sizes, which is not very different from those in Ha Long Bay.
In the Thac Bo temple, visitors can offer incense to the Goddess and practice the WorshipofMotherGoddesses, a UNESCO-recognised intangible cultural heritage of the humankind.
After 40 minutes staying in the temple, visitors will visit Co temple and Thac Bo cave, then reaching Dua island by boat and have lunch on the island before returning to Thung Nai port to conclude the tour.
Another attractive tour that travel companies often offer is Hoa Binh-Thac Bo temple-Ngoi village.
The exploration of Cao Phong's lake area will not be perfect if visitors skip community-based tourist sites of Tien village in Thung Nai commune and Giang Mo village in Binh Thanh commune to enjoy the nature and experience the daily life of Muong ethnic minority people living around the lake.
If Muong village of Giang Mo has become popular among domestic and foreign tourists, Tien village is a new destination which was put into operation in 2019.
The common feature of the two villages is the beauty of stunning mountains, unique traditional culture which are shown in their unchanged practices, language, costumes, and architecture.
With its advantages and potential, Cao Phong lake tourism has great opportunities for development, contributing to the socio-economic growth of the locality and enhancing the living conditions of locals. Tourists who explored Cao Phong lake basin by boat have shown satisfaction on the quality of infrastructure in destinations of the tours.
Currently, Binh Thanh and Thung Nai communes have attracted a number of investors who are interested in developing high-end resorts and entertainment centres, meeting the diverse demands of visitors.
Since April, after COVID-19 pandemic was controlled, Thac Bo temple and a number of tourist sites in the lake basin have re-opened and seen a sharp rise in visitor arrival. Particularly, in the future, when provincial road 435 is completed and become operational, Cao Phong's lake tourism is expected to thrive strongly./.