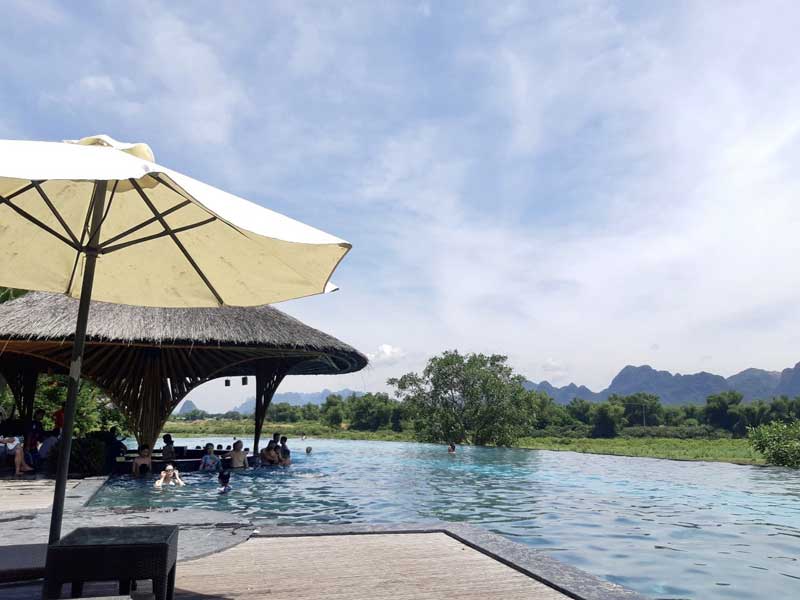 (HBO) - It isn't necessary to look anywhere, there are a lot of interesting and attractive spots of entertainment and relaxation in Hoa Binh province, attracting visitors inside and outside the province and the international this summer.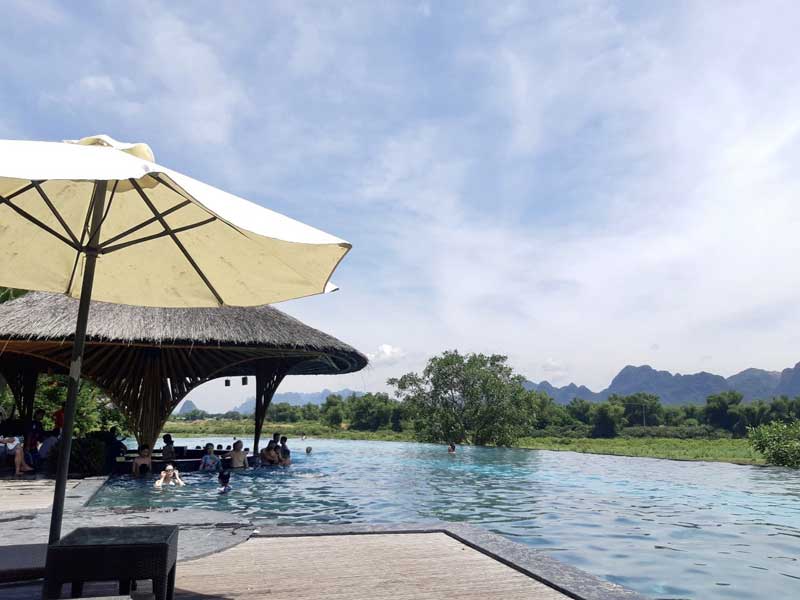 Kim Boi Serena Resort (Kim Boi) with 4-star quality is the choice of many visitors in the summer vacation in 2020.
Kim Boi district is a vibrant summer destination for tourists. Especially at weekends, the hotels and motels at Kim Boi mineral spring often "run out" of rooms, as the visitors from Hanoi capital and the neighboring provinces such as Phu Tho, Hai Duong, Bac Ninh often come here to entertain and relax quite a lot. One of the most popular destinations is Kim Boi Serena Resort with 4-star quality - a unique and ideal destination overlooking Boi River. Here, visitors can enjoy the wonderful views of the rice fields, or take a dip in Kim Boi hot spring bath. Additionally, there are diversified entertainment activities of high quality. In the resort, here is a tennis courts, a fishing place, a massage & steam room, spa and health care center, a place for cycling ..., meeting the needs of convenient services of visitors.
According to Mr. Nguyen Thanh Ha, the Head of Culture and Information Department of Kim Boi district, in order to better exploit the strengths of tourism, there are more and more accommodation options in the area. In addition to the Trade Union Hotel, which is the largest accommodation facility, providing a full range of mineral bath services for visitors, there is a large-scale Serena Resort. Thanks to that, it contributes to attracting the number of tourists coming to Kim Boi. In addition, there are also has many tourism destinations attracting visitors in the summer such as Cuu Tu Son waterfall, Tien waterfall, Au Co lake waterfall, Bac - Long Cung waterfall. In the first 7 months of this year, the district has attracted more than 40,100 turns of accommodation visitors, 26,261 turns of visitors, and the revenue from tourism was nearly 124 billion dongs.
On the way to discover and experience in the Northwest, Mai Chau valley is an attractive destination with the peaceful natural beauty and unique cultural features of the ethnic minorities. If in winter, Mai Chau attracts tourists by the cold air, the cherry blossoms, the plum blossoms bloom in a white corner of the sky, in summer this place attracts visitors to experience the fresh, cool climate, and mingle in the lives of indigenous people, along with many other interesting experiences such as plum picking, peach picking, tea harvesting ... Currently, in addition to the community tourism destinations that get satisfaction from visitors such as Lac hamlet - Chieng Chau commune, Pom Coong - Mai Chau town, there is a number of famous resort hotels, chosen to stay by visitors. They are Mai Chau Ecolodge, Mai Chau Hideaway, Ba Khan eco-tourism area. The tourism attractions in Mai Chau district that tourists cannot ignore are Thung Khe pass, Lac village, Pom Coong village, Mo Luong cave, Pa Co fair ..
Located near Hanoi Capital, Luong Son district is also one of the attractive destinations in summer. Phoenix Golf Resort with an area of nearly 312 hectares in Lam Son Commune, is the largest golf resort in the North, built according to the international standards. The landscape of the golf course has been set in a harmonious and poetic design, making this place become an ideal destination, attracting more and more visitors from diferent countries around the world. Also in Lam Son commune, there is Ngoc Stream – Ba King tourist area known as an ecotourism complex with an area of 300 ha.
In addition to the famous tourism destinations that are exploiting the potential and efficiency of the localities mentioned above, the destinations in the tourism area within Hoa Binh lake are also attracting domestic and international tourists. In the first months of the year, the Covid-19 epidemic had a great influence on tourism activities. Since April 30 and May 1, especially in summer, tourism of the province has been vibrant again. The number of tourists coming to tourist destinations has increased sharply. Up to now, the province has welcomed 1.2 million turns of visitors, including 150,000 international visitors. The total revenue from tourists is about 750 billion dongs, reaching 73.7% compared to that of the same period, implementing 30% of the year plan.