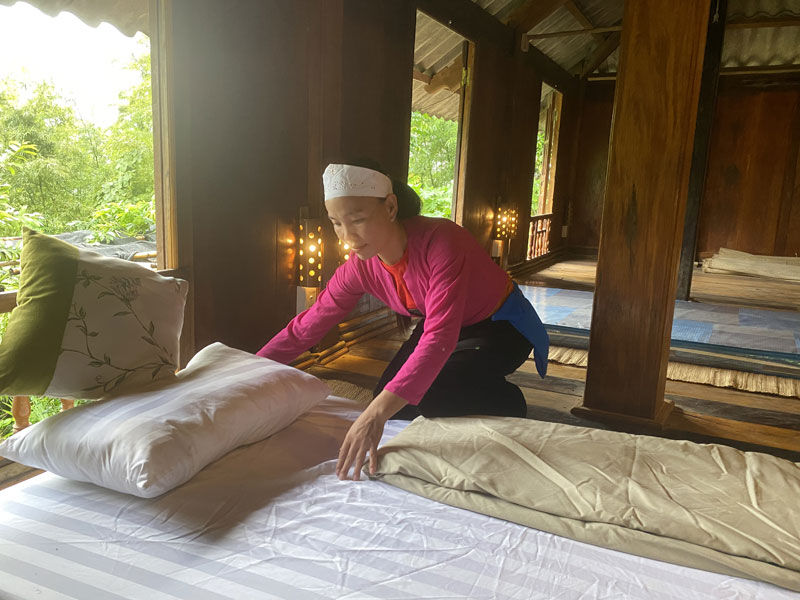 (HBO) - From the end of 2019, the community tourism spot in Buoi Cai village, Phu Cuong commune (Tan Lac) officially opened. Together with Luy Ai hamlet - Phong Phu commune, Chien hamlet - Van Son commune, Buoi Cai has become one of the three models of the community tourism, which have been put into operation in the area.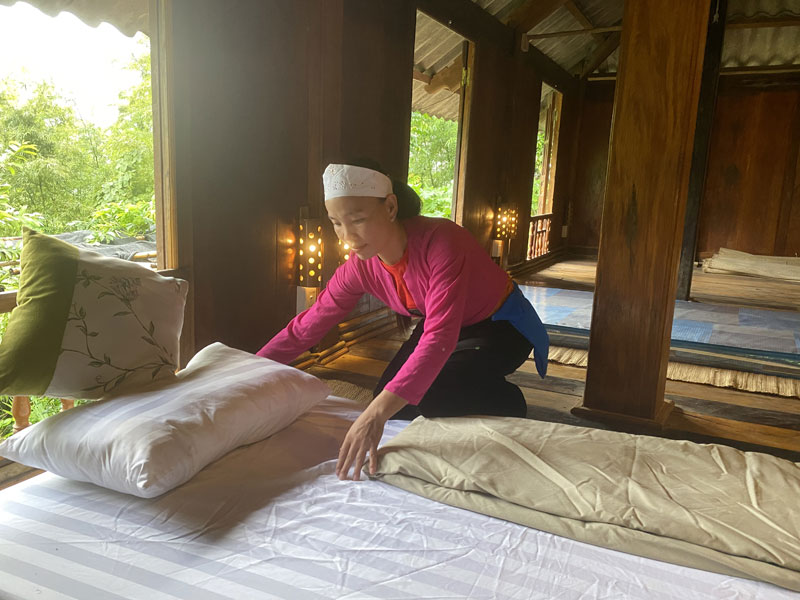 The homestays in Buoi Cai village, Phu Cuong commune (Tan Lac) have been preparing to welcome tourists.
The nature has endowed Buoi Can with a mild climate and a diverse ecological system. Especially since the State invested in upgrading Highway 6 an ideal stop at the White Stone Pass has been created. In addition, the people in the hamlet have consciously been preserving the traditional cultural values. Many good customs and practices have still been preserved. In daily life, the way of eating and living style of Muong ethnic people is still preserved. In particular, 100% of the people's houses still follow the traditional architecture of stilt houses. This is an advantage for Buoi Cai people to promote and it is the basis for AOP project in Vietnam to invest and support to improve the sustainable livelihoods in ethnic minority areas.
Community tourism has been ready for the operation and the exploitation. However, Mr. Bui Van Tuan, the secretary Buoi Cai Party cell, concerns: Covid-19 epidemic has directly affected tourism in general, and community tourism in particular. Additionally, Buoi Cai is a new community tourism spot, so not it has not been well-known among tourists. Currently, there is a very beautiful cave in the Buoi mountain area, which is suitable for the interests of many tourists, especially for foreigners who love exploring and adventure. It takes about 30 minutes to walk through Buoi mountain from the village to Da Trang mountain pass. Unfortunately, there is no road, so the beautiful cave has not been put into operation.
There are 107 households with 531 people in Boui Cai. The people have always unanimously responded to preserving the traditional cultural identity associated with tourism development from the time when it was built into a community tourism has led to the formation of 2 music teams specializing in performing gongs, dancing, singing, a culinary team, bicycle rental service and so on. According to the secretary, in long term the local people would like the commune and district leaders to pay special attention to improving the pedestrian walkway to Da Trang mountain pass so that Buoi Cai community tourism can attract visitors, tourists. They also want to attract investment projects on the way to Buoi cave, creating more diversified tourism products to meet the needs of visitors.