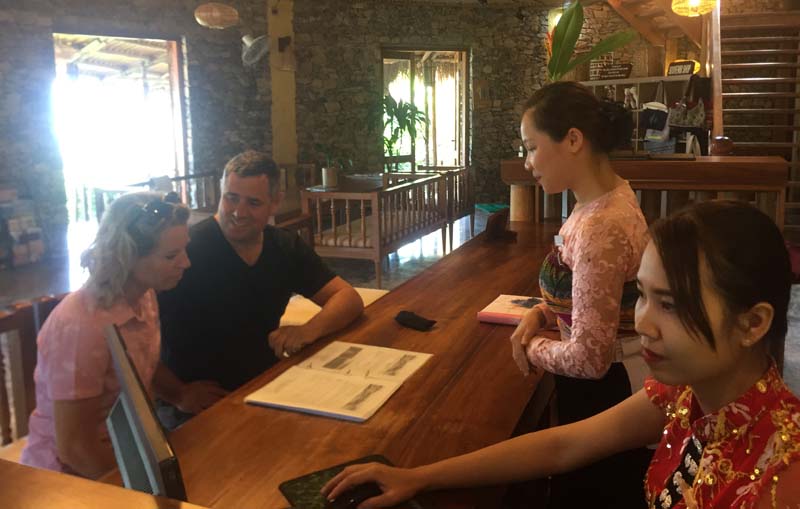 (HBO) – Boasting stunning landscapes and unique culture, the northwestern province of Hoa Binh has been attractive to both domestic and foreign visitors.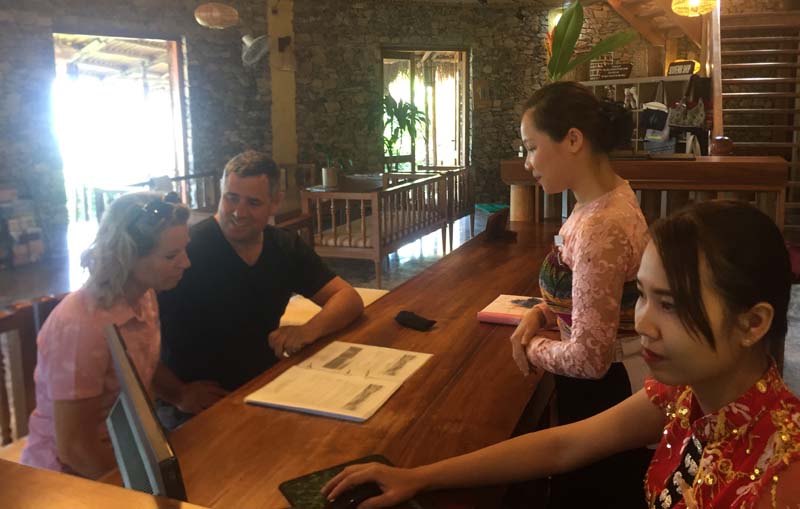 Staff at Mai Chau Hideaway welcomes foreign visitors.
A wide range of products have been developed in the province such as high-end resort tourism, community-based tourism, eco-tourism and adventure tourism, which bring unforgettable experiences to both domestic and foreign travellers.
Billed as "Ha Long Bay on the mountain" with many islands on the crystal clear water, Hoa Binh Lake is currently an alluring destination for those who want to discover the wild natural beauty. Taking a boat to the Temple of Thac Bo Goddess, Le Loi Temple, Thac Bo Cave, Mieng Cave and floating park, visitors should not miss nearby Coconut and Windmill islands as well as community-based villages such as Bich Tru, Ke, Duc Phong and Ngoi to explore the local culture and daily life.
Meanwhile, Kim Boi – the "golden cup" land, bestowed with hot mineral springs, has become an idyllic weekend destination. Visitors will find it fascinating when soaking in a hot mineral spring with a picturesque landscape or joining quality entertainment activities. High-end resorts in the area are Serena Resort Kim Boi in Sao Bay commune, and An Lac tourism site in Vinh Dong commune.
Other attractive tourist sites in Kim Boi are Tu Son Waterfall, Tien Waterfall, Au Co Lake, Bac-Long Cung waterfall.
Coming to Hoa Binh, Mai Chau valley is a must-see destination. Visitors flock to the valley to experience cool weather and see white fragile peach blossoms and plum flowers in winter, while they find the site attractive with exciting activities in summer.
Along with favoured community-based tourism sites like Lac village in Chieng Chau commune, Pom Coong in Mai Chau town, Mai Hich, and Hang Kia-Pa Co, visitors might be interested in renowned resorts and hotels like Mai Chau Ecolodge, Mai Chau Hideaway and Ba Khan tourism site.
Hoa Binh has seen a surge in the number of visitors to its tourist spots. The province has welcomed more than 892,000 visitors, including 128,000 foreigners. Revenue from tourism services reckoned at 684 billion VND (29.4 million USD), accounting for 67.2 percent of the same time last year, and 27.3 percent of the yearly plan./.