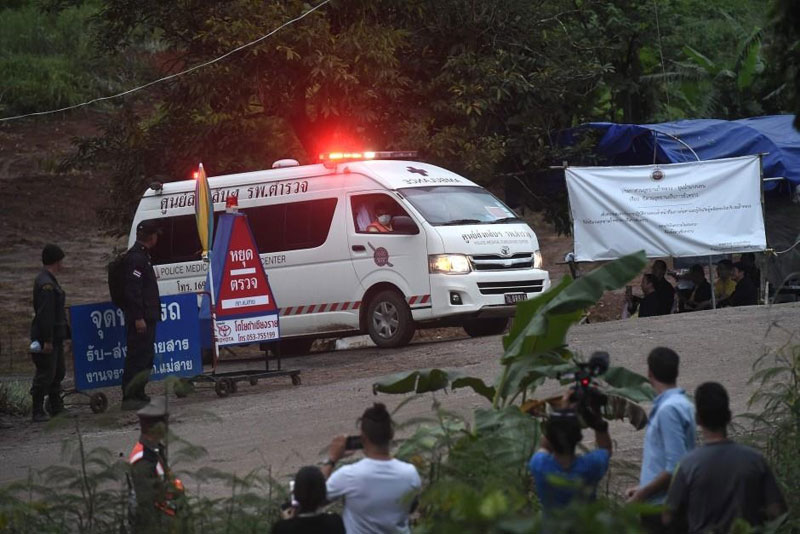 An ambulance leaving the Tham Luang cave area in Chiang Rai, Thailand on July 8, 2018. (Photo: AFP).
Thirteen foreign divers and five members of Thailand's elite navy SEAL unit are trying to bring the rest of the boys - some as young as 11 and weak swimmers – through narrow, submerged passageways that claimed the life of a former Thai navy diver on July 6.
The rescued boys were taken to a field hospital near the cave in Thailand's northern Chiang Rai Province. Helicopters were seen hovering above the cave site.
Some 13 foreign cave diving experts entered the cave to launch the rescue operation at 10 a.m. (0300 GMT) on July 8. The boys and their coach would be dived out of the flooded cave.
Bursts of heavy monsoon rain soaked the Tham Luang Cave area in northern Chiang Rai province on July 8 and storms were expected in the coming weeks, increasing the risks in what has been called a "war with water and time" to save the team.
The 12 footballers, aged between 11 and 16, and their coach, 25, went missing in the cave in Chiang Rai Province on June 23. They were located on a small cliff about four km away from the cave entrance when the search entered the ninth day on July 2.
Rescuing them all could take three to four days and depended on the weather, an army commander involved in the mission had said earlier.
Thai Prime Minister Prayuth Chan-ocha planned to visit the cave site on July 9, a government spokesman said.