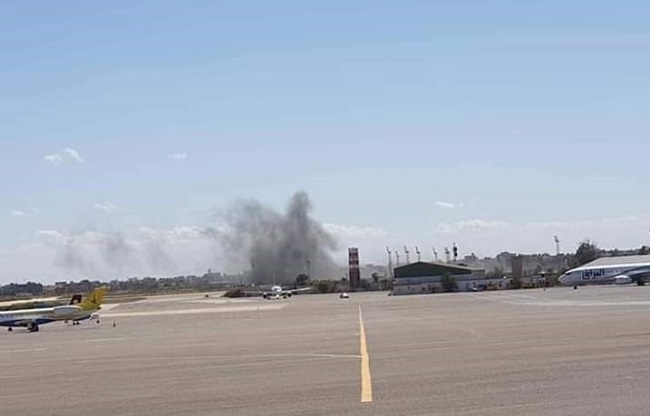 Zuwara Airport has been attacked twice by Haftar's forces in two days.
The UN Support Mission in Libya (UNSMIL) on August 15 denounced increasing attacks on airports in western Libya.
"The UNSMIL deplores the ever-increasing and systemic attacks on airports in western Libya, including Zuwara and Mitiga. These attacks have endangered the lives of thousands of civilian travelers, including UN staff and humanitarian workers," the mission said in a statement.
The east-based army announced on August 16 that it targeted Zuwara airport in western Libya and destroyed two hangars for drones.
With the continued suspension of flights in the targeted airports, thousands of travellers face difficulties on a daily basis, especially with the increasing damage caused by the attacks on the airports.
Mitiga airport is the only functioning airport in the capital used by hundreds of thousands of civilians, as well as for transporting humanitarian aid.
"UNSMIL stresses that these attacks must cease immediately, and reiterates that airports used by civilians are not military targets," the mission warned.
The UN mission also called for "all feasible precautions" to "protect the civilians in accordance with international human rights and humanitarian laws."
Omran al-Najah, a retired civilian pilot, believes the continued targeting of airports in Libya, especially the capital's only airport, has significant implications for security and safety of the airports.
"The airports are affected by the security and safety situation," he told Xinhua.
"Whenever they are affected by armed attacks, foreign companies are reluctant to return to their flights to Libya, in addition to the huge losses that large national carriers suffer because of delays in scheduled flights," he said.
The former pilot underlined the importance of "refraining from attacking airports or using them for military purposes."
"Destroying airports means isolation of more than 3 million people, about half of the population of Libya," he said.
Libya's UN-backed government on August 16 condemned attacks on the airports.
"The Presidential Council of the Government of National Accord condemns the cowardly airstrikes on civilian airports in the western region by Haftar's (army commander) militias, which damaged the infrastructure of the airports, frightened civilians, and disrupted flights," the UN-backed government said in a statement.
In July, the east-based army announced the destruction of the main control chamber of drones in Tripoli's Mitiga airport. In response, the UN-backed government said it destroyed drones belonging to the rival east-based army in Jufra district in central Libya.
The UN-backed government has been engaged in a deadly armed conflict since early April in and around the capital Tripoli against the east-based army, which is trying to take over the city and overthrow the government.
The east-based army, led by Khalifa Haftar, is allied with the east-based government, as the North African nation is politically divided between eastern and western governments.