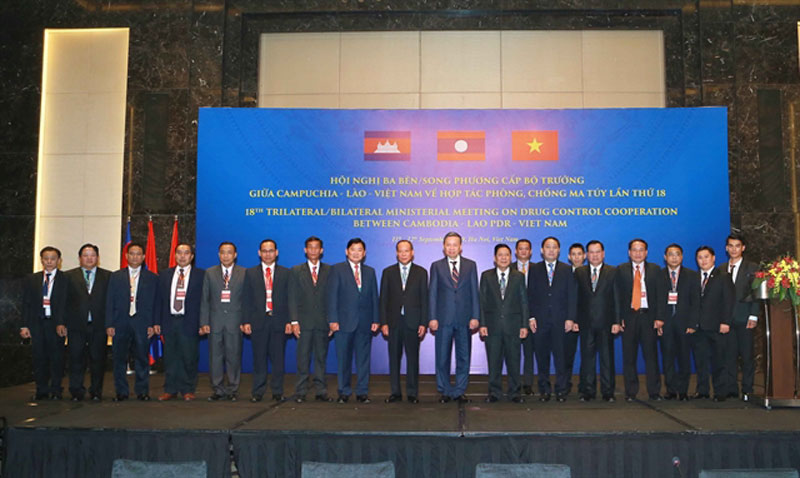 Việt Nam, Cambodia and Laos should work together across their borders to fight the illegal drug trade, said participants at the 18th trilateral/bilateral ministerial meeting on drug control co-operation among the three nations held in Hà Nội on Wednesday. Read more at http://vietnamnews.vn/politics-laws/535290/vn-cambodia-laos-enhance-drug-control-co-operation.html#ohWmdQTmAbSBouts.99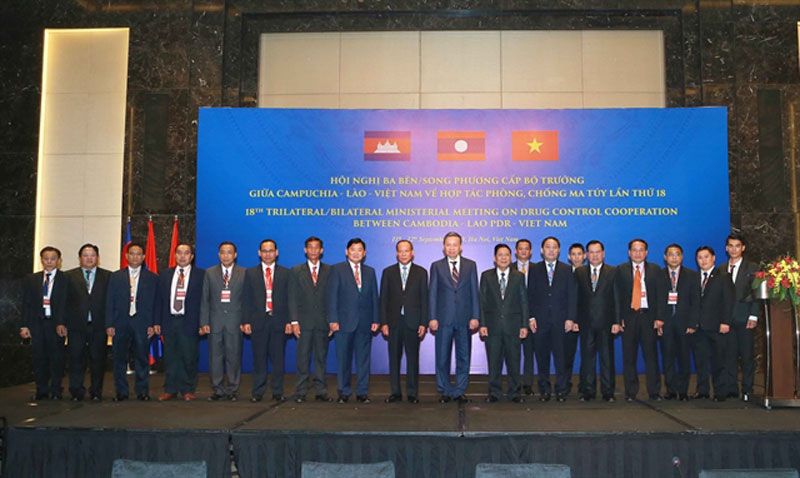 Representatives from Việt Nam, Cambodia and Laos take a group photo on the sidelines of the18th trilateral/bilateral ministerial meeting on drug control co-operation in Hà Nội on Wednesday.
General Tô Lâm, Vietnamese Minister of Public Security said: "The co-operation among Việt Nam, Laos and Cambodia had been fosteredfor more than 20 years, making contributions to the drug control activities of the three countries.
"At present, transnational drug crime organisations have taken advantage of geo-political characteristics, customs,living habits and economic exchange activities among the three countries as well as loopholes of border inspection and control to do illegal transactions and transport drugs across borders," said Lâm.
"Besides, complicated changes of security in the region and all over world havealso quickly and deeply affected each country's security as well as appear several new factors which created negative impacts and made difficulties for criminal control and prevention activities,"he said.
At the meeting, participants agreed that illegal drug production, transport, storage and transactionhad caused concerns and badly affected security and social safety in Việt Nam, Cambodia, and Laos and other countries in the region.
The participants also said criminal drug activities had not only weakened social foundation and caused great economic and health losses, but also launched other crimes threatening national stability.
Therefore, the countries, especially those sharing borders, should burden mutual responsibilities and set up solutions at national and regional levelsto enhance co-operation and minimise the production, trade and use ofillegal drugs in each country.
The three countries pledged to made efforts to implement the target of ASEAN Community Protection, control illegal drugs in2016-25, follow "no tolerance" for drugs and "no tendency" for legalising drug use, and persistently pursuethe ASEAN roadmap.
The three countries plan to improve co-operation at border liaison offices and open more offices in provinces with high risk of drug crimes.
Specialised forces shouldfoster their capacity to create favourable conditions for staff to co-ordinate in arresting criminalsacross the borders.
Campaigns to suppress drug crimes in the border areas between Việt Nam, Cambodia and Laos should continue.
Source: VNS