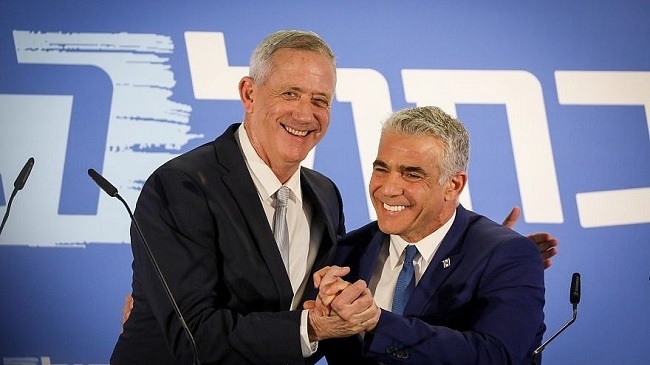 Israeli Blue and White party's leaders vowed on Monday (October 21) to form "a liberal unity government" after incumbent Prime Minister Benjamin Netanyahu failed to present a new one.
Benny Gantz and Yair Lapid of the Blue and White Party make a joint a statement in Tel Aviv on February 21, 2019. (Photo: JNS.org)
"Blue and White is determined to form a liberal unity government led by Benny Gantz," the centrist party said in a statement, referring to a governing coalition without religious parties.
"The time for spins has passed. Now it's time for actions," said the centrist party, which won the largest number of seats in the September 17 elections.
On Monday night, Israeli Prime Minister Benjamin Netanyahu informed President Reuven Rivlin that he was returning the mandate to form a government, two days before his deadline to present a new governing coalition.
Meanwhile, a statement released by Rivlin's office said the President now intends to task Gantz with forming a new government.
Gantz's party won 33 seats in the 120-seat parliament in the do-over elections on September 17, against the 32 seats of Netanyahu's right-wing Likud.
The tight results have brought the country to a political deadlock, with speculation on a third round of elections in less than a year if Gantz also fails.
Source: NDO