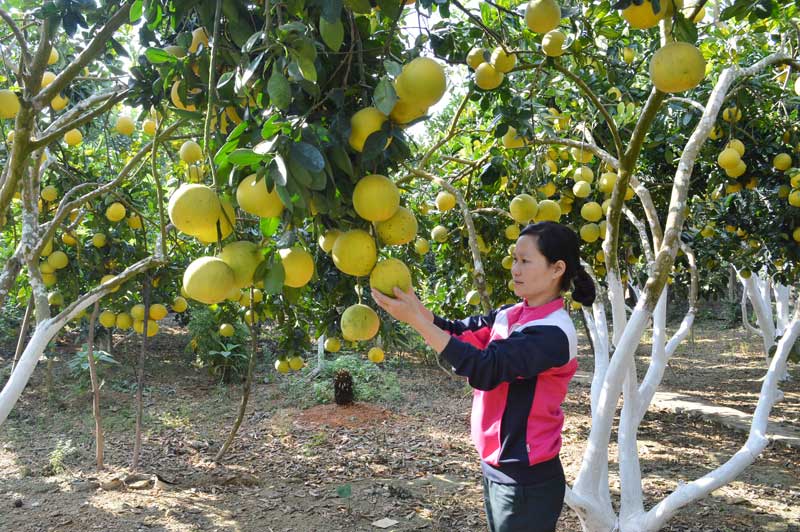 (HBO) – We visited the citrus orchard of Le Thi Thanh Tra's family in Truong Yen village, Yen Mong commune, Hoa Binh city – one of outstanding economic models in the commune. Her orchard has about 120 grapefruit trees of different kinds, all of which are 13-14 years old. At this time, her grapefruit orchard is ripening, with all trees laden with fruits.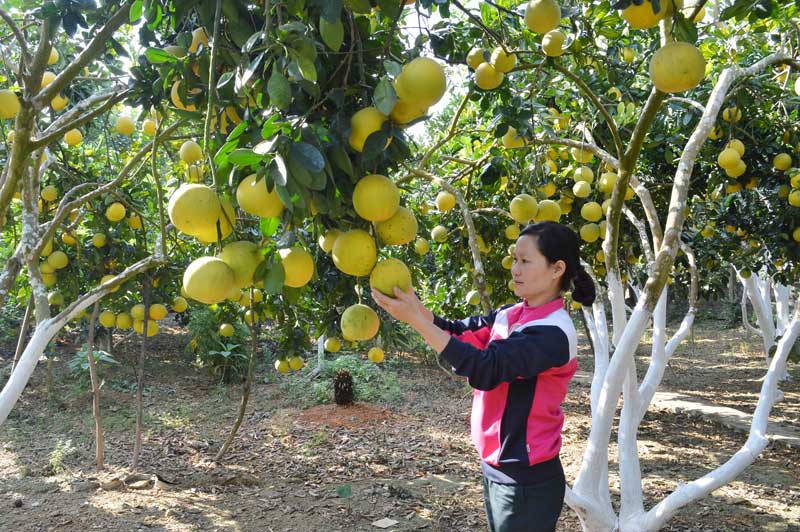 Le Thi Thanh Tra, Truong Yen village, Yen Mong commune, Hoa Binh city, checks the quality of grapefruits in harvest time.

"After studying, my family decided to plant grapefruit of different kinds such as Dien grapefruit, red grapefruit and Que Duong grapefruit. As each kind has a different harvest time, we always have products to sell," Tra said. "Over the past years, the grapefruit orchard has generated stable income, at about 100 million - 200 million VND (4,410 - 8,820 USD) per year".

Meanwhile, over the past five years, Dinh Cong Quyen in Bac Yen village has invested in building a closed chicken and pig farm. Each year, his family raises four to five flocks of chicken each year. At the peak time, his farm has up to 4,000 chicken. In recent two years, he has invested in buying incubators which can produce more than 10,000 chicks every month.

Several years ago, when the pig price was stable, his pig farm raised over 10 sows and from 30 to 40 porkers. This year, due to a decline in price, the figures reduce to four sows and nearly 20 porkers. Husbandry brings about an around 100 million VND income for Quyen's family each year.

Head of the Farmers' Association of Yen Mong commune Nguyen Van Vin said that the association currently has 777 members. They have actively responded to good production and business emulation movements and those helping others escape from poverty and get rich. The members have shifted the structure of crops and animal breeding with focus on plants and animals that produce high economic values such as citrus, chicken and pig. In addition, they have maintained the production of "chit" broom, toothpick and bricks.

In 2017, the association organised training classes on citrus planting and chicken breeding techniques, and graft and growing techniques of "red-flesh" and "green-skin" grapefruits for 40 members and one training course on advanced chicken raising techniques for 45 members.

It also mortgaged with the provincial Bank for Social Policies to help 124 households gain access to loans with a total outstanding debt of 2.1 billion VND, in which 573.5 million VND are worth of loans for business and production, 99 million VND worth of loans for poor households and 85 million VND worth of loans for employment settlement.

Thanks to the emulation movements, the living conditions of association members have been improved. The association now has only 18 poor households. The average per capita income reaches 48 million VND (2,116 USD) per year.

In the time ahead, the association continues speeding up the implementation of emulation movements and multiplying effective economic models in order to reduce the number of poor households./.