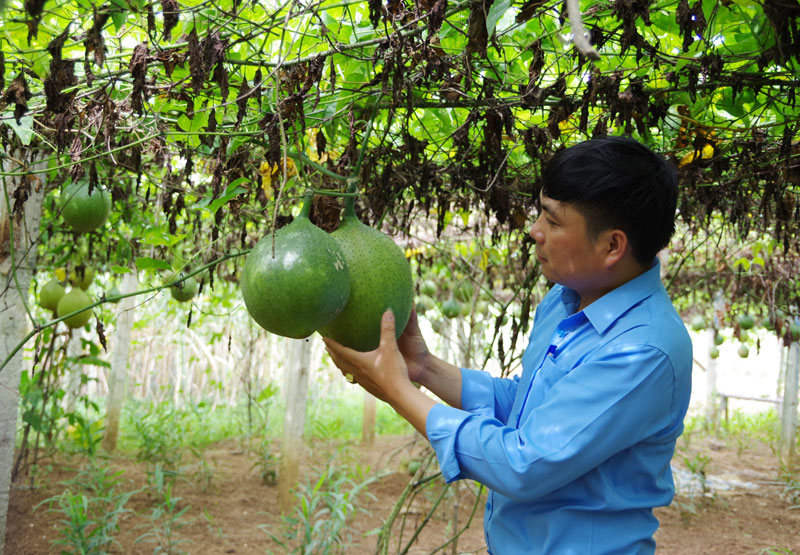 (HBO) – Despite having 2 hectares of farming land, Bui Van Tuoi, secretary of the youth union of Dung Phong commune, Cao Phong district, Hoa Binh province, does not plant orange as other locals do. He cultivates Dien grapefruit, Gac fruit (Momordica cochinchinensis), ginger and red sugar cane. With his own way, Tuoi successfully develops economic growth models.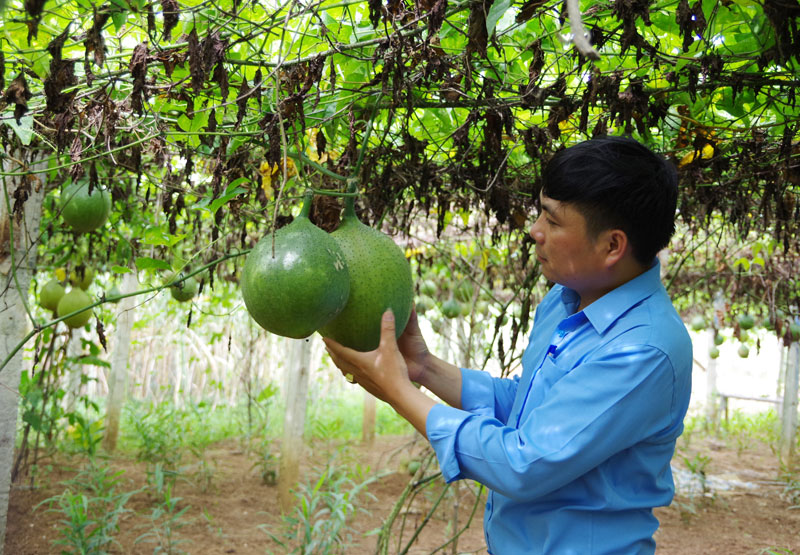 Bui Van Tuoi, Dung Phong commune, Cao Phong district, succeeds in planting a new variety of Gac fruit which gives high economic values.
Tuoi, one of the 85 outstanding youths nationwide hounoured with the Luong Dinh Cua Award by the Ho Chi Minh Communist Youth Union Centre Committee in 2016, was arranging Gac fruits on trellises which are set up amid sugar canes.
Tuoi said he was born in a rural area grounded in agricultural production. like many households in the commune, his family used to live on farming and sugar cane cultivation. However, difficulties always chased them. The difficult situation motivated him to pursue study in order to change life. On advice of his relatives, Tuoi chose to study agriculture economy at the Community College. After graduating the college in 2006, he came back home with worries about what type of plants to cultivate since at that time, all households in Dung Phong planted only sugar canes. Then, when the trend of planting citrus trees was developing in Cao Phong, Tuoi, with knowledge gained at school, used part of his family's farming land to cultivate citrus trees.
Unlike other locals who shifted from cultivating sugar cane to orange, Tuoi planted Dien grapefruit. With 30 million VND collected from selling sugar cane and a 50 million VND mortgage on his house, Tuoi transformed his family's garden into a Dien grapefruit orchard.
Three years later, the orchard provided the first fruits. The small amount of money collected from selling grapefruits motivated Tuoi to try harder. His efforts paid off as he then pocketed hundreds of millions of Vietnam dong each year. In 2011, Tuoi planted an additional 1.5 hectares of CS1 orange in line with VietGap standards. The orange orchard earns him about 500 million VND annually.
After learning from experience in planting Gac fruit in Luong Son, Tuoi turned more than 1,500 sq.m of sugar cane into a Gac fruit orchard which has earned him tens of millions of Vietnam dong since 2015. It is clear that Gac fruit offers higher value and requires fewer workforce.
With the transformation in production, Tuoi has generated regular jobs to 5-10 labourers, even 20-25 people during the peak time.