(HBO) – Cao Phong district has eight products that will be sent to the One Commune-One Product (OCOP) programme at the provincial level for evaluation this year. They are products of two cooperatives - orange fruits produced by 3T Cao Phong agricultural cooperative, and five orange-related products which are orange wine, fresh and fermented orange juice, orange jam, citron honey tea, and orange fruits made by Ha Phong cooperatives.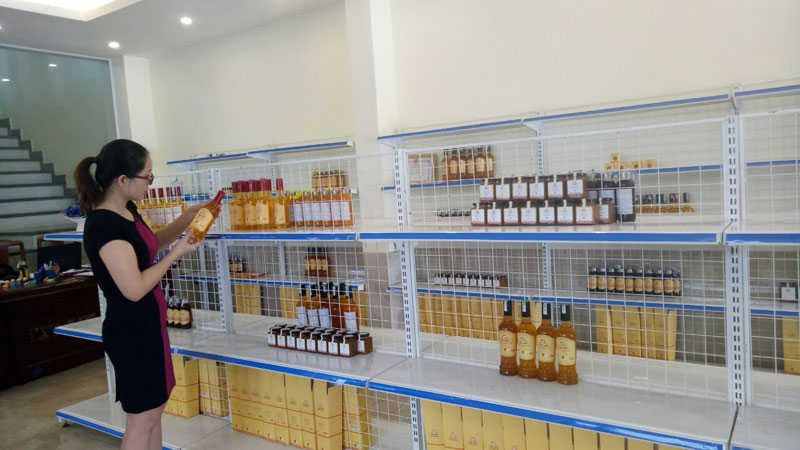 Ha Phong cooperative in Cao Phong sends five products to the provincial OCOP contest.
In 2019, Kim Boi district has 14 products joining the OCOP programme in three categories of food (9 products), beverage (3 products), and herbal products (2 products). Of which, five products of three producers have been given three-star ratings.
They are typical products of local enterprises and cooperatives, including organic pomelo, organic dried fruit, organic lime steeped in honey produced by Linh Dung organic farm in Vinh Tien commune; bottled water by Muong Dong factory in Dong Bac commune, and Xa Moc Huong herbal tea by Thuong Bi agriculture-service cooperative.
Meanwhile, Lac Thuy district has six products – fresh whole chicken by Lac Thuy cooperative; Song Boi tea by Song Boi company; egg-shaped orange by Vu Duy Tan household farm in Dong Huong village, Lien Hoa commune; Lac Thuy orange by Thu Lan household farm in Tan Phu village, Phu Thanh commune; Lac Thuy orange by Bui Thanh Chung household farm in Dong Thung village, Co Nghia district; and cantaloupe by Hoa Binh GAP company in Thanh Ha town.
The People's Committee of Lac Thuy has evaluated and rated six OCOP products. Accordingly, fresh whole chicken by Lac Thuy cooperative received four stars, egg-sized orange by Vu Duy Tan household farm got three stars, while the rest four got two stars.
The provincial OCOP council also gave four stars to fresh whole chicken product, and three stars to egg-sized orange product./.