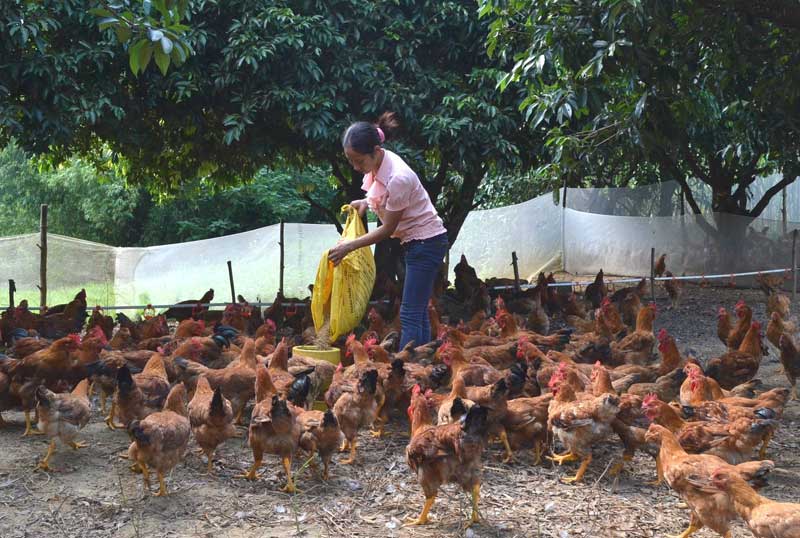 (HBO) – The Intellectual Property Office of Vietnam under the Ministry of Science and Technology recently recognised and granted a trademark registration certificate on "Lac Thuy Chicken". This is an important milestone in the building and development of the trademark of "Lac Thuy Chicken" – an exemplary agricultural product of Lac Thuy district, Hoa Binh province.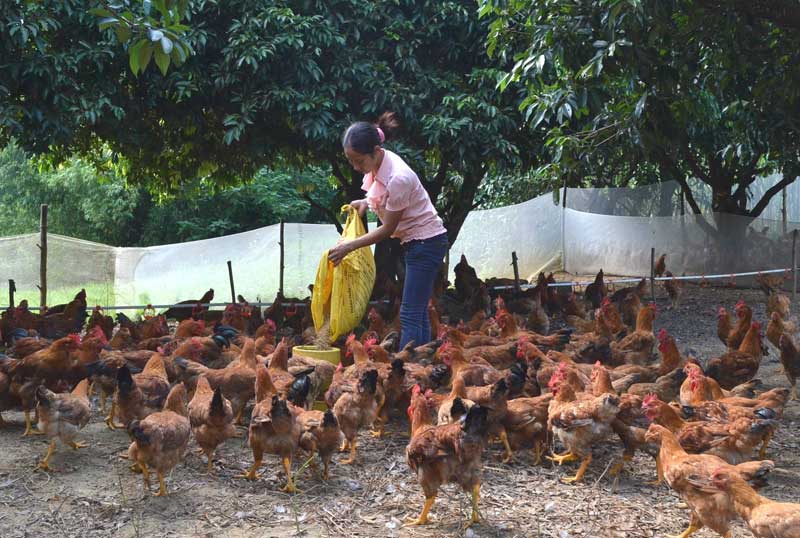 The farming of the Lac Thuy chicken breed on a large scale in Phu Thanh commune has generated high and stable income for local residents.
Lac Thuy district came to the idea of developing a trademark for the local chicken breed after a survey of the National Institute of Animal Science in 2011. At that time, experts realised that this chicken breed has its appearance almost similar to the one hailing from Mia village of Hanoi's Son Tay town, but has many different strengths, and they temporarily named it Lac Thuy chicken.
In 2014 and 2015, Dr Vu Ngoc Son, former Director of the Centre of Applied Research and Livestock Genetic Conservation, and his colleagues carried out a study on the Lac Thuy chicken's genes. Its results showed that Lac Thuy chicken is an indigenous breed. Thanks to this study and many others, Lac Thuy chicken was officially recognised as a domestic breed by the Ministry of Agriculture and Rural Development in 2018.
In recent years, chicken farming has developed strongly in Lac Thuy district, and many households have chosen the local breed to farm. With its beautiful appearance, high meat quality and being easy to be farmed, the breed promises high economic benefits.
Many local households have also applied sci-tech advances and raised the breed on a large scale with thousands or even more than 10,000 chickens each farm, forming concentrated farming areas in Phu Thanh, Dong Tam, Phu Lao, An Binh, Co Nghia and Lien Hoa communes.
In 2016, the People's Committee of Lac Thuy district approved a plan for agriculture restructuring towards higher added value and sustainable development between 2016 and 2020. A focus of this plan is developing the Lac Thuy chicken. In 2017, the administration gave the green light to a project on building, managing and developing the "Lac Thuy Chicken" trademark. This trademark was recognised by the Intellectual Property Office in March this year.
Vice Chairwoman of the Lac Thuy district People's Committee Hoang Thi Thu Hang said after gaining the recognition, the "Lac Thuy Chicken" trademark was handed over to the district's Department of Agriculture and Rural Development to manage. Trademark use certificates have been granted to 30 organisations and individuals farming and doing business on the poultry.
In the time ahead, to bring into play the trademark's values, the district People's Committee will issue regulations on the management and use of the "Lac Thuy Chicken" trademark, as well as give instructions on the granting of trademark use certificates and on the quality control for products labelled with "Lac Thuy Chicken" trademark.
Many solutions will also be carried out concurrently to optimise the trademark, thus consolidating the values of the "Lac Thuy Chicken" trademark./.