(HBO) – Last year, hill chicken farmed by Huong Nhuong Cooperative was among Lac Son district's three products recognised in the One Commune One Product (OCOP) programme. The cooperative's fresh whole chicken product was awarded three-star OCOP by Hoa Binh province.
The cooperative aims to promote clean and safe production chain and develop the Huong Nhuong hill chicken brand.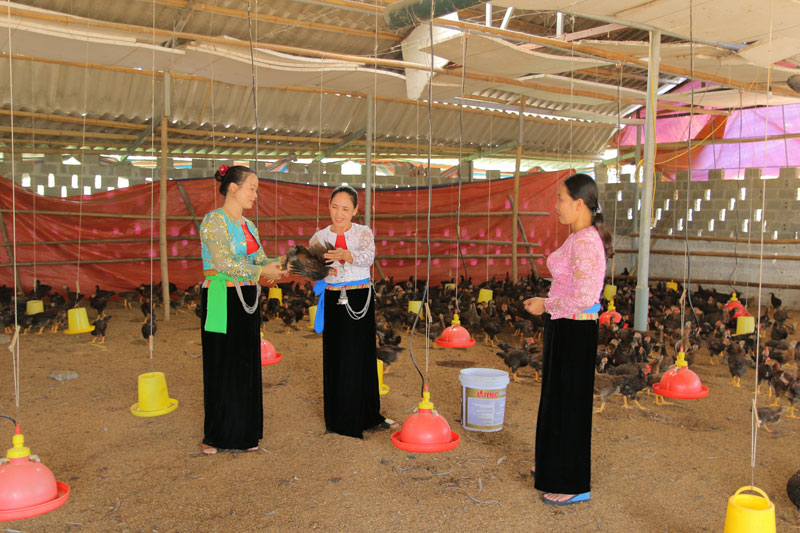 Members of Huong Nhuong Hill Chicken Cooperative (Lac Son) share experience in chicken farming.
Huong Nhuong hill chicken is an indigenous chicken raised by Muong ethnic minority people in Huong Nhuong commune, Lac Son. People in Huong Nhuong, including those from Bung village, used to raise chicken on a small scale with little use of farming techniques so they are often squeezed by traders. Moreover, poor techniques and weak feed and variety control caused frequent diseases in chicken. To deal with such challenges, 12 farmer households in the village have gathered to form a farming group in which they can share experience.
In August 2018, the farmers' group took part in a sustainable poverty reduction initiative contest in Hanoi and won the third prize. This has motivated them to expand chicken production and develop as a cooperative.
Since the cooperative was founded, the member households have attended many technical training courses on chicken farming held by the province and district. Seven farmer households started with about 7,000 chickens in total, the largest flock included 3,000 – 4,000 chickens each litter while the smallest was around 200 – 500 each litter. Some other members raise buffalos and grow safe vegetables and citrus trees.
In 2017, the cooperative was selected to join a chicken value chain production project under the new-style rural area building programme. The project provided the cooperative with 8,000 baby chickens, technical training courses and chicken medicines, as well as supported member households in building slaughtering houses and developing preservation system at the cost of 300 million VND.
Director of the cooperative Quach Thi Hoa said the cooperative mostly raises indigenous Ri chicken. Since the cooperative was founded, its members have had a chance to not only share experience but also buy high-quality chicken breeds and feed at lower prices as middlemen were cut out, she said.
She added that the cooperative has created a linkage between farmer households and helped them distribute their products. It is actively developing the chicken brand to add more values to the product, thusbenefiting local farmers./.