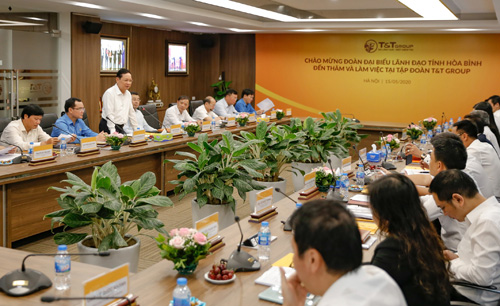 The Standing Board of the provincial Party Committee has a meeting with the Chairman of the Vietnam General Confederation of Labor and leaders of T&T Group joint Stock Company.
Members of the Standing Board of the Hoa Binh provincial Party Committee had a working session on May 15 in Hanoi with Nguyen Dinh Khang, member of the Party Central Committee and President of the Vietnam General Confederation of Labour, and leading officials of the T&T Group joint Stock Company on the construction progress of the company's investment projects and the trade union's institution building project in Hoa Binh.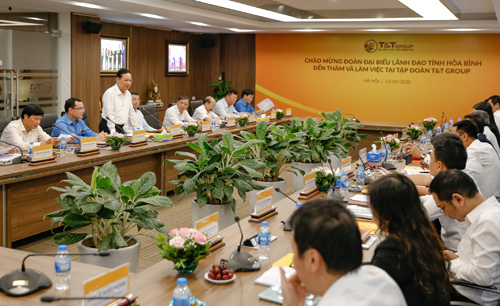 Secretary of Hoa Binh's Party Committee Bui Van Tinh speaks at the working session.
Following a memorandum of understanding between the provincial People's Committee and the T&T Group joint Stock Company, the two sides coordinated in surveying and mapping out two projects: general planning of expanded Hoa Binh city and general planning of Da Bac town and surrounding areas; while conducting research on such projects as Tan Hoa new urban area, Hoa Binh urban and sports area, Dong Tien ward residential area, Ky Son high-tech agricultural urban area, and a high-tech agricultural, eco-tourism, services and urban area in Da Bac district.
At present, the People's Committees of Hoa Binh city and Da Bac district are working with the group in conducting master plans to submit to authorised offices for approval.
Secretary Tinh asked the company to continue coordinating with the province in carrying out the projects and helping it effectively implement the master plans of Hoa Binh city and Da Bac district.
He also suggested the company assist the provincial planning in the 2021-2030 period with a vision to 2050, and consider the construction of the second phase of the Hoa Lac-Hoa Binh city expressway project.
He proposed the VGCL consider transferring the building of a trade union institutional project from Hoa Binh city to Luong Son industrial zone.
At the working session, Do Quang Hien, Chairman and CEO of the T&T Group JSC, spoke highly of development prospects, advantages and potential of Hoa Binh, expressing his determination to carry out investment projects here./.