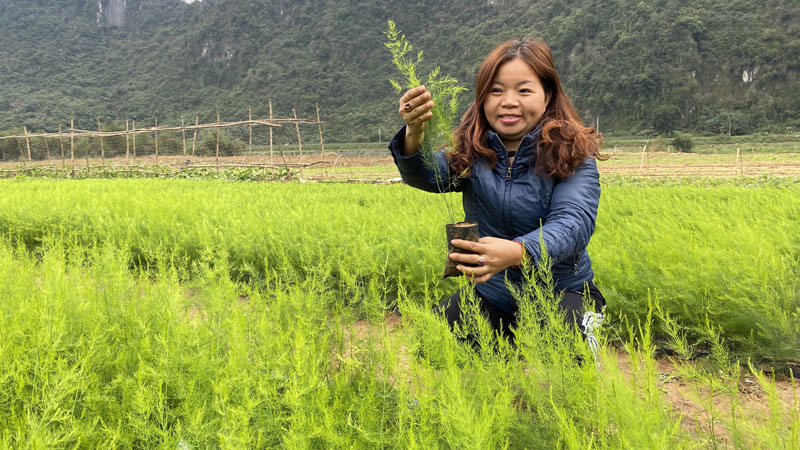 (HBO) - Phan Tuyet Nga, a local in Chuong My district (Hanoi), has brought asparagus seeds to poor land in Ben Nghia village, Phu Nghia commune, Lac Thuy district, Hoa Binh province. With nearly five years of development, her asparagus planting model has proved effective, bringing in good income. It has gradually been expanded to some surrounding areas.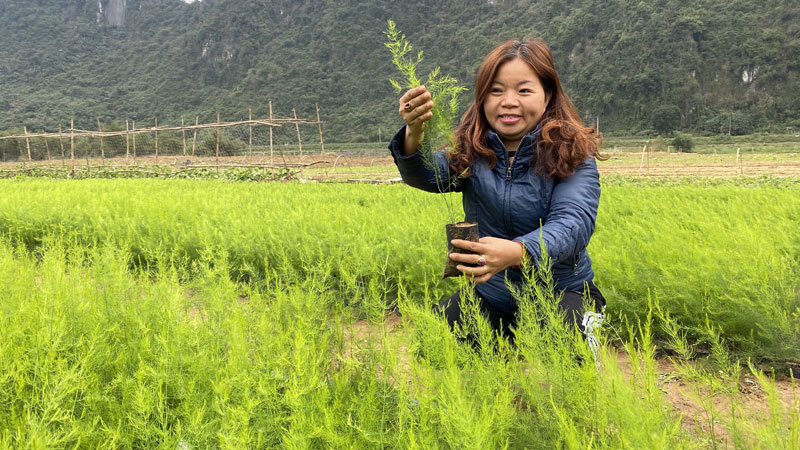 The asparagus planting model of Phan Tuyet Nga in Ben Nghia hamlet, Phu Nghia commune, Lac Thuy district, proves effective, bringing in high income.
Nga shared that after learning experience in planting and caring asparagus in the central province of Ninh Thuan, and making a fact-finding tour, she chose Phu Nghia commune to carry out her project because this location boasts suitable natural conditions and climate as well as abundant sources of water from Boi River. Furthermore, the transport system makes it easier to move to nearby localities like Hanoi, Ha Nam, Nam Dinh and Thanh Hoa. Optimising these advantages, she started to grow 24,000 asparagus roots on nealry 1.5 hectares.
Averagely, she could harvest about 70kg of asparagus every day, some days up to 180kg, with prices ranging between 60,000 VND and 70,000 VND per kilogramme. The total annual revenue is estimated at 1.3 billion VND and the profit is over 300 million VND. Nga's family also created jobs for about 15 local workers, with monthly income of about 6 million VND per person.
With the hope of developing this model effectively, Nga has expanded the asparagus growing area to 3 hectares. She often asks workers to frequently follow the growth of the plant to have prompt measures to ensure the quality.
Nga is providing technical consultations for gardens in Hoa Binh, Vinh Phuc, and Hanoi with total cost of 10 million VND each.
Asparagus is popular among locals and restaurants because it is rich in nutrients, and easy to prepare. "Therefore, I want to connect with gardeners to expand the growing area, ensuring supply for people, supermarkets, restaurants in need," Nga said./.