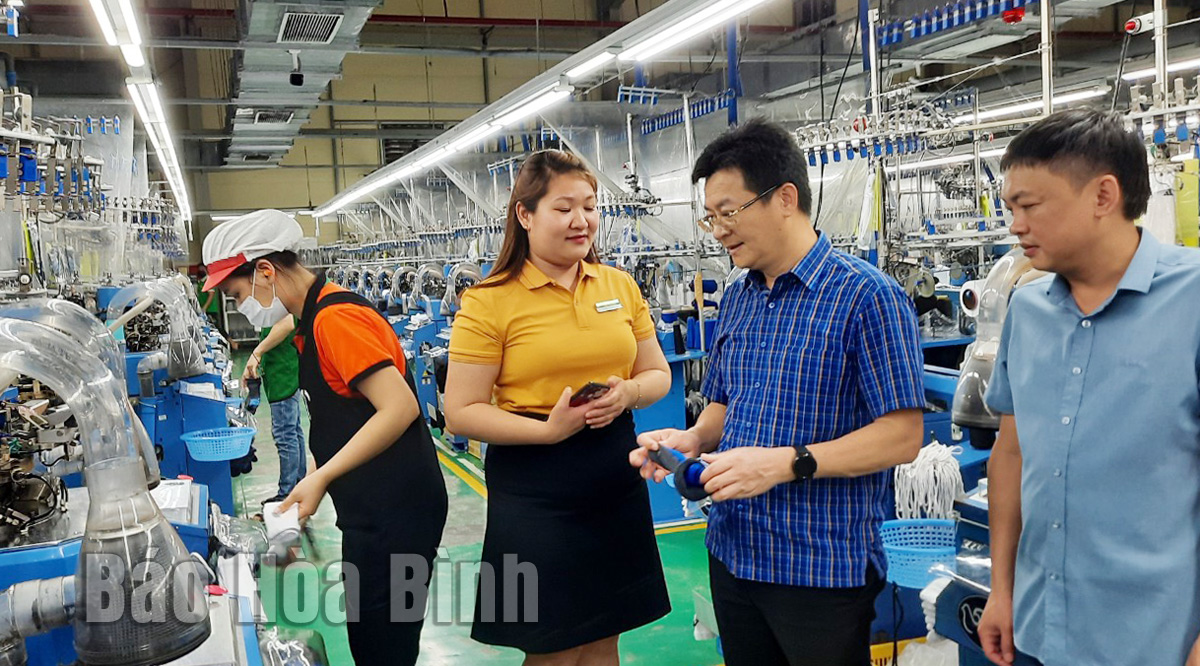 (HBO) – During the 15 years of its development, the Hoa Binh Management Board of Industrial Parks (IPs) has boosted the state management of IPs, stepped up investment attraction, and developed industrial zones and sectors.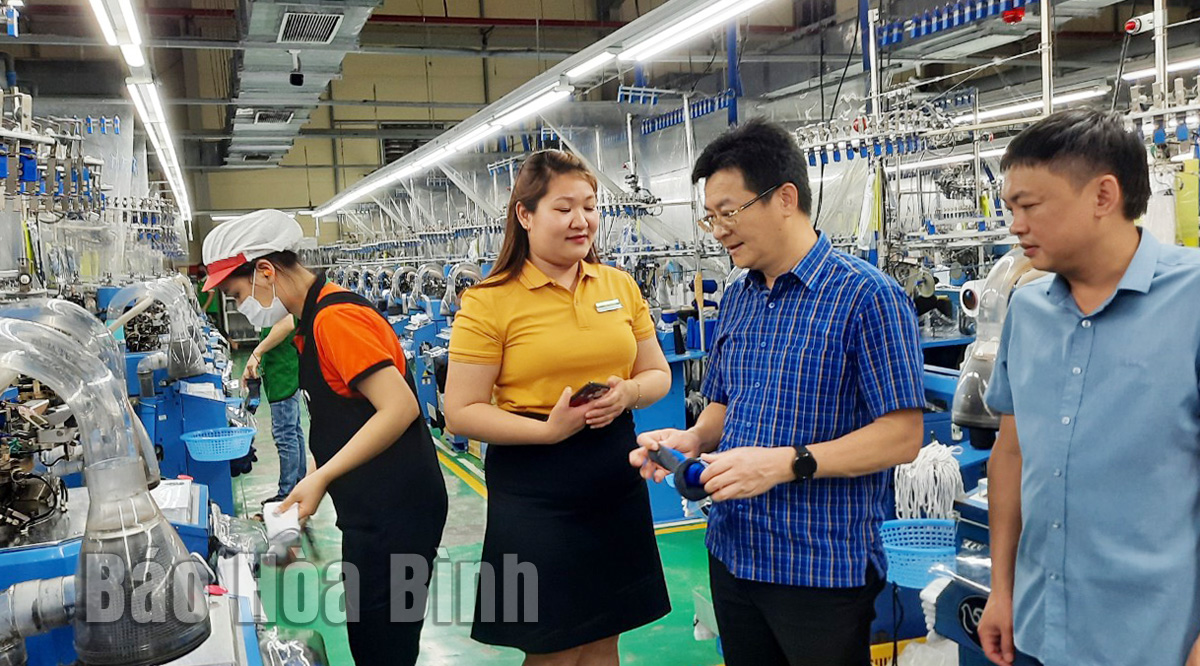 Head of the IP Management Board Chu Van Thang visits Hoa Binh Koyuseni Knitting Co. Ltd, based in Da River Left Bank Industrial Park.
Over the last 15 years, the board's apparatus has been completed and its personnel quality improved, thus better fulfilling political tasks and managing local IPs. The board has coordinated with the provincial Department of Public Security and local administrations to guarantee security - order and fire prevention and control for businesses based in the local IPs.
In 2021, despite difficulties caused by the COVID-19 pandemic, Hoa Binh met and surpassed IP development targets. In particular, its IPs attracted eight investment projects with registered capital totalling 6.5 million USD and 315.85 billion VND (13.6 million USD) and recorded five others raising their capital by 4 million USD and 88.9 billion VND (3.82 million USD).
Industrial production revenue and value recorded by businesses in the local IPs were 13.9 percent and 11.2 percent higher than the set targets; export turnover reached 690 million USD, up 7.8 percent from 2020 and 11.2 percent from the target; and 250 billion VND (10.76 million USD) was contributed to the State budget, up 25 percent year on year and meeting the target.
At present, the IPs in Hoa Binh are home to 104 projects, including 26 foreign direct investment (FDI) projects worth 514.78 million USD and 78 domestic direct investment ones with total capital of over 13.57 trillion VND (584.4 million USD).
IP-based businesses are playing an increasing role in helping the province realise its socio-economic targets. Their export revenue accounted for 56 percent while industrial production value made up 44.36 percent of the province's total figures.
Besides, the management board has given advice about a strategy for developing local IPs and industrial clusters by 2030 to the provincial People's Committee. It has worked with authorities to build and submit some draft projects of the province, including those on IP development. It has also submitted timely proposals on COVID-19 prevention and control to the provincial administration so as to curb pandemic transmission and help IP-based firms sustain operations.
With the achievements obtained over the last 15 years, the board's officials and staff are exerting efforts to improve their specialised capacity; work with relevant agencies to develop a fair, open, and transparent business climate; create optimal conditions for enterprises to operate fruitfully; assist investors to complete IP infrastructure; and tackle site clearance obstacles to boost investment attraction, thereby helping to successfully carry out the resolution of the 17th provincial Party Congress and contributing to local development./.