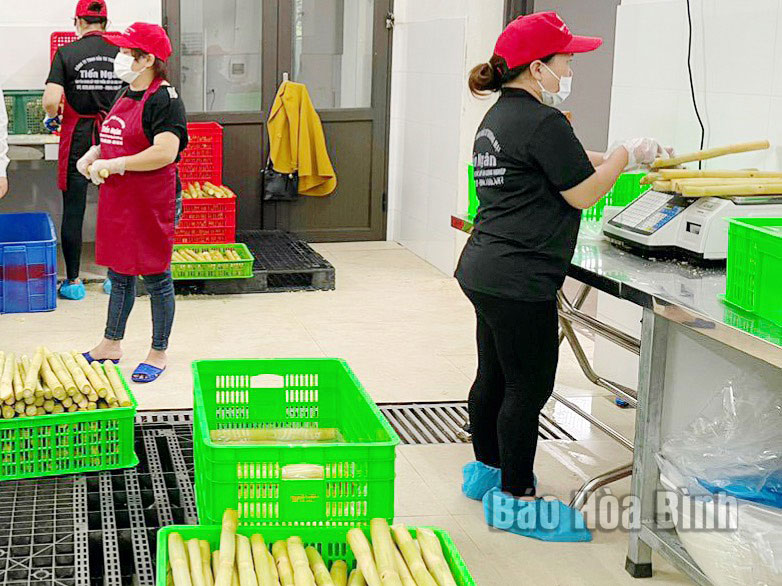 (HBO) - In the first months of 2023, the province's agricultural exports showed signs of recovery as some of its products found ways into new export markets. To maintain export growth momentum, in addition to exploring potential markets and improving product quality, it is necessary for businesses and cooperatives to diversify agricultural products to meet market demand.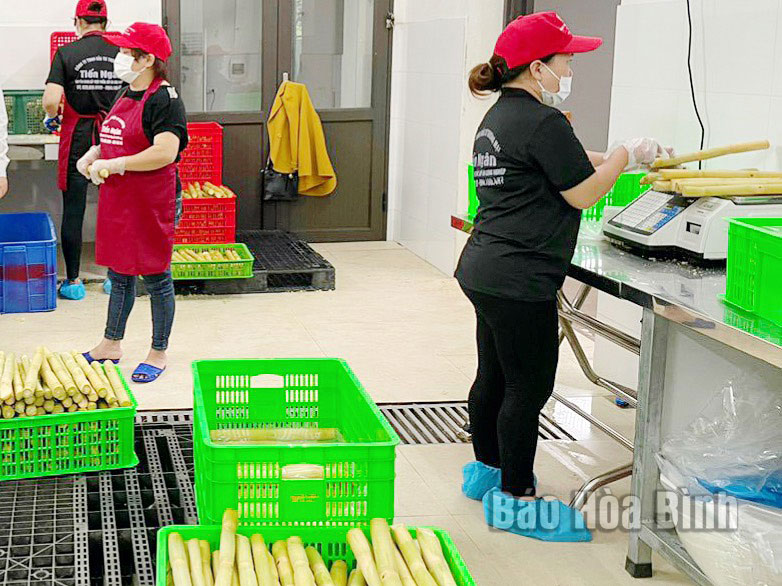 White sugar cane is cut into pieces before packaging and freezing for export at Tien Ngan Trading Investment Co. Ltd. (Hoa Binh City).
The first batch of One Commune One Product (OCOP) product - pink-fleshed Eureka lemon in honey - by Ha Phong Cooperative in Cao Phong district was exported to the UK in late July.
Bui Van Dan, head of the district's Agricultural and Rural Department Sub-department, said an increasing competition in exporting goods requires businesses and cooperatives to work harder to diversify their products, along with exploring new markets.
He held that Ha Phong Cooperative is one of the units that focus on investing in developing more orange-related products, aiming to enhance the value of fresh oranges, thereby contributing to sustainable production development, creating job opportunities for many people, and promoting local economic development.
In line with the implementation of the OCOP programme, departments, agencies and local authorities have supported business establishments in building brands for their products, he continued.
To date, the whole province has 123 products of 101 entities recognised as OCOP products, including 96 agricultural ones.
The organisation of production and linkage between production and marketing of agricultural products in general and OCOP products in particular has been gradually strengthened and deployed regularly, contributing to stabilising product outputs and enhancing their value.
The province's agricultural products have affirmed their position in the domestic market and they are appreciated by many consumers for their quality. Thanks to the attention of the provincial Party Committee and People's Committee as well as the engagement of relevant agencies, especially the efforts of producers, typical agricultural products of the locality have been exported to foreign markets such as Tan Lac red-flesh pomelos and Dien pomelo of Yen Thuy to the UK, Son Thuy longan (Kim Boi) to the EU and fresh sugarcane to the US.
Statistics from the provincial Department of Agriculture and Rural Development showed positive signs in agricultural exports in the first six months of this year. Up to 20 tonnes of frozen fruits of Indochina Dragonplum (scientific name Dracontomelon duperreanum) trees were shipped to Japan, 43 tonnes of vegetables to the UK market and 300 tonnes of frozen white and purple sugarcane to the US, Canada, the Republic of Korea, and Japan.
Dinh Cong Su, Vice Chairman of the provincial People's Committee, said Hoa Binh's agricultural products can meet customer requirements not only in the domestic but also in foreign markets, including those that require high quality and food safety.
In the coming time, localities will continue to strengthen production, creating raw material areas that ensure quality and support manufacturers to improve product quality, packaging design, and traceability, he said.