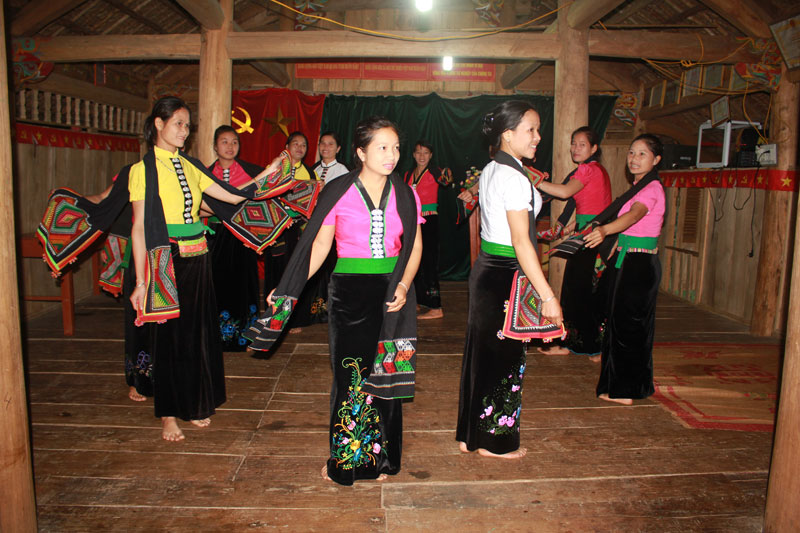 (HBO) – Tay ethnic people account for 40.57 percent of the population in Da Bac district, which is home to five ethnic groups. They reside in the communes of Muong Chieng, Dong Chum, Tan Pheo, Tan Minh and Trung Thanh.
We felt the atmosphere of the National Day when returning to Muong Chieng, which has the biggest number of
Tay
ethnics and is described as the "mountainous centre" of Da Bac district. The National Day September 2 was an occasion for those living far away to reunite with their families. Sa Van Xuyen, a resident in Na Muoi hamlet, said: "My family has three children, including two daughters working here and a son working in
Son La.
All of them have their own families. My son, Hung, and his wife have to live far away because Hung has his own work while his wife is studying at
Tay
Bac
University
. Only on the occasion of major festivals my whole family reunite. My wife and I are waiting to see them on the upcoming National Day or Independence Festival."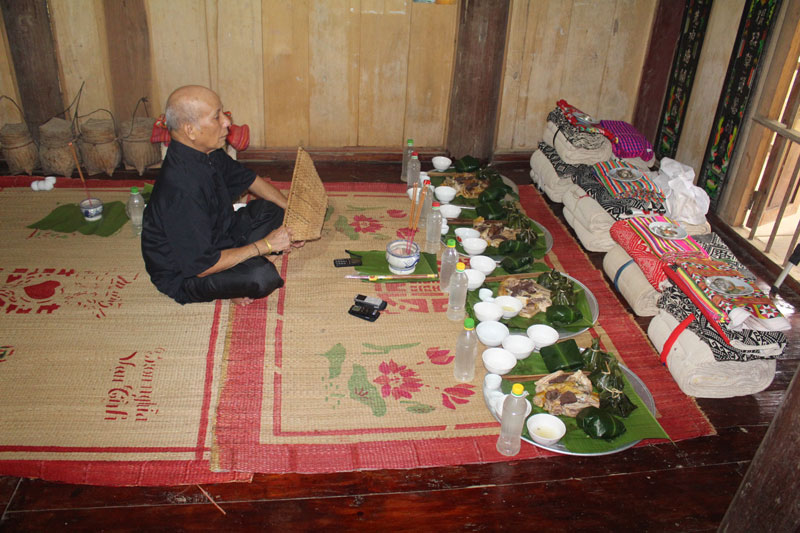 Xa Van Bang, a resident in Chieng Can hamlet of Muong Chieng commune (Da Bac), often hold a ritual called "Lam cham" for his family according to Tay people's traditional custom after the Independence Festival celebration.
Bidding farewell to Xuyen, we came to Chieng Can commune to visit Xa Van Hoi, who was a driver in the southern battlefield for 13 years (from 1970 to 1983). Recalling wartime memories, Hoi said: "The 13 years I was a driver at Unit 670 of Regiment 19 were also 13 times I spent the National Day with my comrades and witnessed both pains and victories in the war. I still remember the feeling of concurrently celebrating Tet (the traditional New Year festival), standing guard and being ready to fight. It was not rare that I saw my comrades were killed by the enemy's bullets and bombs. Those pains nurtured our undaunted and unyielding will, helping us fight for national independence."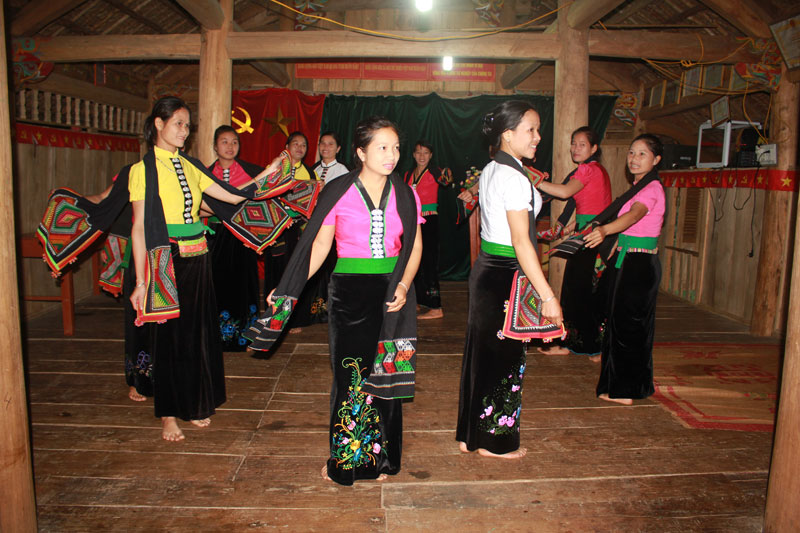 The team of Na Man hamlet, Muong Chieng commune (Da Bac), rehearses a singing and dancing performance imbued with the
Tay
culture before the celebration of the National Day September 2.
His children usually come home twice a year, on the National Day (September 2) and the Lunar New Year. Hoi said: "Whenever the Independence Festival comes, I'm eager for my children to come back to reunite with the family. To me, seeing my children gradually growing up each time we gather is the most joyful festival."
Singing and dancing performances and sports activities like volleyball and football matches between hamlets, and communes on the occasion of the Independence Festival were always magnets for local residents.
We also witnessed
Tay
ethnic girls' dedication to a rehearsal before their public performance marking the National Day in Na Man hamlet of Muong Chieng commune. Xa Thi Thay, who led the hamlet's performing team, said they were rehearsing a "xoe" dance which would be performed together with other teams in the commune. We chose this dance since it was deeply imbued with the
Tay
ethnic group's cultural identities, showing the community's solidarity and love.
Aside from entertainment activities, the "Lam cham" ritual of
Tay
people was also practiced by many families in the Independence Festival. Xa Van Bang, a resident in Chieng Can commune, said the ritual was often organised in the eighth or ninth lunar months, but now some families hold this ritual on the September 2 occasion, when their whole families reunited.