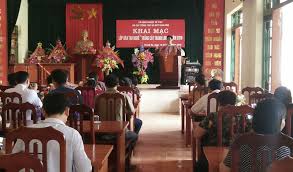 (HBO) – The Women's Union of Hoa Binh province held a workshop share experience in fighting human trafficking in response to the World Day against Trafficking in Persons.
The event was attended by nearly 50 delegates from provincial agencies, departments and sectors, leaders from the districts of Kim Boi, Ky Son and Da Bac, and Hoa Binh city and representatives of Women's Unions of 11 districts and Hoa Binh city.
At the workshop, they watched a documentary on the fight against human trafficking conducted by the Vietnam Women's Union Central Committee and listened to a report on this work nationwide.
From 2006 to mid-2019, 1,059 human trafficking cases were uncovered across the country, involving 1,432 traffickers and 2,674 victims. Up to 892 or over 80 percent of the cases sold people to China with 1,187 traffickers and 2,319 victims, accounting for over 86 percent of the total trafficked persons. A large number of cases were discovered in the provinces bordering China like Lao Cai, Ha Giang, Dien Bien and Quang Ninh.
Traffickers formed many trans-provincial and trans-national rings or gangs using sophisticated ruses to trick people into prostitution, illegal marriages or forced labour.
Participants at the event looked into the human trafficking situation in Vietnam, especially the trafficking of people to China. Hoa Binh province hasn't recorded any such cases in recent years.
They pointed out difficulties, challenges, causes and experience in the combat against human trafficking, giving authorised agencies proposals in terms of the building and implementation of programmes, plans and measures to effectively fight back this type of crime./.