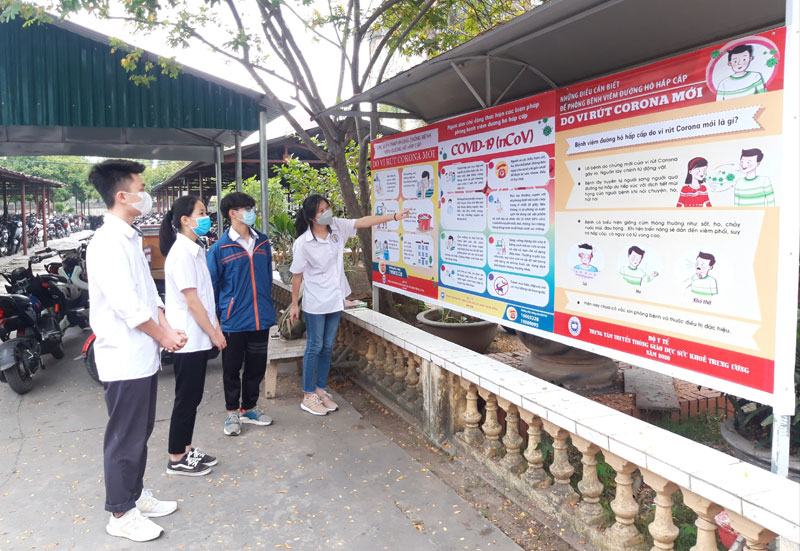 (HBO) -According to the decision of the Provincial People's Committee, on 4 May, all students of secondary, high schools and continuation education centers in the province come back to school after 3 months of interruption for the prevention and control of Covid-19 epidemics.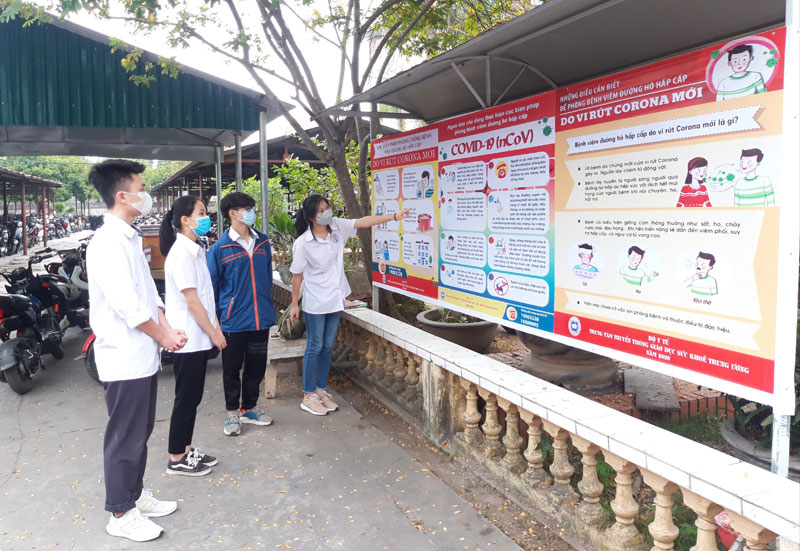 The students of Ngoc Luong Secondary School (Yen Thuy) are being measured body temperature on the first day back to school.
On 4 May, the percentage of students coming back to school in secondary high schools, high schools and the continuation education centers all reached over 90%. To prepare for the students to come back to school, all the schools in the province have been prepared to ensure the facilities, the sanitation equipment, the food safety and health at the school (the equipment measuring body temperature, the soap or disinfectant solution, drinking water, and the place for washing hands with clean water). It was important to ensure that 100% of school administrators, teachers, staff and employees make health declarations and measure the body temperature at home before going to school. 100% of the students, the teachers and the staff must wear face masks properly on their way to school.
All schools have school health workers, the isolation rooms and the medical rooms ensuring the regulations, and school psychosocial counseling must be organized. Right during the first flag salutation period, the schools organized propaganda and training for the students, the officials and the teachers about the process of disease prevention and control and formulating the management plans in case of fever, cough, having difficulty in breathing or suspicion of Covid-19.
Mr. Dinh Thi Huong, the Deputy Director of the provincial Department of Education and Training, says that the Department has requested the appropriate authorities and schools to thoroughly grasp and the forms suitable to all the officials, the teachers, the staff and the students and the trainees and strictly implement the Prime Minister's Directive No. 19 / CT-TTg dated on April 24, 2020 on the implementation of measures to prevent and control Covid-19 in a new situation and set of criteria for evaluating the safety and prevention of Covid-19 epidemics in schools. It is important to continue to strictly implement the instructions and the safety conditions for the students when they come back to school and to handle the cases of Covid-19 suspicion in schools. At the same time, they continue to promote the application of information and technology for online teaching on the internet and on television to support and supplement knowledge for students as prescribed.