(HBO0 - On June 26, the Women's Union of Yen Thuy district collaborated with the the Program of Yen Thuy Region Development, which is under the World Vision organization, to organize a Competition of the Happy Family and to display the pictures with the theme "Preventing and avoiding accidents. injury – Preventing child abuse" in 2020.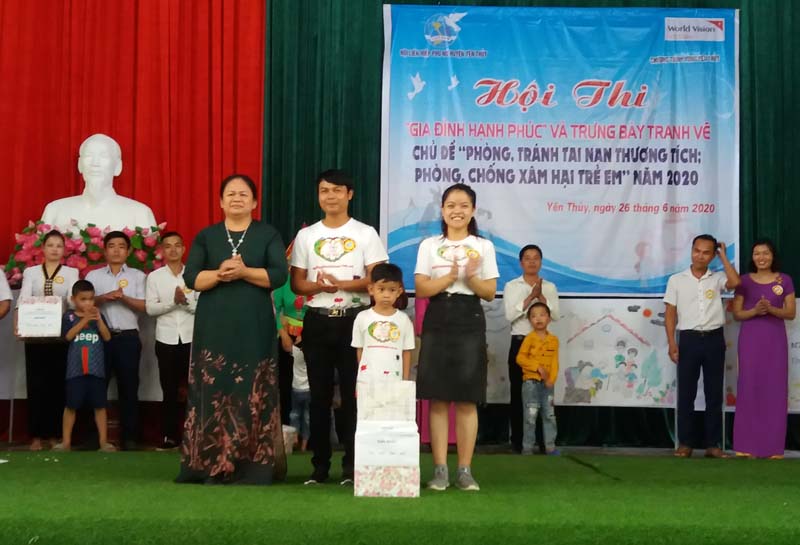 The organizing committee is awarding the first prize to Bui Van Tuan's family from Huu Loi commune.
There were 8 families from Lac Sy, Lac Luong, Bao Hieu, Huu Loi communes participating in the competition. They have gone through 3 sections of the competition, including greetings, knowledge tests and skill tests with the theme "The wise builder".
At the end of the competition, the Organizing Committee awarded the first prize to Bui Van Tuan's family from Huu Loi commune. They also awarded 10 second, third and consolation prizes, and extra prizes for the team with the best competition.
The competition is an opportunity for the family members to express their love and responsibility to their family members. It is also the opportunity for the families to exchange, learn and share experiences in preserving the family happiness, creating power to spread Vietnamese Family Day to all people. At the same time, it affirms and honors the good values of the Vietnamese family, building a prosperous, equal, progressive and happy family, building a beautiful family and preventing child abuse.