(HBO) - At the end of 2018, through the introduction of leaders of the People's Committee of Dong Lai commune, we visited an economic model in the commune which is already famous for red pomelo products.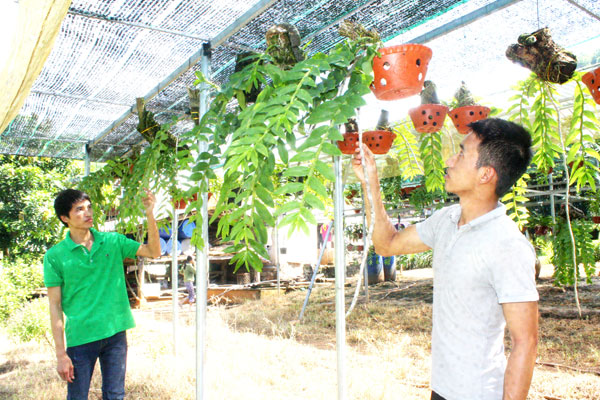 The orchid garden owned by Nguyen Trung Hieu and Nguyen Xuan Hoi in Bai Trang hamlet is one of the typical economic models run by young people in Tan Lac district's Dong Lai commune.
That is the model of growing red-flesh dragon fruit owned by Bui Van Thanh, a member of the Ho Chi Minh Communist Youth Union (HCM CYU) of Doi Bung hamlet. Last year, Thanh earned over 200 million VND from the model.
Realizing that the cultivation model of red-flesh dragon fruit brings high economic value, many youths and farmers in the village have switched to planting red-flesh dragon fruit in their fields and gardens.
Thanh's model has opened up a new direction for economic development in the locality.
Besides Thanh, in Dong Lai commune, there are many outstanding youths who are shining examples of economic development.
Bui Van Hung, Secretary of the O Ga hamlet's HCM CYU chapter has reaped success with the model of combining the cultivation of grapefruit and goat breeding.
Meanwhile, Bui Van Truong in the hamlet earns nearly 1 billion VND per year from growing red pomelo in combination with animal husbandry, and Bui Van Quynh in Bai Trang village has a stable income from his citronella cultivation model. The Dien grapefruit cultivation farm owned by Bui Van Ngoc, Vice Secretary of the Dong Lai commune's HCM CYU chapter is another example.
Most noteworthy is the orchid garden worth billions of VND of Nguyen Trung Hieu and Nguyen Xuan Hoi in Bai Trang hamlet.